Gaming on smartphones has evolved immensely  over past few years. Many of the users spend a lot of time playing their favorite games on their mobiles, as gaming is one of the most crucial factors they consider before buying a smartphone these days.
Touch and motion controls offer an immersive gaming experience but that is not all when it comes to hardcore gaming. Apart from everything a gamer need a good controller which can do magic. Luckily we have seen a lot of dedicated game controllers for smartphones and tablets.
Evo Gamepad Pro 2 Pros:
Great Design
Awesome Form Factor
Great Gaming Experience
Evo Gamepad Pro 2 Cons:
Today we have with us one such Android controller-the Amkette Evo Gamepad Pro 2, priced at INR 2,599. We will unbox and test the gamepad to find out whether it deserves your attention or not.
EVO Gamepad Pro 2 Specifications
Interface- Wireless
Buttons- 2 Bumper buttons, 2 Analog sticks, 2 Analog Triggers, Volume control buttons, D-Pad
Bluetooth- V3.0
Battery- 400 mAh Rechargeable LiPo battery
Material- Rubber and Plastic
OS Supported- Android 4.3 or above
Range- 10 meter
Colour- Black
Clamp size- 52-88 mm, supports phones up to 6 inches
EVO Gamepad Pro 2 Unboxing
The Amkette EVO Gamepad Pro 2 comes packed in a black box which does not weight much but looks wrapped with a lot of graphics and texts, that is something what excites the gamers. All the features and EVO Gamepad app benefits are printed on the back and the sides but the front displays the picture of the controller and the highlights.
Evo gamepad app tells you about 400+ supported games, but thats it. The app does nothing more than just redirecting you to play store to install these games.
Opening the box, there is another orange coloured box inside which carries the controller and other contents. The box contains Quick Start guide, EVO Gamepad, Tablet Stand, and Charging USB cable.
EVO Gamepad Pro 2 Features
Connect your Android device to TV via MHL cable and play on a bigger screen.
Easy pairing method
Connects with all Android devices with Bluetooth HID profile
12 Hours of play time
Comfortable design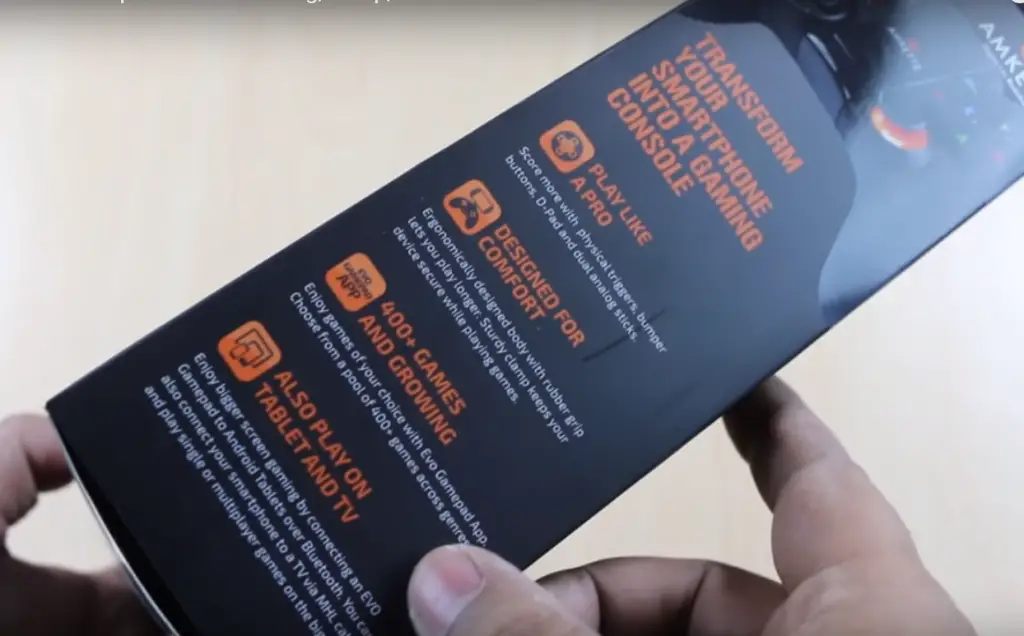 EVO Gamepad Pro 2 Unboxing, Setup, Review and Features [Video]
EVO Gamepad Pro 2 Design & Build
EVO Gamepad Pro 2 looks almost the same like its earlier version which was launched in August last year. Looking at the price, it is made up of decent quality material which is mainly rubberized plastic. The device has got a slight texture on the sides, making it more comfortable to hold and play anywhere, anytime. While the L/R analog sticks and the D-Pad feel responsive and sturdy most of the times, the ABXY control buttons at the same time score a little less on the durability. However the build quality feels a little cheap if compared to pricey controllers, but it is justified.
Apart from the buttons, you will also find the newly added music control keys hidden under the clip (or smartphone holder). Just below these buttons are the four LED notification lights, which indicate Charging status, Service light, Gamepad mode/Mouse more and pairing mode.
The clip feels solid in quality and it is capable to hold a 6 inch smartphone with an ease, and you can trust the grip without a second thought, but still beware of accidental jerks. It is pretty stiff and does not harm your smartphone, as the company has used rubber at both the ends for a stable grip.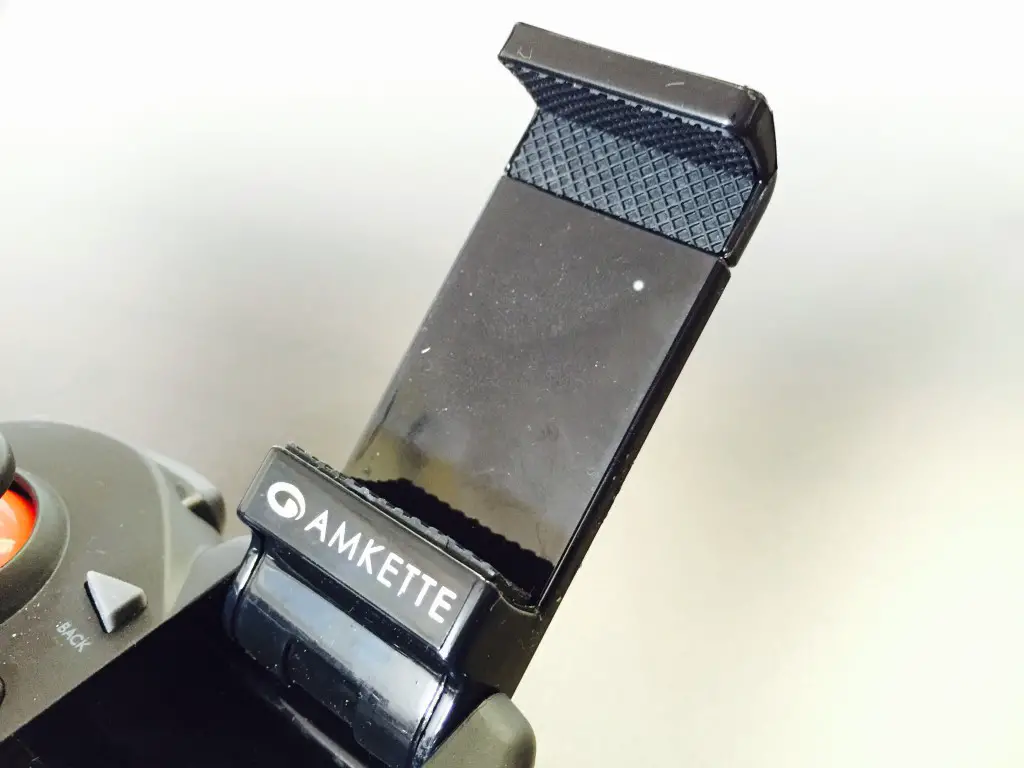 EVO Gamepad Pro 2 Photo Gallery
Performance
The gamepad is lightweight, has a good grip and feels comfortable even after prolonged gaming sessions. The response during game-play was accurate and instant, and we did not notice any issue with the connectivity as well. We played Asphalt 8, Dead Trigger 2, MC5 and some other games compatible with external controller. It was easy to connect with the phones and gaming experience was smooth every time.
Battery
The EVO Gamepad Pro 2 takes around 2 hours to fully charge the battery and gives around 10-11 hours of battery backup. 10 hours of battery backup is pretty close to the claimed 12 hours and it is good for an INR 2,500 controller.
Setup
Setting up the Amkette EVO Gamepad Pro 2 is pretty simple:
Charge it and Switch it on
Hold the Home button on the gamepad until last 2 LED start blinking
Enable Bluetooth on your Android Tablet or smartphone and connect to the controller. ( No Pairing Code Required )
Verdict
There are a lot of controllers available in the market costing from few hundreds to thousands but the good thing about the EVO Gamepad Pro 2 is its well built and it ergonomically designed for comfortable gaming for long hours. It supports over 400 games and the improved battery life makes it more interesting to carry it on long boring flights. You just have to be a little careful with the hinge as it may just throw off your phone with a slightest of jerk.