Smartphones have become a necessity for almost everyone throughout the world. It is the only tool that helps covering the distance between one places to other, it is an important source of information and education and also helps in spreading awareness among the citizens in no time.
Keeping these factors in mind, Noida based smartphone maker Ringing Bells has launched Freedom 251 smartphone priced at INR 251. It is aimed to empower the Digital India campaign started by PM Narendra Modi.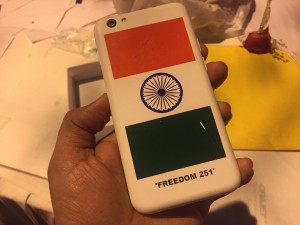 Smartphones play a mojor role in transformation of a developing country like India. As cell phones evolved and became simple to use, the importance of cell phones increased accordingly. As a part of Digital India project, the government wants to ensure that every Indian citizen should have a smartphone by 2019. Prime Minister Narendra Modi believes that the information and technology would play a serious role in pushing India towards a better tomorrow.
Freedom 251 Full Coverage ( Links Below )
The main objective of Freedom 251 is to make the smartphone technology available to the rural areas and poor, so that it gives a push to the digital empowerment. It comes with apps like Women Safety, Swachh Bharat, Fisherman, Farmer and Medical.  Let us see how Freedom 251 will play an important role in empowering the government's aspirations.
Freedom 251 Hands on Review [ Video ]
Freedom 251 Photo Gallery

E-Governance
The most important area that is aimed with this initiative is to increase the use of e-governance facilities available for Indian citizens. The Freedom 251 comes pre-loaded with the official Indian govt. apps which help speeding up the work flow, reduce cost, and increasing transparency automatically makes the government accountable.
It will be amazing to see a large part of India moving towards the e-services, which is an important step towards technological advancements.
Banking
Banking is something we do on a regular basis; we do visit banks for different purposes. After the announcement of PM Narendra Modi's Jandhan Yojna, awareness of banking has reached to every village and towns and crores of new accounts were allotted during this period. After all this happened in the country, it is the right time to educate the rural population about the power of smart banking. The Freedom 251 will play a crucial role in spreading awareness about the e-banking and its benefits.
E-banking saves time and travel, it keeps you updated about the financial records and transactions and also reduces paperwork.
Agriculture
Mobile phones have transformed the lives of farmers in a continent where the agriculture sector is one of the largest occupation. Most of these people will be poor farmers without access to financing or technology. Through mKisan app and Farmer app, the farmers will be helped with latest updates about the rates, demands and modern techniques of farming.
It is a great platform for sharing market prices, weather news and government schemes, mobile phones are allowing India's farmers to take better decisions, turning into higher-earning potentials. Farmers are able to send a text message to find out crop prices in places thousands of kilometers away.
Health
Freedom 251 will play a very important role in mediating the provision of better healthcare to the citizens of rural and urban India. Smartphone companies and our government are realizing that mobiles are highly helpful and potentially beneficial for the spreading health and lifestyle tips, and notify about the health related schemes and events in their area.
Education
Smartphones these days provide a promising opportunity to revive education and make up to the learning crisis that India faces. Although only a smartphone is not the final solution to India's education issues. Smartphones are creating new forms of learning, increasing number of trainers and teachers, and provide useful know how in real-time. Flow of knowledge from every part of the globe can be accessed using a smartphone or a tablet.
Women Safety
Women safety is not just a challenge today; it is the foremost concern of any country around the world. Smartphones play an important role in protecting them from landing up in any awkward situation. We have seen a lot of apps dedicated to women safety are available, but what about those who cannot afford a phone that can support those apps? Freedom 251 is the best solution to every woman in India, so that every woman in the country can feel safe.
Activism
Imagine the India with up to date technologies and advancements, the use of smartphones will bring extraordinary transparency to the electoral process, empowering citizens from every corner of the country. It will lead to awareness about the important affairs of the country and users from rural India can keep a track on each of them. Everyone can actively participate in raising their voices against any issue or cause using different social media platforms.
Freedom 251 Quick Specs
[table id=373 /]