Earlier last month, Motorola had announced that the Moto G (3rd Generation) and the Moto G Turbo will be available on Amazon India as well. Then, when they launched the Moto X Force, that phone was also available on Amazon India. Now, in an announcement made today, Motorola has said that the Moto E 4G (2nd Generation) and Moto 360 will also be available on Amazon India along with Flipkart as well.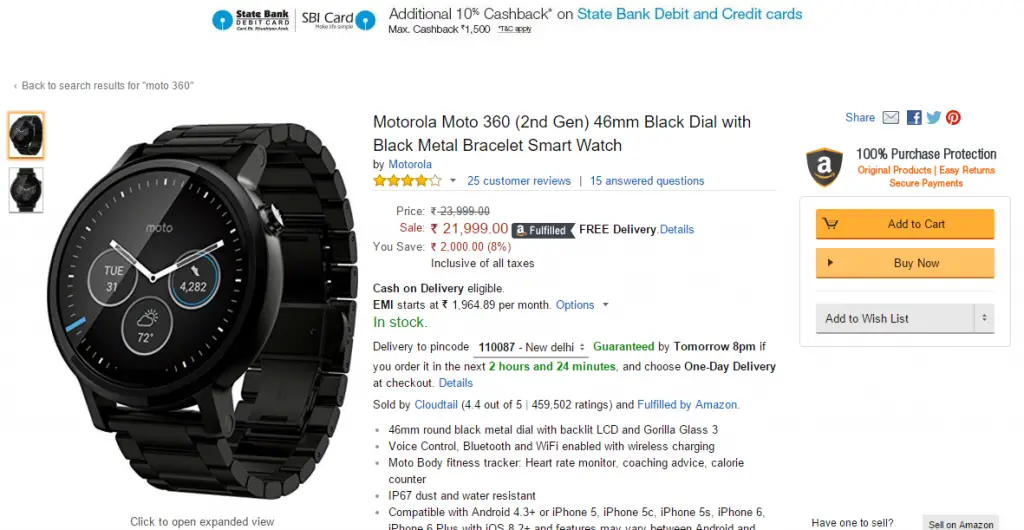 Earlier, Motorola was selling their devices exclusively with Flipkart online and did not have them in retail stores around the country. But they changed that with launching phones on Amazon India and retail stores including Croma and Spice Hotspot as well.
The smartphones that are available on Amazon will be available with an 'Inaugural Discount Offer' of INR 1,000 on the smartphones (Moto E, Moto G and Moto G Turbo) and INR 2,000 on the Moto 360 2nd Generation. Other than this, the Moto X Force is available there as well for the launch price itself as the company is not offering any additional discount on the Moto X Force.
Apart from these discounts, Amazon India is offering an additional cashback of 10% (up to INR 1,500) to customers who pay with a State Bank of India debit or credit card. The cashback offer and the discounted price will be available from today (Tuesday) until Friday. However, Motorola has said that the offer is valid till stocks last. So, if you are in the market for a Moto smartphone, go ahead and purchase it on Amazon India right now.
Finally, the move that Motorola has made to offer their smartphones on other e-commerce portals apart from Flipkart, tells us that the company does care about their customers. Some people do prefer purchasing from Amazon India, whereas others prefer purchasing from Flipkart. Some people still prefer purchasing from physical stores, and Motorola has made sure that they do not forget those customers as well when they launched the Moto X Force in Croma and Spice Hotspot