There are several discount offers running on Nexus 6P recently, some earlier offers includes some discount of around 3000 INR but today a new announcement is made on the Nexus 6P Offer Page of Huawei website.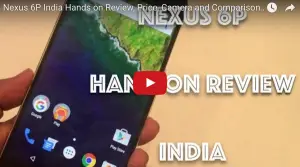 This new offer allow you to buy Nexus 6P for just Rs. 1 and pay the remaining amount via interest free EMI, you might need to just pay the file charge which is small nominal fee. This financing is made available by Bajaj Finance Limited.
This offer is available on two models of Nexus™ 6P is available in 2 variants, 32GB & 64GB, both in two colors Aluminum & Graphite.
Please Note: Offer is valid till 31st Mar 2016, This is offer is applicable on selected stores. EMI options are available only in select cities and towns where there is presence of Bajaj Finance Limited.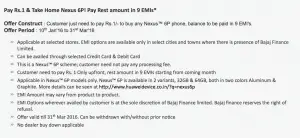 Customer need to pay Rs. 1 Only upfront, rest amount in 9 EMIs starting from coming month. Also there is no dealer buy down applicable for this. 
You can find out the stores around your place where you can redeem this offer, if you have any doubt or question please leave it through the comments section below, we will help you as soon as we can.