LG launched its High end Flagship phone, LG G5, in India on 1st June in an event in Gurgaon.  The highlight of the phone is its Modular design, which enables you to add or detach the interchangeable add-ons or modules. The price of the phone is fixed at Rs. 52,990. In this article, we will give you 5 Reasons to buy the all new LG G5 and 2 Reasons why you should not buy this phone.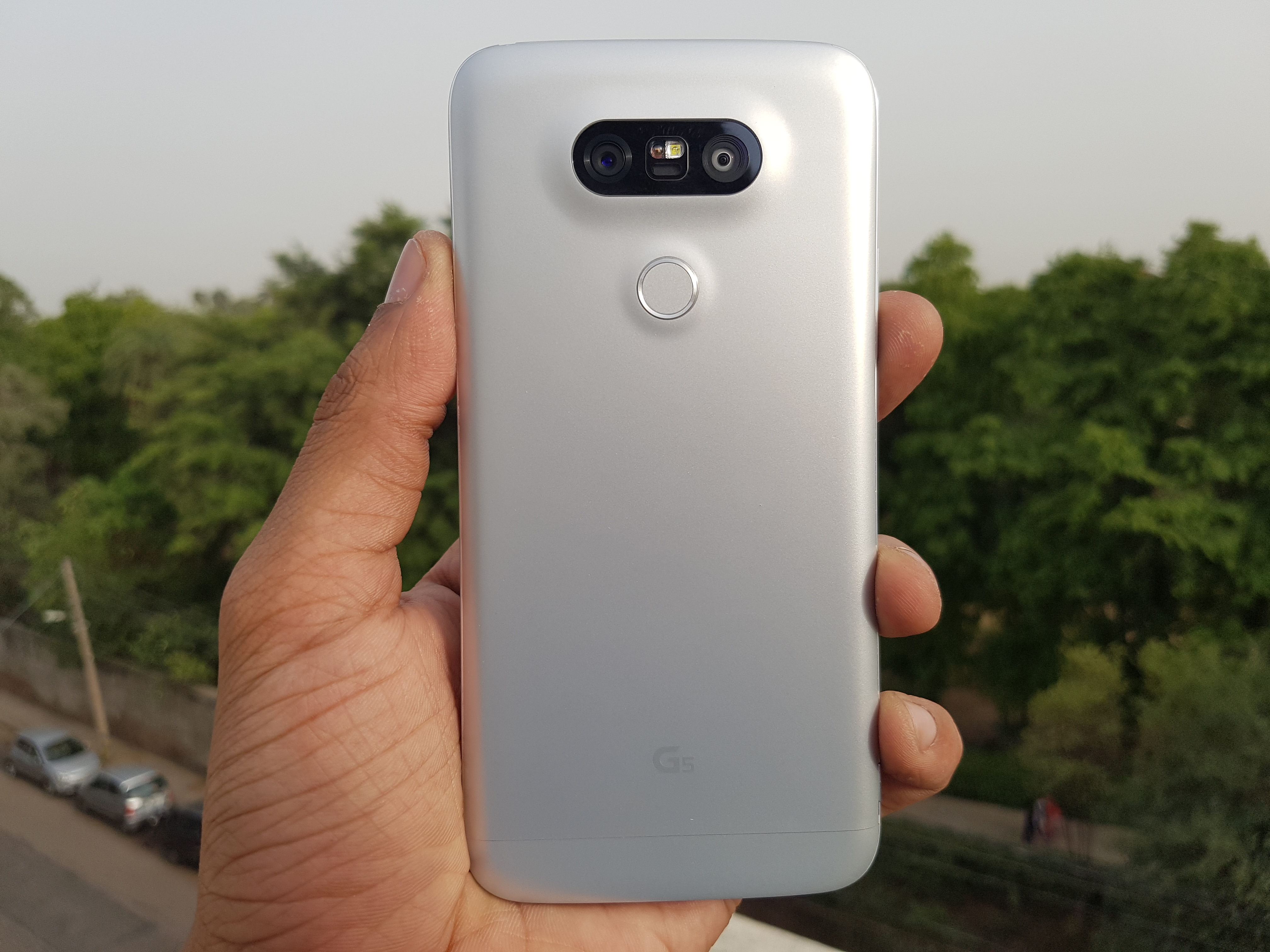 LG G5 Specifications
[table id=378 /]
LG G5 Review, 5 Reasons To Buy, 2 Reasons Not To Buy [Video]
5 Reasons to Buy LG G5
Design
LG G5 features a Premium looking Sleek and Slim Metal alloy body with 3D Arc glass on the top that gives it a smooth curve. Even with such a heavy finishing, the phone weighs just 159 grams. As mentioned above the highlight of the Phone is the interchangeable modules or add-ons called the LG G5 Friends. The Friends include a LG Cam Plus, LG Hi-fi Plus, LG 360 VR, LG 360 Cam, LG Rolling Bot etc. Although, you will have to buy them separately.
Camera
LG G5 comes with a Unique Camera Hardware that features a Dual Rear Camera setup for easy switching between the close up's and wide angle shots. The dual setup at the back includes a 16 MP and an 8 MP Camera. The Rear Camera clicks Amazing pictures with laser Auto focus and great details. It also has a 8 MP Front Camera which is a icing on the cake.
Great Performance
The third reason to buy LG G5 is its High Quality Specifications. The phone comes with a 2.1 GHz processor with Qualcomm Snapdragon 820 chipset coupled with 4 GB RAM (2.2GB of RAM out of 4GB was free) and 32 GB internal storage(23.36 GB is available out of 32 GB). With all this loaded inside, it gives a Smooth Experience while Multitasking, Browsing, Heavy Gaming etc.
Sliding Removable Battery
Fourth Reason to buy this phone is its Sliding Removable Battery. It has a 2800 mAh battery, which is very small for such a loaded device, but with the Removable battery feature you can easily swap a spare battery In case you ran out of power. If you are reading this on or before 7th June, Flipkart is providing a Free Battery & Charging Cradle worth Rs. 3499, with this phone.
Expandable Storage
Many Flagship phones are going away from the microSD card slots, but LG G5 continues to fulfill this demand for its customers.  With 32 GB of internal storage already packed inside, LG G5 also offers a Large Expandable storage up to 200 GB or 2 TB via a microSD card. This enables you to store anything and everything.
2 Reasons to Not Buy the LG G5
Small Battery
First Reason to Not Buy LG G5 is its 2800 mAh battery. Although it is a removable battery which can be easily replaced by a spare one, but still its just 2800 mAh, which looks a little impractical with such a loaded device.
High Price
This is the problem that almost every High End Smartphone will face. If we are getting a good phone for almost half the price, then we are bound to overlook some of the luxurious features we are getting on the High end device. LG G5 is priced at a whooping 52,990 rupees, at such a high price the marginal utility of the phone becomes very less when compared to phones like Samsung Galaxy J7 or Moto G4 Plus.
Conclusion
The LG G5 has it all, a Premium Metallic Design, Brilliant Modular Add-ons, Unique Dual Rear Camera, Top Notch Specs among others. But due to Small Battery and mainly a High Price, it would not be very practical for the general public. But still if you are planning to buy a High End Flagship Phone, then you should definitely consider LG G5.