It has been a great year for smartphone enthusiasts all over the world so far. We have seen several upgrades over the existing technology, from cameras to power or design. First half the year 2016 is over and as we are entering the second half, we can see phones with 6 GB RAM and top-notch hardware is making their way to India.
Earlier this month, LeEco announced their flagship phone, Le Max 2 with amazing specifications at just INR 29,999 and yesterday, it was another Chinese rival OnePlus who launched their much awaited flagship killer the OnePlus 3 at INR 27,999. There are a lot of similarities between both the smartphones, so we decided to put them head to head and see which one takes the lead.
OnePlus 3 vs LeEco Le Max 2 Specifications
[table id=566 /]
Design & Build
One of the major changes in this year's OnePlus flagship handset is its design. This time, the OnePlus 3 come packed in a metal body which makes it look premium and different from its predecessors. OnePlus 3 is just 7.3 mm thick and weighs 159 grams which makes it slim and lightweight looking at the specifications of this phone.
On the other hand, Le Max 2 also comes with a metal unibody with a complete design overhaul compared to last year. It is bigger with 5.7 inches of display size in comparison with the 5.5 inch on OnePlus 3. Le Max 2 weighs 185 grams which makes it a lot heavier than the new entrant.
In terms of single handed usage and in hand feel, the OnePlus 3 feels better but in the end it depends on you to choose between the designs. Major changes include the placement of fingerprint sensor and the missing 3.5 mm jack on Le Max 2. Both the devices feel premium and sturdy but OnePlus leads the way with more polished an elegant finish.
Display
OnePlus has used a 5.5 inch Optic AMOLED display with full HD (1920x1080p) resolution. In terms of display quality, it looks rich, has good brightness levels and feels subtle to eyes. In comparison the Le Max 2 has a bigger 5.7 inch IPS display with Quad HD (2560x1440p) resolution. This display is a treat for multimedia lovers, it is a great display to watch movies and play games on the go.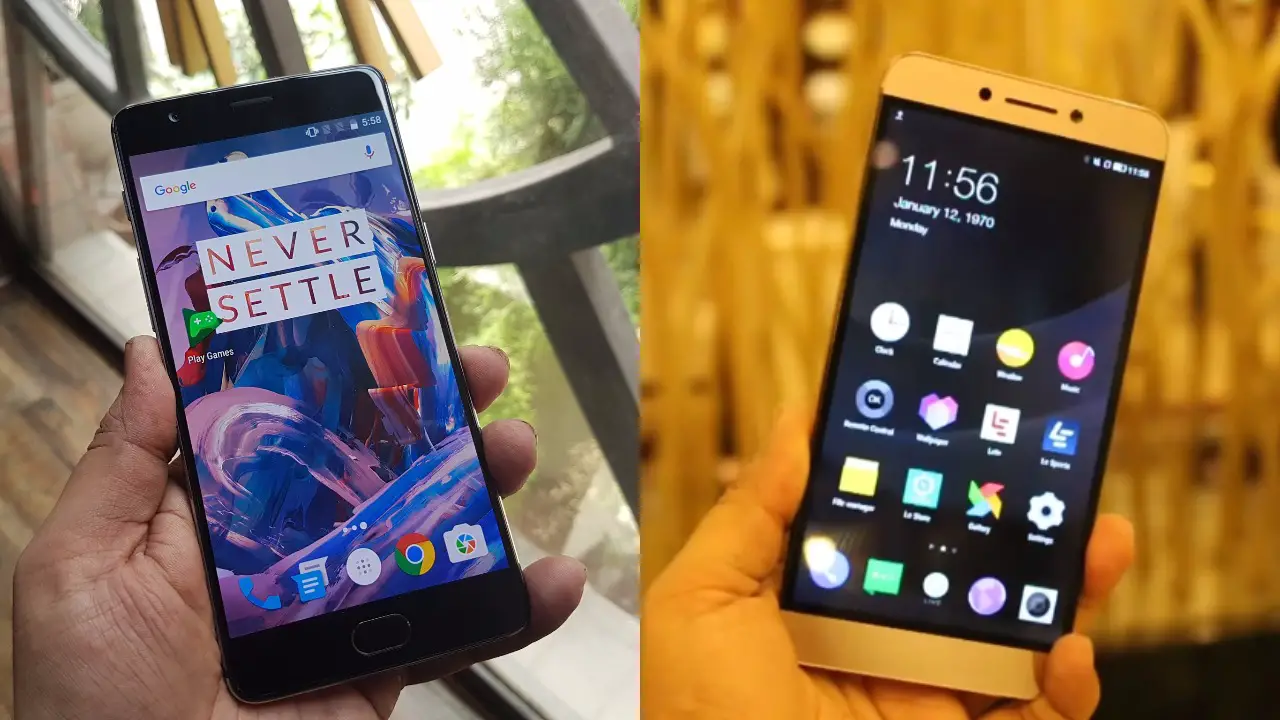 While some of us prefer smaller display over the hefty screens, some believe in bigger is better. In terms of resolution, the Le Max 2 has a better figure on papers, although you won't be able to differentiate much with the naked eyes. In my personal opinion, I prefer AMOLED panels over IPS panels and in terms of size, lesser are better for me.
Hardware and Storage
Both the smartphones come packed with the latest Snapdragon 820 processor with 6 GB of LPDDR4 RAM (4GB RAM variant also available for Le Max 2) modules and UFS2.0 storage. Both the phones are the first one to land in Indian soil with such configuration.
For storage options, both the phones come with 64 GB of inbuilt storage with no provision of expandable memory. The good thing is that Le Max 2 comes in 2 variants, out of which you can opt for smaller 32 GB of storage if you want to save some cash and 4 GB RAM is enough for you.
Camera
OnePlus started off with a great camera under its price segment with its OnePlus One, but failed to impress with the OnePlus 2 camera. In OnePlus 3, the company has again changed things and is back in the game. It comes with a 16 MP rear camera with f/2.0 aperture, PDAF, 1/2.8″ Sony IMX 298 Sensor. It captures great details, as well as natural colours. This time, OnePlus has also improved the low light camera performance.
On the other hand, the Le Max 2 boasts of a 21 MP camera with 1/2.4″ Sony IMX 230 Sensor and it seems great too when compared to the primary unit on OnePlus 3. We did not get enough time to try both the cameras in detail so we would reserve our final verdict about the camera comparison between the two.
Battery
The OnePlus 3 comes with a Non-removable 3000 mAh battery with Dash Charge 2.0 support. The LeEco Le Max 2 is powered by a Non-removable 3100mAh battery with fast charge support known as LeCharge.
In terms of backup, both the phones offer single day of battery backup, but with a huge Quad HD display to power, Le Max 2 loses its 100mAh lead over the OnePlus. You can expect a single day of usage on single charge on both the smartphones.
Pricing & Availability
The 64 GB variant of LeEco Le Max 2 is priced at Rs. 29,999 and the 32 GB variant is priced at Rs. 22,999. The OnePlus 3 has been priced at Rs. 27,999.
OnePlus has ditched the invites-only strategy, which means you don't have to wait to buy the OnePlus 3. You can visit Amazon.in and purchase one for yourself. On the other hand, LeEco will have its first flash sale on Flipkart for the Le Max2 on 28 June
Conclusion
Both the phones deserve special attention and look like genuine flagship killers on paper. From top end processor to huge RAM capacity, premium looks to sleek design; both the phones have it all to tempt consumers. Taking an overall view at the specs, features and price, OnePlus 3 looks like a better deal in place of the LeEco Le Max 2. It will save you some cash if you can compromise with the QHD display.