After months of speculations and leaks, the much awaited flagship killer, OnePlus 3 was launched on 14th June. Now, the phone is available on Amazon India at a price of Rs. 27,999. The key specifications of Oneplus 3 include a Qualcomm Snapdragon 820 chipset, 6 GB RAM, 64 GB internal storage, 16 MP / 8 MP camera setup and Android 6.0.1 among others. In this article we will be taking you through all that we found after using the phone for almost a month.

OnePlus 3 Full Specs
[table id=564 /]
OnePlus 3 Coverage
Hindi | OnePlus 3 Big Box India Unboxing, Accessories, Fun and What We Got | Gadgets To Use

[Video]
What are Usage Reviews, Tests and Opinions?
This review is based on our quick tests and usage done with the phone, we try to push the device to its limits and find out the results which will matter if you plan to buy this phone. We hope this review helps you to get answered your queries about the device.
Performance
OnePlus 3 is powered by a Quad Core processor with Dual-core 2.15 GHz Kryo & dual-core 1.6 GHz Kryo with Qualcomm MSM8996 Snapdragon 820 chipset and Adreno 530 GPU. It comes with 6 GB RAM and 64 GB internal storage but does not have a microSD slot.
App Launch Speed
The app launch speed is amazingly fast, it opens even heaviest of the apps very quickly.
Multitasking and RAM Management
With 6 GB RAM, multitasking on OnePlus 3 is never an issue. it can save your minimized games or any task for hours, you can resume it from the same place.
As far as the RAM goes, out of the 6 GB, there was around 4.5 GB available on boot.
Heating
Since it is a powerful phone, we had a lot of expectations, we pushed it to limits. We did everything from playing games, video recording etc. and all that with the highest visual setting possible. After all that, we noticed only mild heating that was quite impressive.
Benchmark Scores
[table id=567 /]
Camera
OnePlus 3 is equipped with a 16 MP rear camera with LED flash, Sony IMX 298 Sensor, OIS, 1/2.8″ sensor size, 1.12 µm pixel size, phase detection autofocus and f/2.0 aperture. It features geo-tagging, touch focus, face detection, panorama and Auto HDR. It supports 2160p videos @30fps and 720p videos @120fps.
On the front it has a 8 MP camera with Sony IMX 179 Sensor, 1/3.2″ sensor size, 1.4 µm pixel size and f/2.0 aperture.
Camera Performance
The 16 MP rear camera performed at par with our expectations. OIS, good sensor and pixel size adds it to the category of other high end devices. In addition to that the 8 MP front camera with Sony IMX 179 Sensor also gave good results.
All the pictures in natural and ample artificial lights had great details and colour production but in low light conditions, we expected it to do a little better. Although it was good in absorbing light but still the pictures looked grainy. Overall, the colors were great, details were also good which is complimented by excellent sharpness and contrast.
Camera Samples
Battery Performance
OnePlus 3 is backed by a 3000 mAh Li-Ion non removable battery. It looks a bit compromised considering a 3300 mAh battery in the OnePlus 2 and also the heavy hardware of the phone. But the Snapdragon 820 is more efficient and economical which balances it very well. We were easily able to get more than one day of battery back up after moderate usage.
But there's a twist to it, OnePlus 3 comes with a fast charging technology called the dash charge. It has a 4 amp fast charger, this will give you an idea what dash charge is all about.
Charging Time
Dash Charging charges the OnePlus 3 more than 60% in just 30 minutes.
Looks and Design
OnePlus 3 has a metal unibody design that gives it a very premium finish. It has an aluminum back instead of sandstone which we saw in Oneplus 2, it looks premium but it is harder to grip. The back has 2 antennae bands which looks very similar to the HTC ONE M9 and it also has a OnePlus logo in the center and a nice camera at the top. It looks sleek from the sides and the the finish quality looks top-notch, comparable to high end phones like iPhones.
OnePlus 3 has a 5.5 inch display with Corning Gorilla Glass 4 and 73.1% screen-to-body ratio. Despite a 5.5 inch display, OnePlus 3 is very easy to hold in one hand and use. On the front it has a home button with the in built fingerprint sensor. It weighs around 158 grams and its dimensions are 152.7 x 74.7 x 7.4 mm which makes this phone quite slim.
Photo Gallery
Quality of Material
OnePlus 3 has a metal unibody design that gives a very solid and premium feel. Although the aluminum back is slightly slippery when compared to sandstone, but OnePlus has introduced a lot of choices for those who want to change the look and feel of the back.
Ergonomics
Despite the heavy use of metal it weighs just 158 grams and the dimensions are 152.7 x 74.7 x 7.4 mm which makes this phone quite slim.
Display Clarity, Colors and Viewing Angles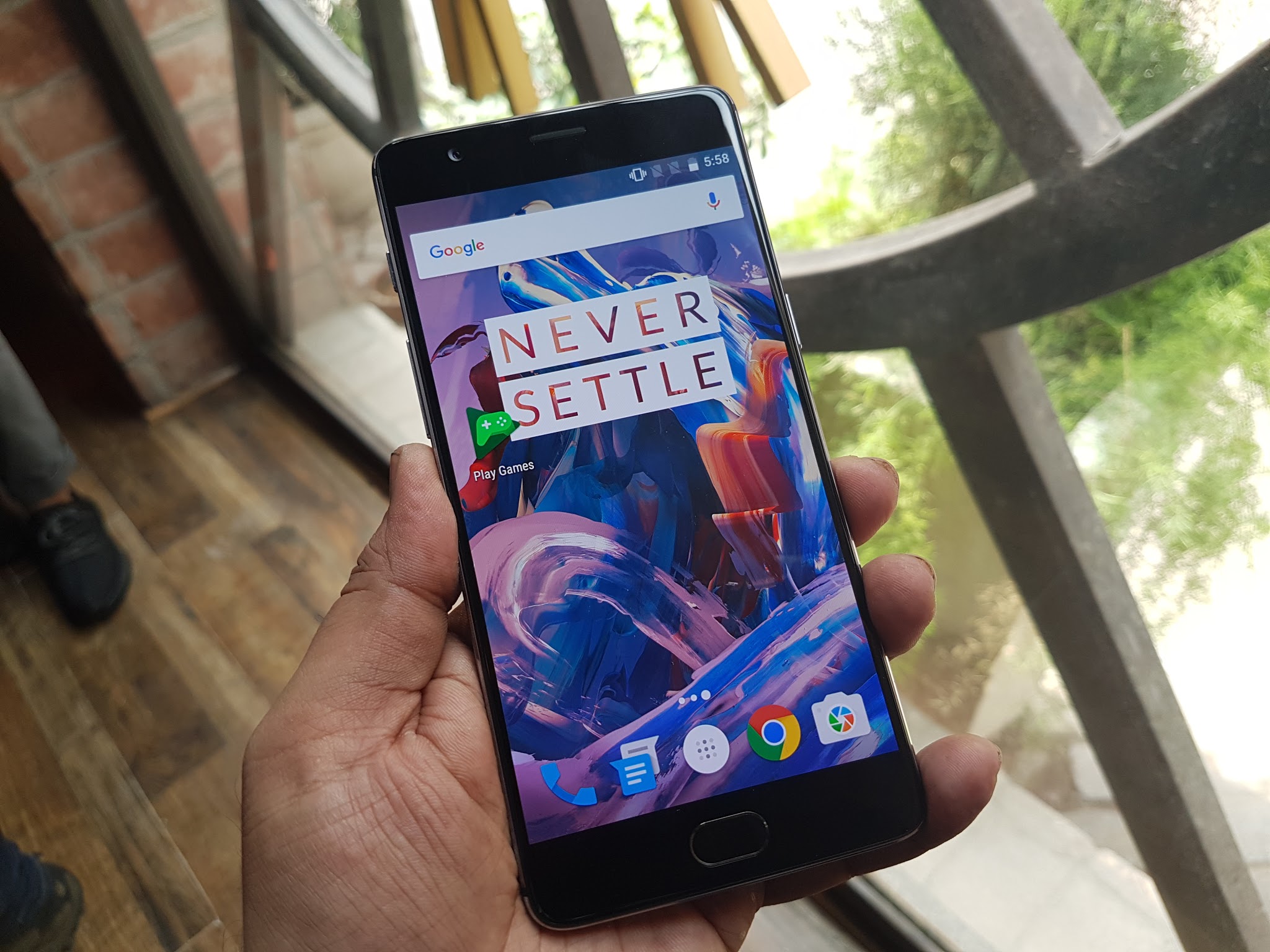 OnePlus 3 comes with a 5.5 inches Optic AMOLED display with a screen resolution of 1080 x 1920 pixels (Full HD) and a pixel density of 401 ppi. I would not call this display extra ordinary but it is a perfect display for reading, games and watching videos looking at the price it comes for. Colors, clarity and brightness is good but not the best we have seen so far. One thing worth noting is that this display can be viewed from extreme angles.
Outdoor Visibility (Full Brightness)
Outdoor visibility on OnePlus 3 is excellent, color and brightness does not look dull.
Custom User Interface
OnePlus 3 comes with Android OS, version 6.0.1, Marshmallow out of the box. it features OxygenOS, user interface on the top of it. OxygenOS has a very simple design yet it is very powerful.
Marshmallow provides a lot of power saving features for energy optimization. Moreover, OxygenOS also offers various power saving modes, it also provides shortcuts for navigation, lot of theme colors and organizes a shelf for important things.
Sound Quality
The loudspeaker grill is place at the bottom edge with the 3.5 mm jack USB Type C port and primary microphone. Overall the sound quality is very good, even if you play music in outdoor conditions it would be easily audible and pleasant. You wont experience any distortion even at high volumes.
Call Quality
Call quality is not over the top, it was fair. But still it cannot be seen as a disadvantage.
Gaming Performance
OnePlus 3 comes with an Octa-core processor with Qualcomm Snapdragon 820 and Adreno 530 GPU, moreover, all this coupled with an amazing 6 GB RAM. Looking at the specs on paper, one can easily make out that gaming performance would be very impressive. Our experience turned out at par with our expectations. We played Asphalt 8 for 45 minutes and the game-play was as smooth as it can be. With a whooping 6 GB of RAM you can even minimize your game in between and then continue it again after some time and that's a big plus for gaming addicts.
After playing Asphalt 8 with high visual settings for a period of 45 minutes we experienced a battery drop of around 17% and the highest temperature was 39.7 degree Celsius, but this will vary depending on the type of game and the room temperatures on your side.
Game Lag & Heating
We did not faced any issues while gaming, the device performed well exactly as we expected it to do. We saw couple of tiny frame drops but they were because of the pop up advertisements while we were connected to WI-Fi.
As far as heating is concerned, it did not get very hot at any point of time, we just experienced usual warmth on the back.
Verdict
OnePlus 3 is a totally different phone from what we have seen in the previous OnePlus flagship devices. One can easily sense the efforts done by the OnePlus team to eliminate the flaws found in their previous devices. It has an improved software, with no questions about the performance part. It performs well in the camera department as well, but we would still want it to perform better under low lighting conditions.
Overall, its a great phone for its price and it totally justifies its price tag. I can surely recommend this phone to anyone who loves spending time with their phones.