The much awaited Reliance Jio service is all set for its commercial launch. The Jio SIMs are currently available for Lyf smartphone users, Jio partners, employees and select Samsung A series, S series and Note series phones. Everyone who doesn't own a Samsung device has been waiting to get a Jio SIM and enjoy 3 months of 4G usage.
Today, we are going to show you how to generate the coupon code required to get a Jio SIM and get unlimited 4G data for 3 months on your 4G android device.
How to get Reliance Jio Sim:
The first thing you need is a 4G supported Android device.
Now, download the My Jio app from the Playstore.
Open the My Jio app and click on Install All button to download all the 10 Jio apps from the Playstore.
Now, you need to disconnect your WiFi and Mobile data.
After the downloads finish, open the My Jio app and click on open next to My Jio.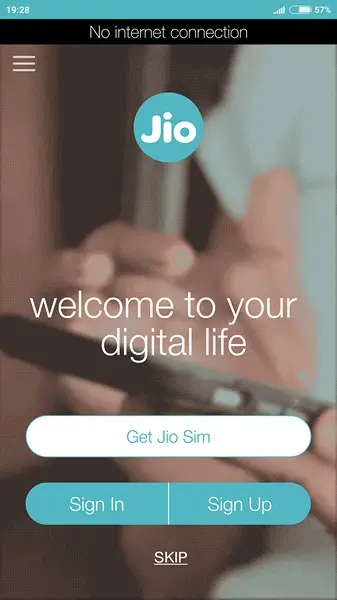 Now, turn on WiFi or your data connection.
Click on Get Jio Sim.
You will then see the Jio Preview Offer screen.

Once you click on agree, you will be asked for your location.
Now, you will get a QR Coupon code.
Take a print out of this code along with your documents and a passport size photograph to your nearest Reliance Digital store.
Show the QR code at the store and get a Jio SIM.
Activation might take up to 24 hours.
Once it is activated, call 1977 from your Jio Sim to activate both voice and data services.
You can also call 18008901977 to activate only data services.
You will receive a message on your mobile number and your email ID informing you about the activation.
This is a bug in the My Jio app and you may not be able to get a Jio Sim as the executive at Reliance Digital express might demand to see your Samsung device. If you are able to get a SIM, you can activate it and enjoy your unlimited 4G data for 3 months.