HTC 10 is the latest flagship smartphone from HTC, featuring a lot of design improvements and hardware upgrades. While the previous HTC One series flagships were not much of an upgrade, the HTC 10 is everything that an Android fan would want for. Both the sides – the company as well as its fans need a break from the two sub-par flagships. HTC thinks the HTC 10 is the answer. We find out how true it is.
HTC 10 Full Specs
[table id=536 /]
HTC 10 Unboxing, Review, Pros, Cons [Video]
What are Usage Reviews, Tests and Opinions?
This review is based on our quick tests and usage done with the phone, we try to push the device to its limits and find out the results which will matter if you plan to buy this phone. We hope this review helps you to get your queries answered about the device.
Performance
The HTC 10 is powered by Qualcomm Snapdragon 820 with a Quad core processor with 2 x 2.15 GHz Kryo , 2 x 1.6 GHz Kryo and Adreno 530 GPU. The device comes with 4 GB of RAM and 32 GB of internal storage. The storage on the device can be expanded up to 256 GB via microSD card. Snapdragon 820 is the latest flagship processor from Qualcomm and HTC has made sure it sticks with top end components this time around.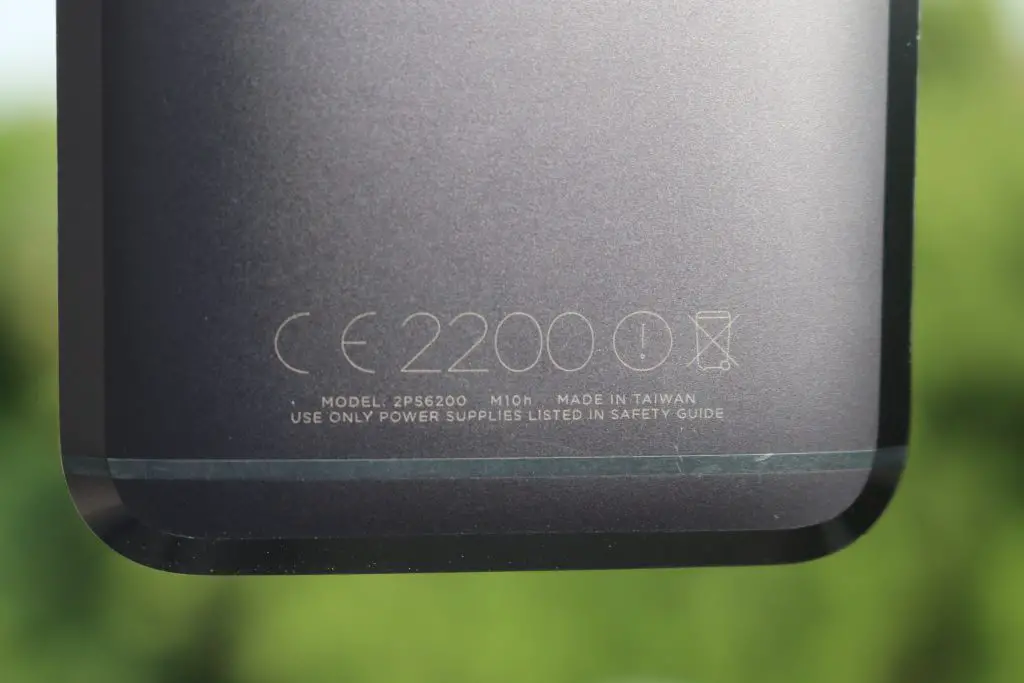 Thanks to the processor and Marshmallow's performance improvements, the HTC 10 is snappy for the most part.
App Launch Speed
The app launch speed on the HTC 10 was good and there were no delays in launching any of the apps, including the heavy benchmark apps or games.
Multitasking and RAM Management
The HTC 10 comes with 4 GB of RAM and the device can easily handle a number of apps at once. You can resume your games right from the position you minimized it. Overall RAM management is good on the device. HTC's Sense UI has been vastly trimmed as well, giving the company more room to make sure resources are used for other important aspects.
Scrolling Speed
For testing the scrolling speed, I loaded the GadgetsToUse homepage on the smartphone and scrolled top to bottom and back on the phone. The web page rendering speed was great and the page managed to scroll easily without any problems.
Heating
While the previous generation of flagship Snapdragon processor was plagued with massive overheating issues, Qualcomm has done well to bring this issue under control in the Snapdragon 820. Additionally, more awareness among the OEMs has also helped the Snapdragon 820.
Coming to the HTC 10 specifically, the company has managed to make sure that heat dissipation is good enough. Like every other piece of technology, however, it is going to heat up if you run GPU intensive tasks. This is normal and expected. Otherwise, our HTC 10 review unit showed no significant heating issues.
Benchmark Scores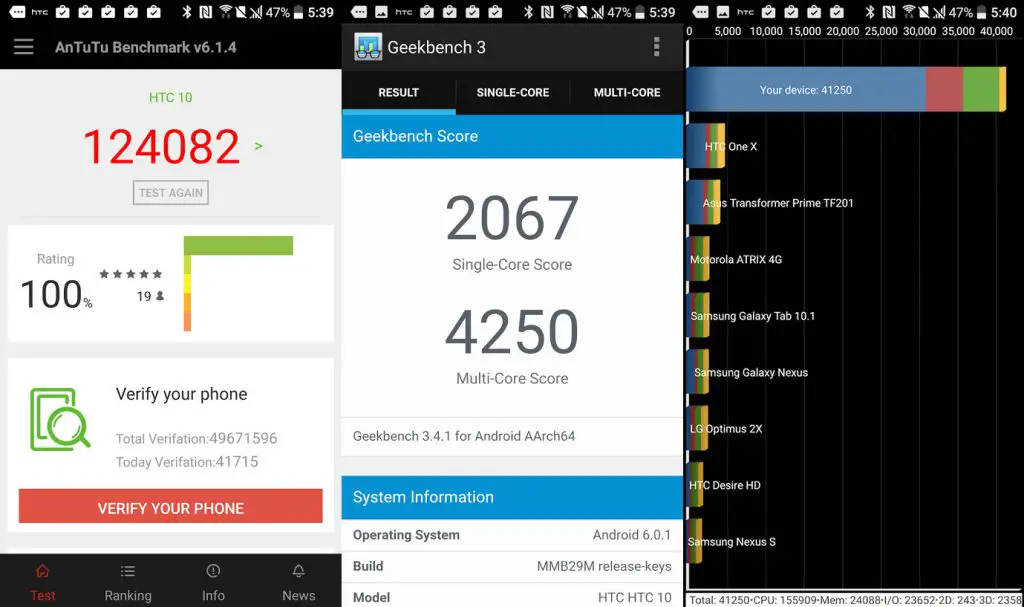 Camera
The HTC 10 comes with a 12 MP primary camera with laser autofocus, Optical Image Stabilization (OIS), BSI sensor, Auto-HDR, ƒ/1.8 aperture, 26mm focal length and Dual tone LED flash. It can record videos at [email protected] and slow motion videos at [email protected] fps.
On the front, the HTC 10 sports a 5 MP selfie camera with autofocus, BSI sensor, Optical Image Stabilization (OIS), Auto-HDR, ƒ/1.8 aperture, 23mm focal length. The front camera is capable of Full HD 1080p video recording.
Camera UI
Day Light Photo Quality
Low Light Photo Quality
Selfie Photo Quality
Battery Performance
The HTC 10 is powered by a Non-removable Li-Ion 3000 mAh battery. It comes with Quick Charge 3.0 support. HTC claims that the device will offer up to 27 hours of talk time on 3G/4G network and up to 19 days of standby time on 3G/4G network. HTC claims that you can reach up to 50% of charge in just 30 minutes.

Charging Time
We were able to charge the HTC 10 up to 50% in just 35 minutes and it was fully charged in 1 hour 20 minutes using the bundles charger that has Quick Charge 3.0 capability.
This means that HTC 10 charges faster than the Samsung Galaxy S7.
Looks and Design
HTC is known for its premium and minimalist designs, going so far as to inspire even Apple (massively, at that). The HTC 10 is no different. It keeps some of the design elements and patterns from the HTC One M9, but the company has made sure the HTC 10 knocks other smartphones out of the park when it comes to design.
Featuring chamfered edges that go throughout the sides of the device, HTC's industrial design prowess is demonstrated extremely well with the HTC 10. Not only do the tapered edges help the phone look good, they also help with gripping and handling the phone. The phone is also curved ever so slightly on the back, helping you to hold it better.
HTC 10 Photo Gallery
Quality of Material
Like always, HTC's design leaves little to desire. The HTC 10 feels solid and the all-metal design makes it look like a tank – a beautiful one at that.
Ergonomics
The HTC 10 is slightly bigger than its predecessor, the One M9. However, it makes up for it with a slightly bigger display and a bigger battery. The edges are tapered and the back is slightly curved to help you with gripping the phone.
However, due to the nature of a metal unibody build, the HTC 10 is slippery. You are better off using a case – a transparent one should help you grip it better while not hiding the good looks of the device.
Display Clarity, Colors and Viewing Angles
The HTC 10 comes with a 5.2 inch Super LCD5 display with a screen resolution of 2560 x 1440 pixels, giving you a screen density of ~565 PPI. This is as much clarity as you can currently achieve on a smartphone display, so the HTC 10 is on top with other Android flagships in this regard.
Smartphone displays these days are almost always dense enough, so the other areas like color reproduction and viewing angles are what companies compete on. Again, HTC has used the best components it could and that shows – the HTC 10's display is top notch, with good color calibration and great viewing angles. The outdoor brightness could have been a little higher though, but it is still excellent.
Outdoor Visibility (Full Brightness)
Outdoor visibility is good. The screen looks very bright and clear.
Custom User Interface
HTC initially worked hard to differentiate Sense UI from its competitors. In the process, the company had turned its custom skin into a giant resource monster, destroying its phones' performance and thereby its fortunes.
Come HTC 10 and we see the company has slimmed down Sense UI to a great extent. While it is still evident that a custom skin is running on top of Android, HTC has been mindful enough to mask stock Android only ever so slightly.
At the same time, HTC has retained the good elements in its custom skin. The HTC 10 comes with a simple lockscreen with 5 shortcuts and a clock widget that displays the current weather information. There is a Themes Manager and an accompanying theme store to let you customize your phone with just a click. Quick Settings customization is plenty enough to cover the needs of many advanced users as well.
In short, there's something for everyone.
Sound Quality
The HTC 10 comes with dual BoomSound speakers. These two speakers are placed next to the USB charging port, so instead of front-facing speakers you get a couple of downward firing speakers.
BoomSound, as usual, is extremely impressive. Whenever you play audio through the loudspeaker, you get a couple of sound modes to choose from – Theater mode and Music mode. While audiophiles may be able to recognize the difference between these two modes, average users will be able to enjoy both the modes just the same.
Coming to the headphone jack, the HTC 10 comes with a new feature that upscales 16-bit audio to 24-bit. This improves the music experience considerably, paired with the right set of headphones.
Overall, we walked away extremely impressed with the sound quality.
Call Quality
We tested the HTC 10 with different network providers across 2G, 3G and 4G. In all our testing, the HTC 10 performed very well.
Gaming Performance
I was very confident about the gaming performance much before installing first game on the first game on this smartphone. So I decided to run NOVA 3 and Asphalt 8 to test its gaming prowess. Before anything else, I changed the graphic settings to high and then started gaming.
My experience while playing games on this device was smooth as silk. There were not lags, no hiccups or frame drops at any stage of game-play and I was more than happy with the performance. If you compare the gaming performance with other flagships, then  I can say it was performing better than the Samsung S7 and was as good as the LG G5 in terms of heat control and battery drain.
Conclusion
The HTC 10, with the right set of marketing strategies can help the company make a comeback (of sorts). It ticks almost all the boxes on our list – great set of cameras, display, processor, memory and storage, connectivity options and sound performance. If at all you could talk about anything negatively, it is the price. Currently retailing around Rs. 48000, the HTC 10 will find it tough going up against the likes of the Samsung Galaxy S7 and the iPhone 6s, which are ruling the market currently.