Lenovo Z2 Plus is going to be launched in India soon. According to our sources and a new teaser image from the company, the Lenovo Z2 Plus is headed for the Indian market in the month of September. The teaser image comes with the tagline "Impatience is a virtue", suggesting that the Z2 Plus will be a fast flagship smartphone featuring cutting edge hardware and high end specs.
Lenovo Z2 Plus Specs
The Lenovo Z2 Plus, also known as Zuk Z2 was launched earlier this year in May in other markets. Succeeding the original Zuk Z1, the Zuk Z2 comes with several major hardware upgrades, including the latest flagship SoC from Qualcomm, the Snapdragon 820.
The Lenovo Z2 Plus will come with quad-core Snapdragon 820 processor with Adreno 530 GPU. As we have seen in most of the recently launched flagships from other companies, the Lenovo Z2 Plus will come with 4 GB RAM and 64 GB internal storage. The phone will come with 5 inch Full HD display, giving you a pixel density of ~441 PPI.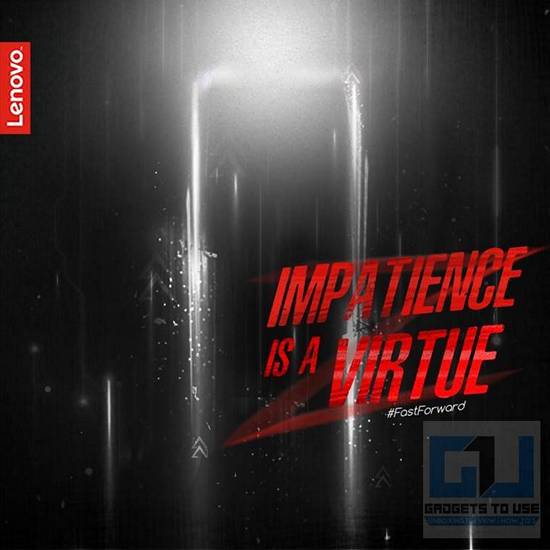 The Z2 Plus will come with a 13 MP camera on the back along with LED flash and an 8 MP camera on the front. It also comes with a fingerprint scanner. The phone is backed by a 3500 mAh battery and supports Quick Charge 3.0. It comes with a USB Type C port.
Lenovo Zuk Z2 Launch In September
While the predecessor of Z2, the Z1 featured Zuk branding, Lenovo is doing away with it for the Indian launch of the Z2 Plus. It is called the Zuk Z2 in other markets, but in India, it will be known as the Z2 Plus. Compared to the launch of the Zuk Z1, the Z2 Plus is launching much earlier in India.
As for the launch schedule in India, we are looking at sometime in September. We will let you know more about the phone as we get more information.