Coolpad has launched its new phone in its Note series and has named it as Coolpad Note 5. This comes in the budget segment which has been flooded by brilliantly performing phones. All these phones in the budget range come with extraordinary specs, build quality, design and mainly performance. But most of them lack on camera performance.
Coolpad Note 5 also shines in performance with its Qualcomm branded processor and whopping 4 GB of RAM but we shall see how its camera stands out against other competitors. We must also note that Note 5 offers front facing LED flash which none of the phones offer at this price.
In this article you can find how the camera of Coolpad Note 5 performs under various lighting conditions and various modes in which pictures can be taken.
Camera Hardware Table
| Model | Coolpad Note 5 |
| --- | --- |
| Rear Camera | 12.98 MP (4160x3120 pixels) |
| Front camera | 7.99 MP (3624x2448 pixels) |
| Sensor Type (Rear Camera) | CMOS |
| Aperture Size (Rear Camera) | f/2.2 |
| Aperture Size (Front Camera) | f/2.2 |
| Flash Type (Rear Camera) | Dual LED |
| Flash Type (Front Camera) | LED |
| Video Resolution (Rear Camera) | 1920x1080 |
| Video FPS (Rear Camera) | 30 fps |
| Video Resolution (Front Camera) | 1280x720 |
| Video FPS (Front Camera) | 30 fps |
| Slow Motion Recording | |
| 4K Video Recording | No |
| Lens Type (Rear Camera) | 5 element lens |
| Lens Type (Front Camera) | Wide angle - 80.1 degree |
Coolpad Note 5 Camera Software
The user interface of camera app is simple. You get adjusted to it within no time. You get round white option to click the photos. On to the left of it we can find the option to see the recently captured photos. On the right we get option to edit.
On the top we find the option of camera toggle or the option to use front facing camera, and also we find the option to enable or disable the HDR mode.
Also we get five modes in rear facing camera whereas three modes in front facing camera. These modes can be activated just by swiping to left or right. But I must mention that you find a bit of lag while using front facing camera.
One standout point in this phone would be the LED flash along with the front facing camera. I think if you are a selfie lover you will be dragged to buy this device only for this additional feature.
Camera Modes and Filters
Coolpad has provided five modes which can be used by swiping. The modes include night mode, video mode, photo mode, beautification mode and finally pro mode. There is nothing special in this as you find it in every mobile.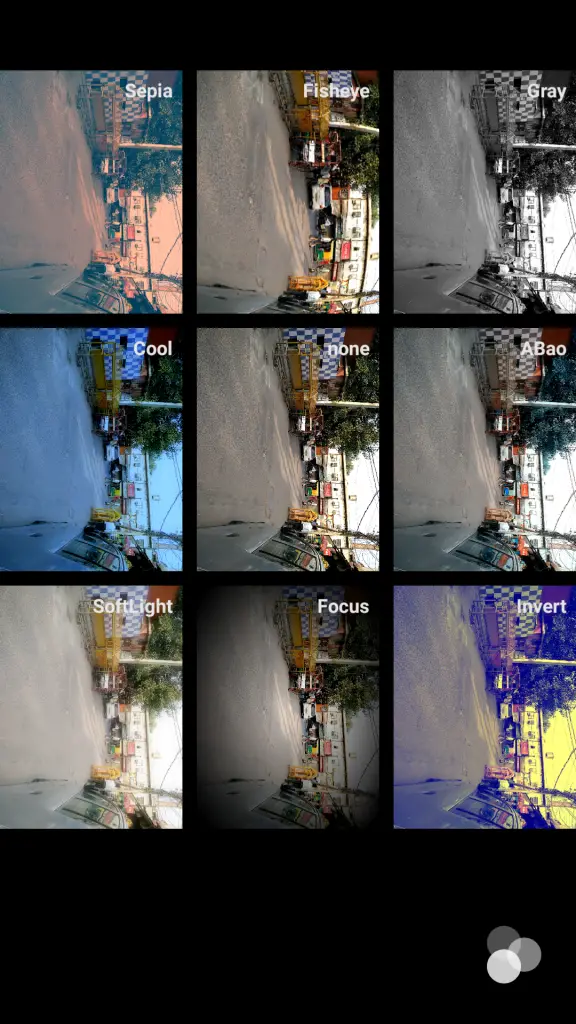 As far as filters are concerned, we get a plethora of filters which include Sepia, Fisheye, Grey, Cool, None, Abao, Soft Light, Focus and Invert. These come handy if you need some variety in photos or if you need to have some effect.
But the feature to be noticed is we get to shoot GIF's which is the ongoing trend is social media nowadays. Also we get the panorama mode and long exposure mode in case of low lighting. We also get to use WaterMark which sort of adds your identity on the photo.
Front Camera Samples
Coolpad Note 5 comes with 8 MP front facing camera. Using it you can record videos in 720p HD at 30 FPS. Coming to the picture quality, the performance is great in normal lighting conditions. The pictures are crisp and have the nice detailing. Even the beautification mode helps to get better pictures. Even under artificial lighting the camera performance is satisfactory. But under low light conditions the pictures comes out to be noisy and grainy.
Though it has front facing flash, there is no much significant changes in the pictures. Even the performance is worst when we take photos against the light. But we can't blame it as even high end phones lag in this aspect.
The 80.1 degree wide angle lens is a plus point to have a wider frame and also the front facing flash is notable.
Rear Camera Samples
Artificial Lighting
Coolpad Note 5 comes with 13 MP rear facing camera with dual LED. You can record upto 1080p Full HD video at 30 FPS. Under artificial lighting, the camera performance can be judged as satisfactory. You get that nice bouquet effect with much depth of field. But you get blurry image even with slight shake in your hands while taking a pic.
Also as you can see in the sample pictures, some photos have come out extraordinarily well whereas in some pictures you can that excess amount of flash ruining your pictures. We even find some pictures to come out flat without much variety. But we must say that focussing is nice and takes place swiftly.
Natural Light
This is the zone where this camera kicks off. The images taken in natural light is amazing. You see those vibrant natural colours reflected in your pictures. Also the focussing is swift and effective.
You can also find detailing in the images which is very good. Also the digital zooming is good as there is no distortion in image quality even after significant amount of zoom. Also the shutter speed is satisfactory and can take a picture instantly. So, we can say that it's a great performer in natural lighting.
Low Lighting
This is the area where all the phones in this price segment lag and Coolpad Note 5 is not an exception. The low light pictures are not up to the mark and lacks detailing. The dual LED flash does not make any wonders here. Also we find much distortion and grains in the pictures. Also we find images with less brightness and even the performance of the camera against the light is also bad.
Camera Verdict
The camera on Coolpad Note 5 can be graded as satisfactory. This is neither great like that on Moto G4 Plus nor bad. Coolpad must have imoroved the performance under low lighting conditions. We also find laser assist auto focus and phase detection auto focus on some devices from the same price segment. But Coolpad has none of these.
But we must note that Coolpad is offering a great phone which performs very well. This also comes with 4 GB of RAM at such a low cost. So, I would say that if you want a phone which performs greatly on camera then Moto G4 Plus must be your choice. But if you want an all rounder phone with great performance and can adjust a bit on camera then Coolpad Note 5 must be your choice.