With the affect of demonetization, flooding of people at ATMs has become the common sight. It is an arduous task to locate the ATM, stand in the queue for hours and to collect a scanty amount. So to make your life easy, we are helping you with a comprehensive list of ways to find the ATMs in and around your location.
Use Google Maps to Locate ATM: 
Open Google Maps, type "ATMs near me" in the search bar. You will get red colour icons which represent the all the ATMs in your location. To get a detailed list, click on "Show List" located at the bottom; it will give the address and the direction to the ATM you select.

Use cashnocash.com
Manjunath Talwar and Abhijit Kansas, co-founders of online recruitment platform, Hiree, have launched a new website named cashnocash.com. It apparently uses Google maps to locate ATMs, but it also features more dynamic information like the length of the queue and cash availability which are uploaded based on the inputs from the crowd. It really becomes handy as one can quickly spot an ATM with the minimum queue and visit that ATM rather than rambling around the ATMs. Unfortunately, the site availability is sporadic due to heavy traffic. Hope, it will be rectified soon.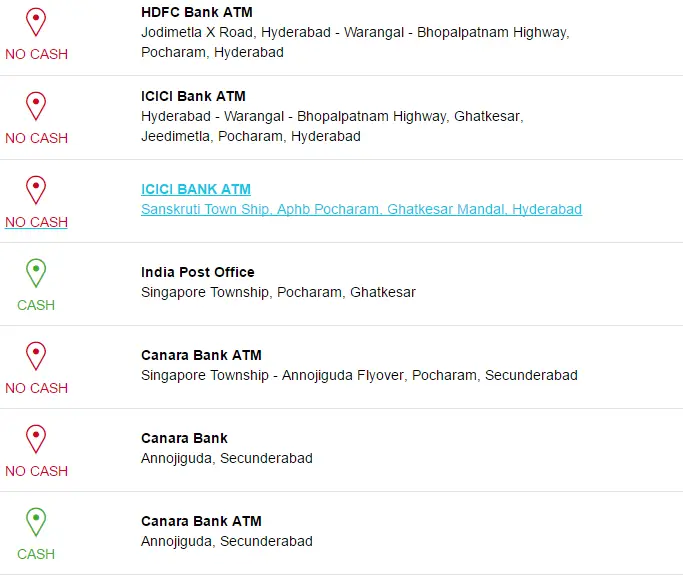 Use Twitter hashtag: #ATMsWithCash
Twitterers have always been generous to lend their help to people. People are using the hashtag: #ATMsWithCash to provide a real-time data. Though it may not be the sophisticated way to search, but if you can find a tweet about the ATM in your location, you can easily get in touch with the person by replying in that tweet to get to know the current situation.
Please let us know in the comment section if you know any other way to locate the ATMs.