With the advent of Quick Charge technology, charging speeds have been exponentially increasing. However, the taxing needs of current generation smartphones need sheer power to operate that entails quick drain of the battery. So OEMs are investing in lump sums in this field to figure out new ways to further increase the charging speed coupled with greater efficiency.
Quick Charge 4.0
Though there are many charging technologies like Dash charge, Turbocharge, Pump Express etc., Quick charge by Qualcomm is widely used by many OEMs. Today at Snapdragon Technology Summit in New York, Qualcomm announced the latest iteration of Quick Charge named Quick Charge 4.0.
The latest version comes with bunch of improvements like: 20% faster, 30% more efficient, and upto 5% cooler compared to Quick Charge 3.0. While its counterparts like VOOC, Pump Express adhere to the guidelines of USB Type-C and USB Power Delivery (USB-PD) specifications set by the USB-IF standards body, Quick Charge 3.0 uses its own mechanism by altering Voltage along with current to augment the charging rates. It is also worth noting that Google recommended OEMs not to use any proprietary charging technology that doesn't adhere to USB-PD. Finally, Quick Charge 4.0 is engineered in a way such that it falls under the guidelines of USB-PD. So you may see more adoption by OEMs. In addition to that, Quick Charge 4.0 is capable of charging the battery up 50% in just 15 minutes.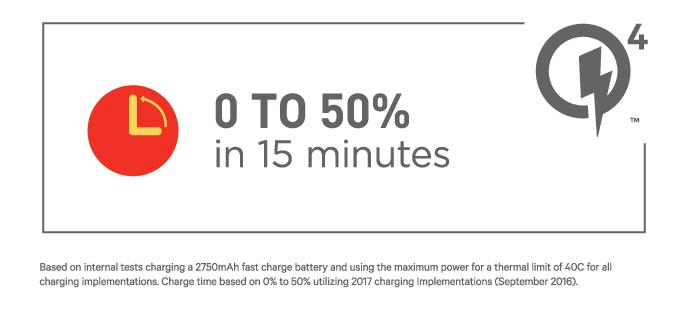 Quick Charge 4.0 also features an updated third version of INOV (Intelligent Negotiation for Optimum Voltage) power-management algorithm. The intriguing part of this feature is it can alter charging speeds based on real-time thermal condition of the phone. Also, it uses an updated version of its Battery Saver Technologies that uses stepwise charging to help the battery maintain at least 80% of its original charge capacity after 500 charge cycles.
Overall, Qualcomm is making big strides in the right direction to satiate the increasing needs of current era smartphone users . It is compatible with newly launched Snapdragon 835 and will be commercially available in the first half of 2017.