Nokia is set to make a comeback in the smartphone market next year. There have been a lot of rumours about Nokia's big comeback but now Nokia has officially confirmed its plans to re enter the smartphone market in 2017.
The confirmation came at Nokia's Capital Markets Day 2016, held on November 15. The company, in a slide highlighted its agenda for 2017 which included "Nokia brand's return to smartphones".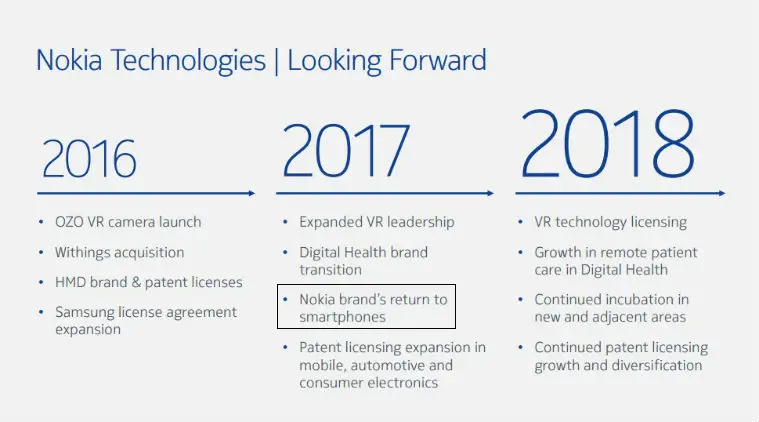 Over the past year, a lot of Nokia devices have been spotted on Geekbench. Devices like the Nokia 5320, Nokia 1490, and Nokia D1C were spotted powered by Quad Core processors, running on Android 7.0 Nougat. We do not know if Nokia will be launching these devices.
While the upcoming smartphones will feature Nokia's branding, the devices will not be manufactured by Nokia as it no longer has the facilities to manufacture devices. The devices will be produced by HMD Global, a Finnish company. The devices will be manufactured in collaboration with Taiwanese giant Foxconn.
Nokia Brand Licensing Model
HMD will pair Nokia's brand, patents, oversight with Foxconn's R&D and manufacturing to manufacture the devices. HMD has a ten-year exclusive agreement to use the Nokia brand on its devices. HMD will invest a minimum of €500 million in marketing over three years.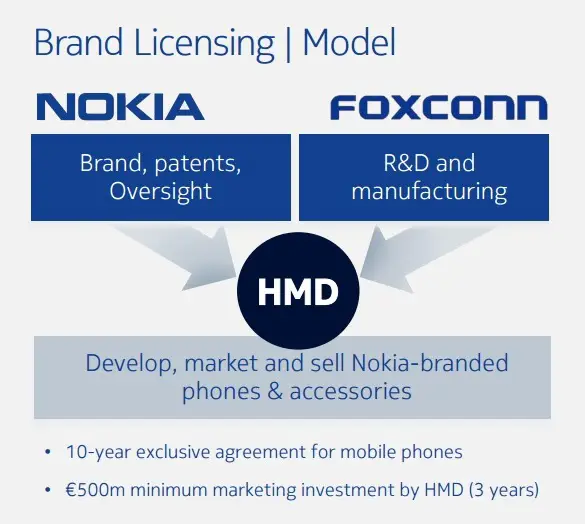 Nokia is expected to launch the first device in the second quarter of 2017. Like we said earlier, the company may launch D1C, 5320 or 1490 as its first device.
The D1C is expected to run on Android 7.0 Nougat and be powered by Qualcomm Snapdragon 430 processor coupled with 3 GB RAM. The device is expected to come with 32 GB of internal storage.
The D1C is expected to come with a full HD display with a resolution of 1920 x 1080 pixels. It may come with a 13 MP primary camera and an 8 MP front camera.
Nokia is expected to launch its first device at MWC in February during Nokia CEO Rajeev Suri's keynote address. Some rumours also hint that the company may launch its first device before the end of 2016.