Asus showcased the Zenbook 3 at the Zenvolution event in India in August with a series of Zenfones. Before this, the Zenbook 3 was unveiled at the Computex 2016 conference in Taiwan. The Asus Zenbook 3 has now made official in India at a price of Rs. 1, 47,990 and it will be competing with Apple's 12 inch MacBook. Asus claims it to be thinner than the Macbook Air, and still offer more powerful specifications and a better performance on Windows platform.
I was lucky enough to get my hands on this amazing looking device much before the launch and here is what I feel initially about it.
Zenbook 3 Specifications
[table id=731 /]
Asus Zenbook 3 Design & Build
If you have been following the Zenbook series from the first iteration, you must be aware that these Zenbooks are in direct competition with the Apple's Macbooks. As far as Zenbook 3 is concerned, it looks stunning straight out of the box. I am using the Royal Blue colour variant of the Zenbook 3 and I find it very striking to carry aside. The lid has the same Zen design with thin concentric circles that keeps "the Zenfeel" alive.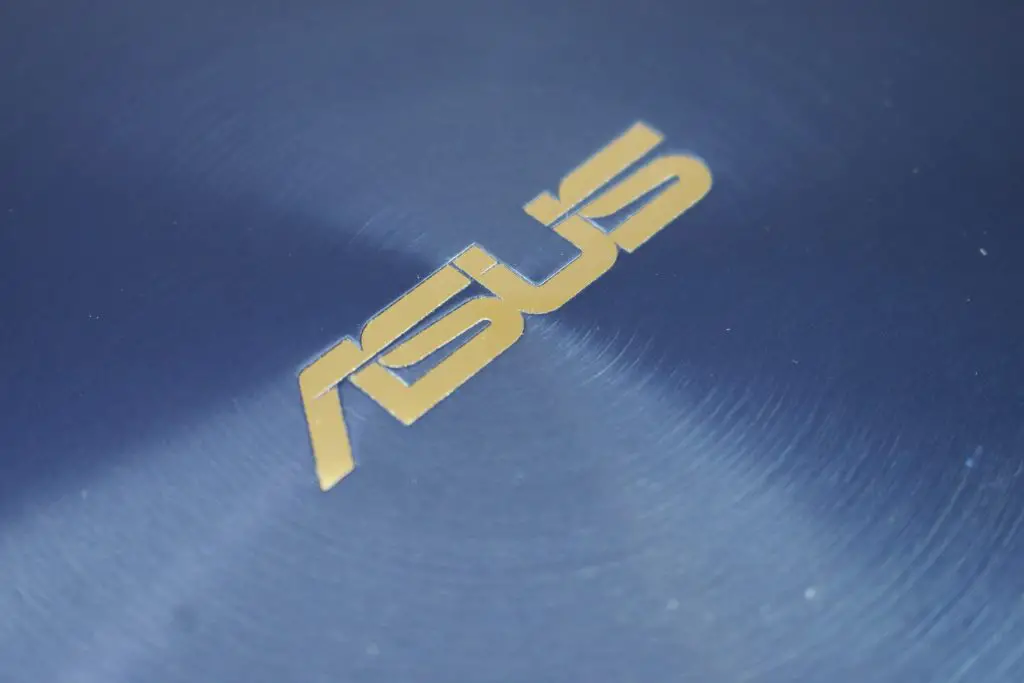 As we have already said that the Zenbook 3 is very slim at just 11.9mm; it feels very sleek and stylish. Despite of the thinness, it feels very solid. One word that defines the feel is 'luxury', with that golden mirror finish Asus logo on the back, and a shiny golden rim runs around the display. It is made up of metal and feels very premium from each and every aspect. The shell of this laptop is prone to fingerprints, but Asus has has provided a cleaning cloth and a good looking sleeve in the box.
Although the sleek and shiny body looks amazing, it has its own drawbacks as well. You do not get a lot of connectivity options other than a USB-Type C port. Other than the USB-Type C port, it has one 3.5mm audio jack on the left side. To make it more convenient, Asus has included an USB-Type C adaptor which extends to provide a USB port, HDMI port and another USB-Type C port.
Asus Zenbook 3 Photos
Display
The Asus Zenbook 3 comes with a 12.5 inch full HD display (1080 x 1920p). The display has deep blacks and the screen looks very bright and vivid. The best part about the display is its viewing angles, Asus claims it to have 178 degree of viewing angles and I don't doubt it. One thing that disappoints me is the absence of touch input. At this price point, I expected a touch screen display to add up to the productivity and ease of use.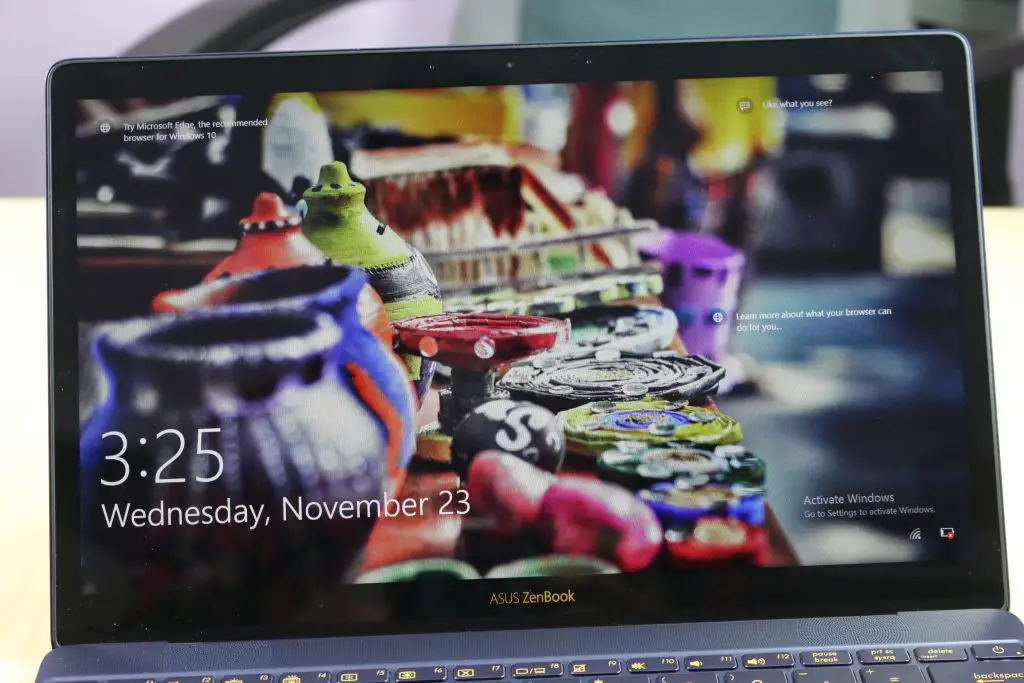 The bezels around the display are thinner compared to the competitors, which gives an immersive viewing experience and a better aspect ratio. Looking at the display for long was not a pain even in low lights. Moreover, the display is protected by Gorilla Glass 4 panel, which is surely a plus.
Keyboard & Trackpad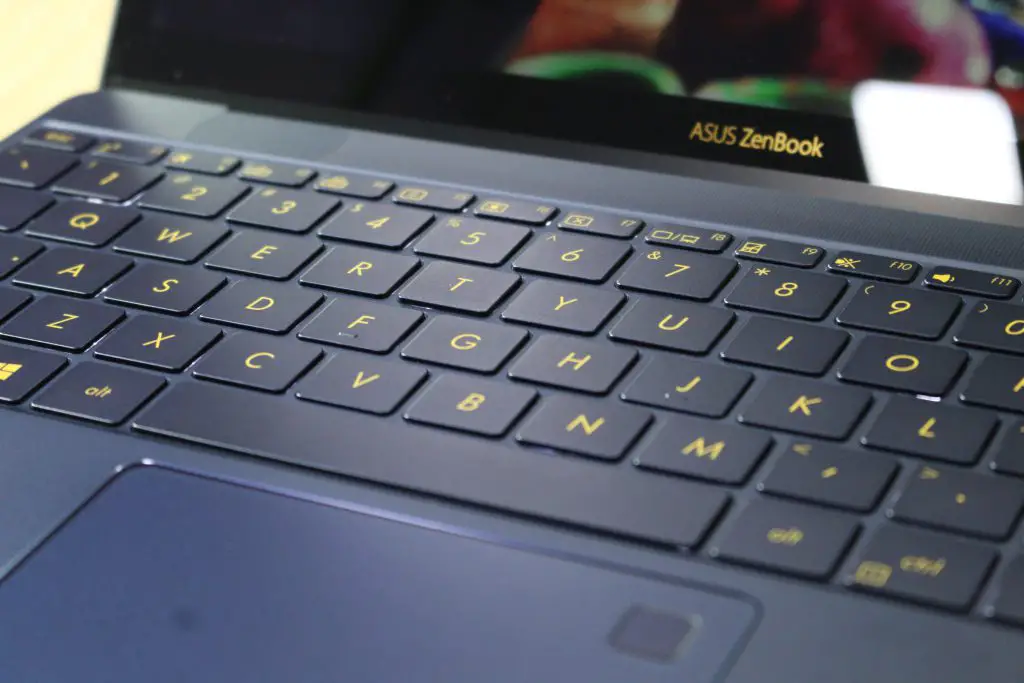 The keyboard stretches over the horizontal surface on the bottom; almost till the edges. The keys are big enough for comfortable typing despite the 12.5 inch screen size, and the travel distance is decent enough. The keys are backlit and give decent feedback while typing. If you have been typing on a bigger keyboard, then you may need some time to get used to this size. In some cases, I did not realize that the key has been pressed and the input is done (more often with the spacebar). Other than this, you will find all the alternate controls on the keyboard and they are very easy to use.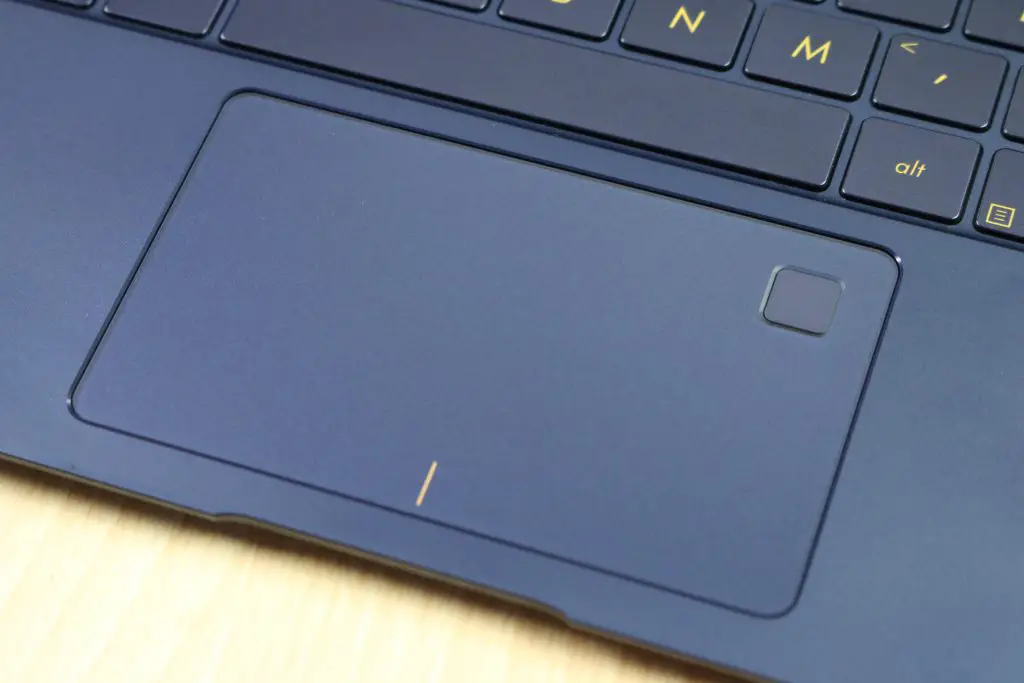 The track-pad comes with a layer of glass, and it is one of the best I have ever used. It feels smooth and gives you a wide area to scroll around the screen. It is very accurate and responsive from the first touch. You will also find a square shaped fingerprint sensor on the top left of the track-pad, which is not as accurate as I expected it to be.
Asus Zenbook 3 Sound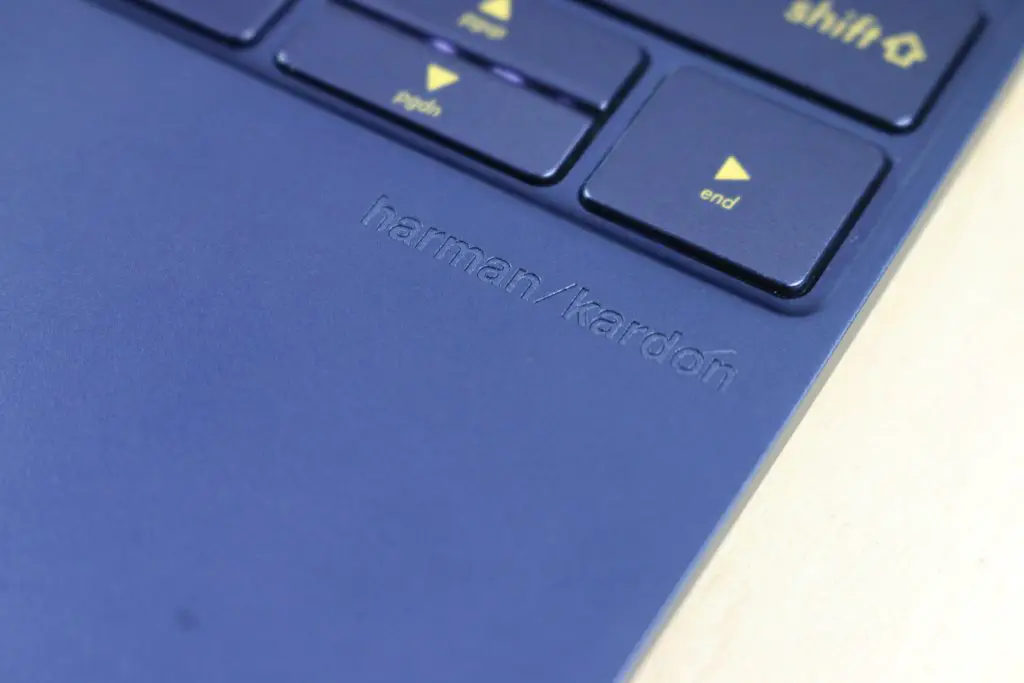 Asus Zenbook 3 boasts of a pair of Harmon Kardon speakers. The sound quality is pretty impressive looking at the size. There are 4 speakers in total, and they are very smartly placed. Two of them are above the keyboard and the other two are at the bottom edges of the chasis, which drives the sound perfectly in a closed surrounding.
Overall, the sound performance is good for listening to music, watching movies, YouTube videos or video conferencing. Obviously, you cannot expect a headphone like experience from this, but it still manages to impress.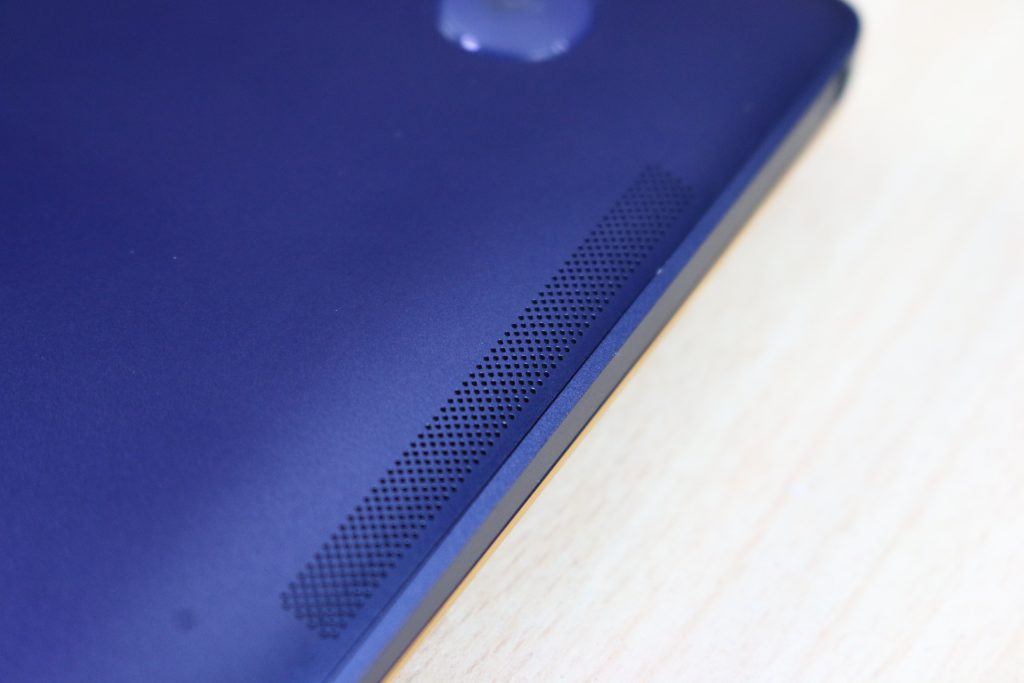 Asus Zenbook 3 Performance
When it comes to hardware, Asus Zenbook 3 is a powerhouse with top-end specs. It runs on the 7th Gen Intel Core i7-7500U Kaby Lake processor clocked at 2.7GH and it is paired with a whopping 16GB of RAM. You also get a 512 GB of SSD storage along with Windows 10 Pro pre loaded.
With such dominant insides, you can expect a lot from this notebook. It boots up quickly, loads the Windows soon after powering up and gets ready in less than 10 seconds after you press the power key. With this kind of performance, I was easily able to multitask, run numerous apps and work with more than 25 tabs open.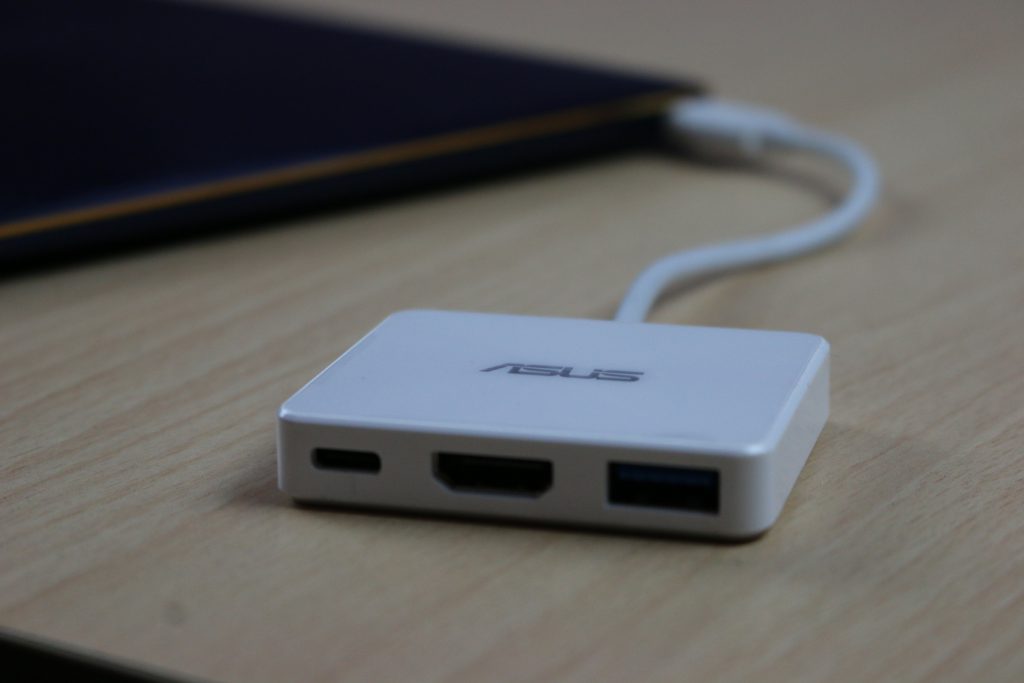 As we said that is has a metal uni-body structure, we expect it to heat up. But surprisingly, it did not. It comes with a 3mm thermal fan and heat pipes under the panel which keeps it cool even with heavy use and charging. The impressive part is that the whole cooling is done so quietly that you won't realize that the fan is working. It does get warm at time, but it never gets unbearable.
Coming to the graphic performance, it comes with an Intel HD Graphics 620 display adaptor, which has 8GB of memory. 8GB of graphical memory with such GPU is considered to be more than enough for most of the graphic intensive tasks. I tried playing a couple of games on the Zenbook 3 and to my surprise; it was easily handling most of them. But obviously you cannot expect it to be an ideal machine for hardcore gaming at this form factor. But if you are one of those who perform demanding computing tasks like editing photos, videos while commuting then you can surely consider this machine.
Battery
Battery capacity is specified as a 6-cell polymer unit, which is claimed to last up to 9 hours on a single charge. In my case, I got around 5-6 hours of battery backup most of the times. The battery backup is good enough if we look at the size, but I expected a better backup at this price point. One relief is the charging time, as it charges more than 60% in an hour and gets a full charge in less than 2 hours.
Verdict
At Rs. 1, 47,990, the Zenbook 3 hits some blocks but misses some. Sure, it is a perfect competitor for the existing Apple Macbooks with such powerful hardware and elegant design but is it enough? There are other alternatives around the same price which offer tablet-laptop hybrid form factor for better productivity. There are devices with better modernity and usability but they may lack in the hardware prowess.
In the end, if you are someone who prefers beauty and power over anything else, then you can surely go for this one. But if you are spending this much of money on a notebook, then you can go for a Macbook unless you are looking for a Windows 10 Pro experience.