We have been seeing leaked reports and images that reflect the look for LG's upcoming flagship LG G6. Some reports have said that LG G6 is going to have tempered glass back, some have said it is going to have unibody metal deign which has not been further detailed.
In the recent leaks, we have seen LG G6 sporting a dual rear camera along with rear-mounted fingerprint sensor and glass body at the back.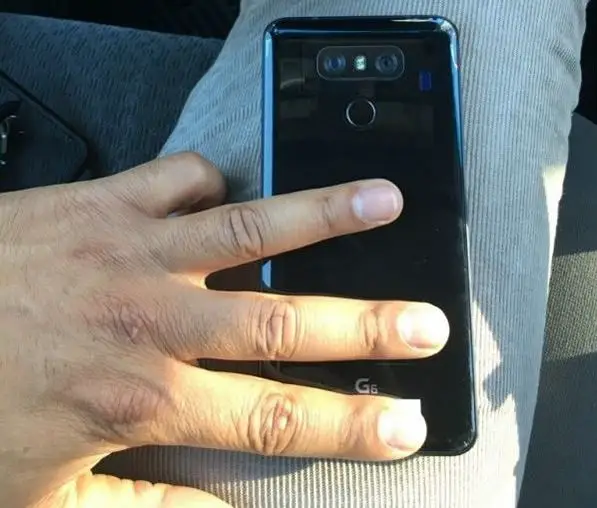 The latest leak contradicts the prior leaks and opens a new dimension for what to expect from the body design. A South Korean website has lately released and leaked fresh images for LG G6, which shows the phone possessing same features as the prior leaks suggested, i.e. dual rear camera and fingerprint sensor just below the camera setup. What's new to leak viewed on Under KG website is, its brushed metal body design.
Not just seen on Under KG website, the mobile case manufacturer Ringke just showcased some of its cases for LG G6 on Amazon, which made the looks of the phone pretty evident and same as what we were able to see on Under KG.
The New Look
There have been nominal changes in the looks from what we usually see in the smartphones. Images from both the sources depicts that G6 has its volume rocker buttons on the right and SIM slot at the left side. Back of the phone looks great with what we have discussed about camera and fingerprint sensor location and space occupancy which is making it look better. The unibody brushed metal design acts as an add-on for its absolute look.
The body looks great and with what's new in LG G6 from G5 is its IP 67 certification. The body comes with waterproofing technology which will definitely help you get the better performance in bad weather or unexpected situations.
The Competition
Specifications of the phone run along with Samsung Galaxy S8 and can be a good competitor in terms of performance and build quality. Depending upon the price both the phones are expected to land on, a SoC difference is seen which is Qualcomm Snapdragon 835 on Galaxy S8 and Qualcomm Snapdragon 821 on G6. Apart from this IP68 certification is seen on the Galaxy S8 and IP67 on G6. Camera leads its way on LG G6 which is Dual 16 MP on the rear and 12 MP at the front. On the other hand Samsung Galaxy S8 is expected to sport 12 MP on the rear and 8 MP camera on the front.
We have been through a lot of rumors and rock-solid facts for upcoming LG G6, more is expected to be exposed on 26th of February 2017 in MWC 2017 where LG will introduce its latest flagship phone.