Reliance Jio is one of the fastest growing network in India and it has crossed the milestone of 100 million customers within 170 days. Reliance Jio Happy New Year offer was a new year gift for all Indians with free data usage and voice calls. However as we all know that the offer ends on March 31. So today, Reliance Industries Chairperson and Managing Director Mukesh Ambani did few announcement regarding Jio and the plans which will be applicable after 31st March.
So new plans will be applicable from April 1 and onward and now its not free as before. Now the existing member can avail Jio Prime membership for next one year by paying Rs. 99. The prime members can continue the same plan as  Happy New Year offer by paying Rs 303 per month. That will also include unlimited free access to all Jio media services like JioTV, JioMusic, JioCinema and etc.
However this offer is not a bad deal but we feel that it is not as exciting or good as much it sounds on paper. So here are few points which makes Jio not so worthy deal.
It's Not Free Anymore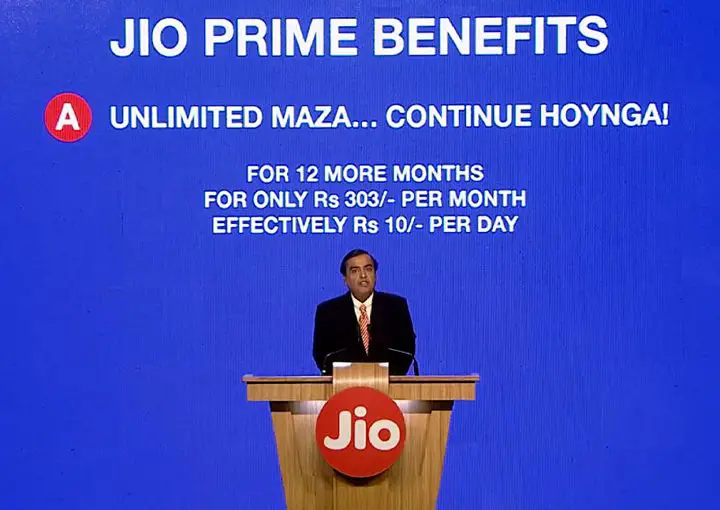 Well we all have tasted the free service of Reliance's Jio service, so paying for it now is the real disappointment. There were many rumors around the internet that the Happy New Year is going to be extended furthermore but now no more extension. Reliance has announced all the plans loud and clear. So now to continue the Jio service one is supposed to pay Rs. 99 for Prime membership and Rs. 303 per month according to the plan. So now it's time to say bye to the free services and pay as per the plan in order to continue it.
Per Day Data Limit
However 1GB per day will be more than enough for few people out there but there are many people who like to stream online videos and media a lot and love to download, so in that case they will run out of data. Although 1GB data per day was totally fine when it was free but now, since we are supposed to pay for it, it would have been better if Reliance would have increased the per day limit. 1GB 4G data takes no time to get consumed while downloading or consuming online media content and by the end you are left with super slow speed data which is really frustrating. So it's really disappointing to see that Reliance didn't increased the daily limit.
Slow Speed
Most of the people won't deny the fact that they have been struggling to get a good speed on their Jio network from past few months. Reality is that the Jio network is no more as fast as it used to be initially. Actually it's speed is even slower than most of the 3G service and almost like 2G in some areas. Because so many customers join this network every day hence increasing the traffic which makes the data access speed very slow. So paying for the slow speed data in the name of 4G doesn't make sense any more. There are many other networks which provide much better speed in same or maybe less price, so considering them will be a better choice.
Bad Connectivity
Reliance Jio is no doubt one of the fastest growing network in India but it's a totally new network and network coverage is not as vast as other networks. As a result it's connectivity is not very good and pathetic in some areas. Apart from this, we also have seen that while calling to other networks like Airtel mostly, it start saying random things like "user is busy" or "user is not reachable" despite of the fact that other party's phone is on standby with full signals. So these few factors makes this network highly unreliable and paying for such unreliable network is not a very wise thing to do.
Conclusion
However the offers are good and are worth paying for but its slow speed and bad network connectivity should be kept in mind before going for it. If you are getting a good speed with good network then surely you should go ahead and avail the offer. However there are many people who are facing these issues stated above, so in that case you should probably move to some other reliable network.