The Chairman of Reliance Industries Limited made a number of announcements at a special event held in Mumbai today. Revealing its plans to counter the competition and improve its services at the same time, Reliance launched a brand new Jio Prime membership offer. Apart from that, the company also announced that it will match every single operator out there in terms of plans. It promised to exceed any rival offerings by up to 20%.
Reliance Jio Prime Membership Offer Details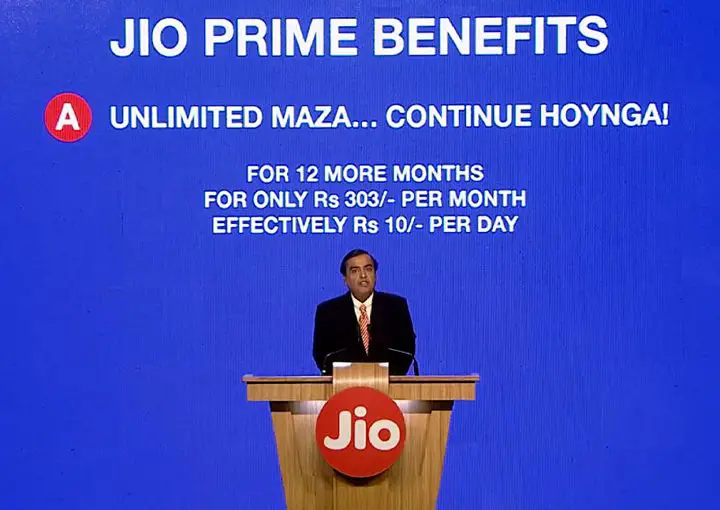 Availability
According to Reliance, the Jio Prime membership offer will start from March 1st and continue up to March 31st.
Eligibility
All existing Reliance Jio customers can sign up for the Jio Prime membership offer up to March 31st.
Offer Details
As per the terms of the Jio Prime membership offer, every member will continue to enjoy all the benefits of the existing Happy New Year offer. This includes Unlimited access to the entire bouquet of Jio Digital Life services like Jio TV, Jio Cinema, Jio News etc.
Unlimited 4G Data
Reliance Jio customers will also be able to enjoy unlimited 4G data throughout the Jio Prime membership subscription. You will get 1GB data daily with fast 4G LTE speeds, after which the speed will be reduced to 128 Kbps. Speeds will be reset every day. Essentially, if you subscribe for the Jio Prime membership throughout the 1 year, you get 365GB of fast 4G data and 128 Kbps data thereafter.
Unlimited Voice Calls
In addition to unlimited access to Jio Digital Life and unlimited 4G data, you will also be able to enjoy unlimited free voice calls. There are no roaming charges, no blackout days etc that you witness on existing service providers at the moment.
Pricing
The Reliance Jio Prime membership will be available for 1 year at a price of Rs. 99. Further, to enjoy these Jio Prime benefits, you will have to pay Rs. 303 per month. In total, you get 365GB of fast 4G LTE data and 128 Kbps unlimited data thereafter.
Additionally, you can also enjoy unlimited voice calling throughout India, to any number from any operator. You will also get unlimited access to Jio Digital Life apps, which alone is worth Rs. 10,000, for free.
How To Sign Up For Reliance Jio Prime Membership
Signing up for Reliance Jio Prime Membership will be extremely simple.
You can sign up for Jio Prime on the MyJio app, Jio.com or any Jio store or Jio partner store across the country.
Signups for Jio Prime membership will start on March 1st and will be available up to March 31st. This will be available to all existing Jio customers.
20% More Data Than Other Service Providers
Reliance Jio also announced that it will be offering 20% more data than other service providers. Making the announcement, Mukesh Ambani reiterated his company's focus is purely on the customer experience.
Jio will match all the offers provided by existing operators. In addition to that, the company will also exceed the most popular offers by 20% in terms of data. Voice calls are already unlimited, with no roaming charges and no blackout days.
Enhancing Network Capacity Throughout India
Reliance Jio also announced that it is continually working on enhancing its network capacity all over India. It hopes to cover 99% of the population in India in the coming future.
Also, the company announced that it has more than 2 times the towers than all other operators combined, hinting at a massive network capacity and scale for expansion.