After establishing Pinecone in 2014, Xiaomi has finally launched its first in-house SOC called Surge S1. It is a 64-bit octa-core chipset with four ARM Cortex A53 cores 2.2Ghz and fours ARM Cortex A53 cores clocked at 1.4 GHz. big.Little approach is implemented so that the higher clocked cores take care of intensive tasks; whereas, underclocked and less powerful cores are used for simple tasks.
Xiaomi Surge S1 SoC Details
To put in perspective, the Qualcomm Snapdragon 625 comprises of eight ARM Cortex A53 cores clocked at 2.0GHz. Surge S1 has quad-core Mali-T860 GPU on board. The same GPU can be found on chips like Helio P10 and Helio P15. It is manufactured using 28nm High-Performance Computing (HPC) process.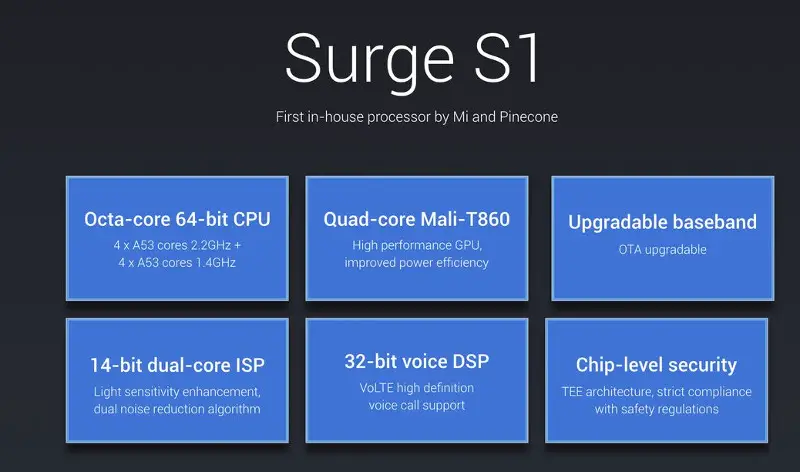 The Surge S1 has 32-bit high performing DSP for better voice-processing and 14-bit dual ISP for image processing. Xiaomi claimed that Surge's ISP algorithm improves camera light sensitivity by 150%. The chip also supports VoLTE calling.
The CPU and GPU specifications reveal that the processor will be used on budget and mid-range phones. However, the Antutu score of 64,817 is praiseworthy. With this chip, Xiaomi has joined the elite list of smartphone manufacturers like Apple, Samsung, and Huawei, which manufacture their own SOCs.
Xiaomi may become more aggressive with pricing if they use these chips on the phones released in international markets. The just-announced Mi 5c will be the first phone to use this SOC.
Surge S1 Specifications
Octa-core 64-bit chipset (4xA53 cores 2.2GHz + 4xA53 cores 1.4GHz)
28nm High-Performance Computing (HPC) process
Mali-T860 quad-core GPU
AFBC + ASTC image compression technology
32-bit high-performance DSP for voice processing
14-bit dual ISP; enhanced image processing capabilities
Surge ISP algorithm improves camera light sensitivity by 150%
Dual noise reduction algorithm reduces noise and preserves image detail in low light
Upgradable baseband; programmable modem, OTA upgradable
VoLTE high-quality call and video support
Chip-level security; TEE architecture, strict compliance with safety regulations