Coolpad in collaboration with LeEco has recently launched their new smartphone CoolPad Cool 1. We can see quite similar camera performance from the Huawei Honor 6X, which is also a good release from the brand and is packed with good features and camera modes. Both the phones are good and have almost same build quality and a dual camera setup. Let's put both the phones to a comparison test.
Related Posts
Coolpad Cool 1 vs Huawei Honor 6X Camera Hardware
Both the phones have almost same hardware in terms of phase detection autofocus, Geo-tagging, touch focus, HDR, face detection, panorama.
It makes a difference when it comes on the primary camera, which is of 13MP x 2 (Color+Monochrome) on Coolpad Cool 1 and 12MP + 2MP on Honor 6X. Secondary camera is of 8 MP on both the devices.
Let's enter the core of both cameras.
Coolpad Cool 1 vs Huawei Honor 6X Camera Software
You can see different camera softwares in both the devices. Both the phones have simple camera interfaces, which mean both are easy to use. One can easily understand where the modes are and what exactly they do. Huawei Honor 6X has more modes as compared to Coolpad Cool 1.
Coolpad Cool 1 on the other end has covered almost everything in their limited but enough camera modes. Plus, Honor 6X has front screen flash which comes in handy for low-light selfies. Whereas, Coolpad Cool 1 allows you to click HDR selfies from front camera.
You can easily start using all the function as if you have known the modes for a long time. Usability on both the phones is easy and great to experience.
Coolpad Cool 1 vs Huawei Honor 6X Camera Performance
Performance wise, you really have to set a parameter on which you are going to compare these two. As both the phone perform well. When we clicked the pictures, keeping the smartphones side by side, we saw that lowlight images are better in Coolpad Cool 1. Natural light photography is good on both the phones, but Cool 1 showed more close to natural colors when compared on a common display.
But, if we talk about the detailing in daylight or natural light conditions, Honor 6X showed us fast picture processing and autofocus speed as well. Different angles may bring you down to a level where you might get confused, which one is better.
Coolpad Cool 1 vs Huawei Honor 6X Camera Samples
Front Camera Samples
Rear Camera Samples
Bokeh Mode Samples
HDR Samples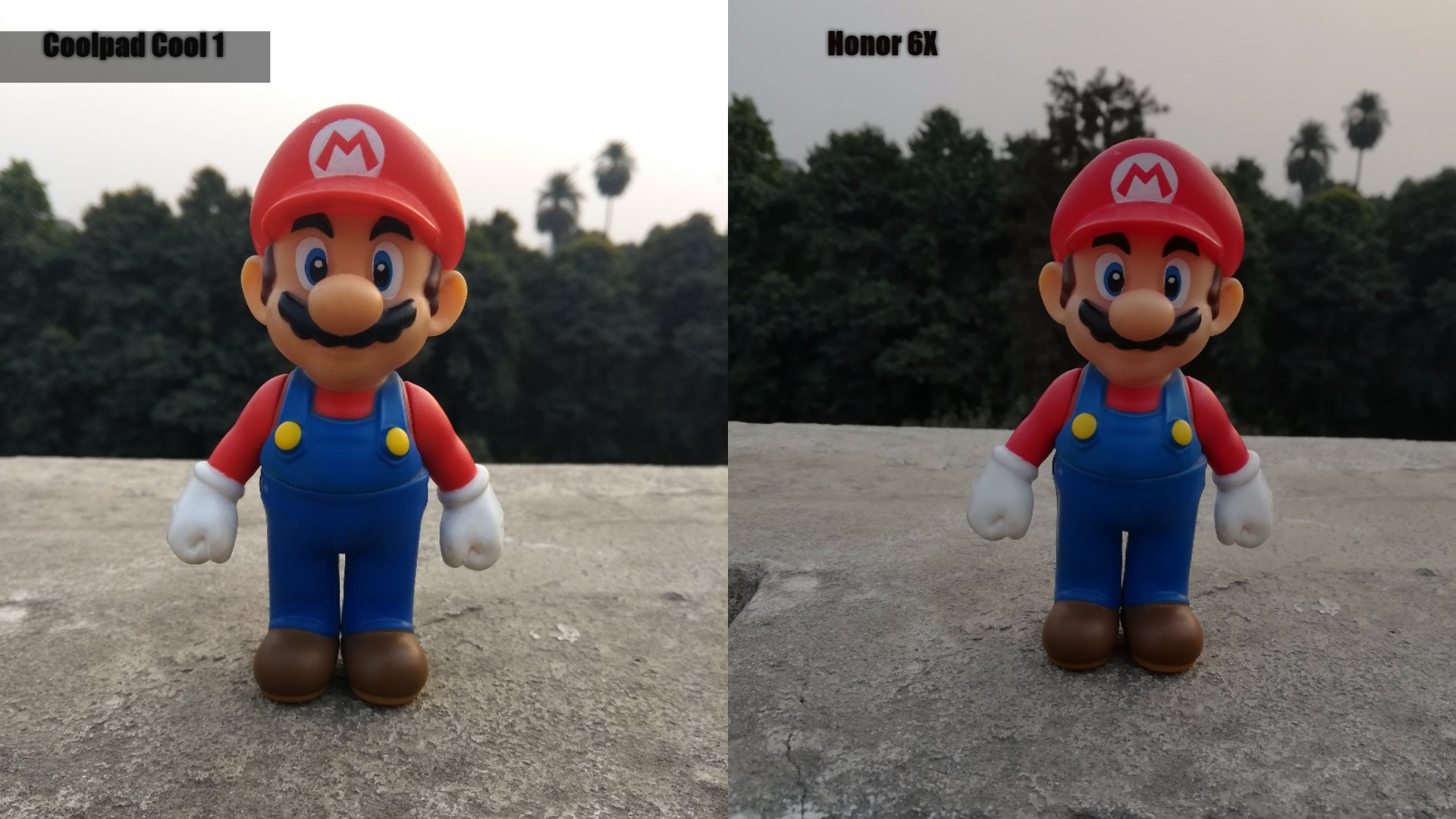 Verdict
Both the options are good to go with. It is quite difficult to rate any of the smartphone's camera as bad. Both the budget phones are offering great camera performance for the price.
What we should not avoid talking about is, good image processing speed on Huawei Honor 6X and good lowlight images on Coolpad Cool 1. Overall, talking about camera specifically, Coolpad Cool 1 takes a slight edge over the Honor 6X with better colors and details.