It has been quite a long while since we have seen any new tablet from Motorola. However it seems like Motorola is working on a new tablet that will be having some special features. Although there are no details about the specifications or hardware but we have some interesting information about its software.
There is a leaked screenshot which says a lot about it's interesting software features. The screenshot basically shows the "Productivity Mode" of the tablet.
The screenshot shows that there is a toggle switch to switch on or off the mode according to one's need. There is a message "Switch between apps by tapping the app icon in the navigation bar. Long press the app icon and drag it upwards to close the app" in the middle of it.
On the bottom there is a navigation bar with three on-screen navigation buttons for navigating. Beside that there is a dedicated app drawer button. There as also two apps, setting and Gmail app pinned in the navigation bar.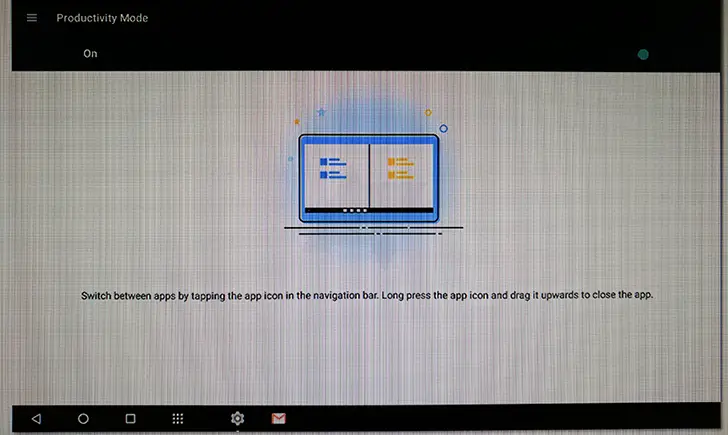 The coolest feature of this "productivity mode" is the ability to pin the apps in the navigation bar. This feature will let you to quickly switch between apps without jumping into the multitasking UI. Moreover you can close any app by long-pressing on an icon in the navigation bar and dragging it up. This mode makes the multitasking more convenient, simple and swift.
Talking about the hardware specifications, it may have a 9 or a 10 inch display panel. Sadly this is the only thing which we can say as of now. There is no information about the chip-set it runs on, amount of RAM it comes with or the internal memory it comes with.
It will most probably run on Android 7.0 Nougat. One speculation is also that it may come with cellular connectivity as an option.
However this is just a leaked screenshot and it's hard to comment on anything as of now. However this screenshot shows a new feature for better multitasking experience which we may see in the upcoming times. Though there is no word on this mysterious tablet from Motorola yet and we have to wait for any further information or any leaks.