Paytm Payments Bank will soon replace Paytm Wallet. The renowned digital payment company of India has just issued a public notice announcing this major transformation. Starting on Tuesday, May 23, 2017, Paytm will cease its wallet operations and begin its new chapter as a bank.
After getting approved by the RBI (Reserve Bank of India) on January 3, 2017, Paytm has been working hard to prepare itself as a payments bank. The hard work and effort paid off. Yesterday, the largest digital wallet of the country received a fresh funding of $1.4 billion (Rs. 9033.36 crores) from Softbank. Now, Paytm can use this enormous capital to prosper its banking services and grow even further.
Paytm's transformation from a digital wallet provider to a payments bank raises many questions in the mind of its 220 million users. Here we will try to answer each and every of them. Read on to clear all the doubts you have in your mind.
Paytm Payments Bank – Frequently Asked Questions
What is Paytm Payments Bank Limited or PPBL?
Paytm Payments Bank Limited (PPBL) is the name of Paytm's banking entity. Vijay Shekhar Sharma, the founder of Paytm owns 51% of it and the rest 49% possession is with One97 Communications Ltd. PPBL provides interest on your stored money and has the authority to issue ATM/debit cards and cheque books.
What will happen to Paytm Wallet?
From 23rd May 2017, Paytm Wallet will become the Paytm Payments Bank. However, all the existing features of the former will remain intact. Some perks will be added though, like interest on the stored balance, the capability to generate a virtual debit card, etc.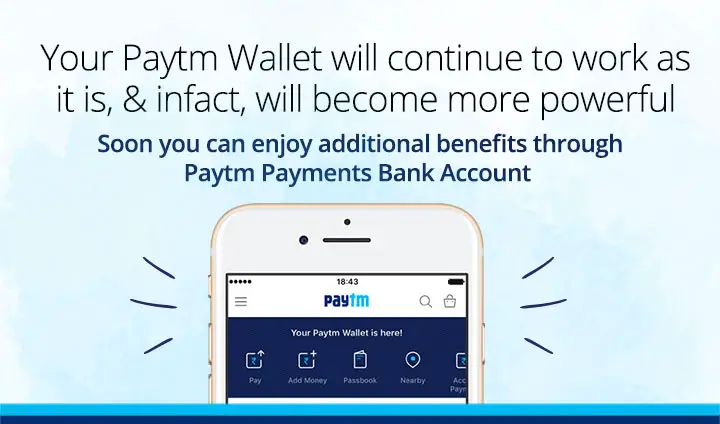 What will happen to my Paytm account?
Paytm will upgrade your wallet account to a payments bank account. However, you need to submit a KYC document for the successful completion of this process. Only those who have an active Paytm account will enjoy this automatic upgradation.
What happens to my money in the Paytm Wallet?
Your existing Paytm wallet balance will be instantly transferred to your new Paytm Payments Bank account. You won't lose any money, whatsoever.
Will there be a new Paytm app?
Nope. As of now, Paytm doesn't have any plan to launch a new application. The existing Paytm Wallet app may be updated to cater the additional features of a payments bank. That said, there won't be any major changes as most of the functionalities are bound to remain the same.
Who will open my Paytm Payments Bank Account?
As mentioned before, Paytm will voluntarily open your Payments Bank Account if you have an active Wallet account.
Is opening an account in Paytm Payments Bank chargeable?
No. It is absolutely free.
What can I do if I don't want to open a Paytm Payments Bank Account?
Send a mail to [email protected] or log in to Paytm.com/care to notify your choice of opting out. Paytm will transfer your wallet balance by a one-time free transfer to your own bank account. You just need to provide the account holder's name, account number and the IFSC Code of the Bank where you wish to redeem the money.
Can I keep using Paytm Wallet instead of Paytm Payments Bank?
No. You must switch to Paytm Payments Bank in order to continue using Paytm services.
Who will not get a Paytm Payments Bank account?
If you have not used your Paytm Wallet for the last six months and have zero balance in your account, Paytm won't migrate you to their Payments Bank automatically. You need to send a mail to [email protected] to initiate the creation of your Paytm Payments Bank account.
Is Paytm Payments Bank same as a normal bank?
No, it isn't. Payments banks have some restrictions. They can't provide loans or issue credit cards. Moreover, an individual can store a maximum of Rs. 1 lakh in his/her payments bank account. Paytm ATM/Debit cards and cheque books will be available though. You will also receive interest on your stored money.
Will I be able to recharge, pay bills or buy tickets and more through Paytm after 23rd May?
Of course, you can. All the existing features of Paytm Wallet will be present along with the added benefits of payments bank.
Can I transfer money to other banks from Paytm Payments Bank?
Yes, you can transfer or receive money just like any other bank account.
What is the maximum transaction limit in Paytm Payments Bank?
It is Rs. 1 lakh a month for KYC registered users. However, if you haven't yet submitted your KYC documents, you will be restricted to a maximum transaction limit of Rs. 20,000 per month.
Will bank-to-bank transfers or transactions be free or chargeable?
Paytm hasn't provided any information regarding transaction charges till now. However, we expect that for its initial phase, all domestic bank-to-bank transfers will be free.
Is it mandatory to open an account in Paytm Payments Bank?
Yes, if you wish to use Paytm services.
Can I get an ATM/Debit/Credit Card or Cheque Book like a normal bank?
Paytm Payments Bank can issue ATM/Debit Cards and cheque books, but not credit cards.
What is the interest rate in Paytm Payments Bank?
Paytm will give 4% interest per annum on your stored money. Moreover, the first 10 lakh customers to open a Payments Bank account and reach a deposit ₹25,000 will get an additional cashback of ₹250 instantly.
Is Paytm Payments Bank similar to Airtel Payments Bank?
Yes, they are. Just the interest rates differ.
Is Paytm Payments Bank same as Vodafone M-Pesa?
No, they are quite different. While Paytm is a Payments Bank, Vodafone M-Pesa is a money transferring service run by the mobile operator in collaboration with ICICI Bank. However, Vodafone M-Pesa does own a Payments Bank license and may start operating as one sometime in the future.
How is a Payments Bank different from a normal bank?
Payments Bank is a new banking model developed by the Reserve Bank of India (RBI). It is basically a bank without credit or loan facility and few other restrictions. According to the latest RBI regulation, an individual can store a maximum of Rs. 1 lakh in a payments bank. However, this limit may be upgraded depending on the bank's performance.
Wrapping it up, a payments bank can issue ATM/Debit cards, and cheque books but not credit cards. Internet banking, mobile banking, and UPI transactions will be available too. Similar to banks, you may add cash money to your payments bank account. Needless to say, you will also receive a certain amount of interest on the stored money.