It has been barely six months since Qualcomm unveiled the Quick Charge 4. Today, the popular chip-maker has just launched its successor, the Quick Charge 4+. The new fast charging technology is claimed to be 15 percent faster, 30 percent more efficient while being up to 3°C cooler than its predecessor. The Qualcomm Quick Charge 4+ comes with enhanced dual charging, intelligent thermal balancing and a handful of advanced safety features.
The Snapdragon 835 is presently the only SoC to officially support Quick Charge 4+. The same chip was initially launched with Quick Charge 4.0 certification. This leads us to the question if the Snapdragon 660 or 630 will also be compatible with Qualcomm's latest fast charging mechanism. As of now, we don't have any official clarification regarding this. We will update this article as soon as we get one.
So, what improvements does the Quick Charge 4+ bring? Well, the successor of the Quick Charge 4.0 comes with three main upgrades over its precursor. We are explaining them individually below.
Dual Charge
This is already present in earlier versions of Qualcomm Quick Charge. However, the newest version comes with an enhanced version of dual charge. With the Quick Charge 4+, there is a secondary power management IC (Integrated Circuit) in the device. This divides the charge current and facilitates lower thermal dissipation which results in a reduction of charging time.
Intelligent Thermal Balancing
This is a direct consequence of dual charge. The intelligent thermal balancing of Quick Charge 4+ automatically directs current through the coolest path. This maintains a stable temperature and prevents the formation of hot spots. Thus, the power delivery remains consistently fast all the time.
Advanced Safety Features
Qualcomm claims that the Quick Charge 4+ follows all the safety protocols of its predecessor. Moreover, the new fast charging mechanism can monitor both the case and connector temperature levels simultaneously. This inhibits overheating, short-circuits or damage to the Type-C USB connector.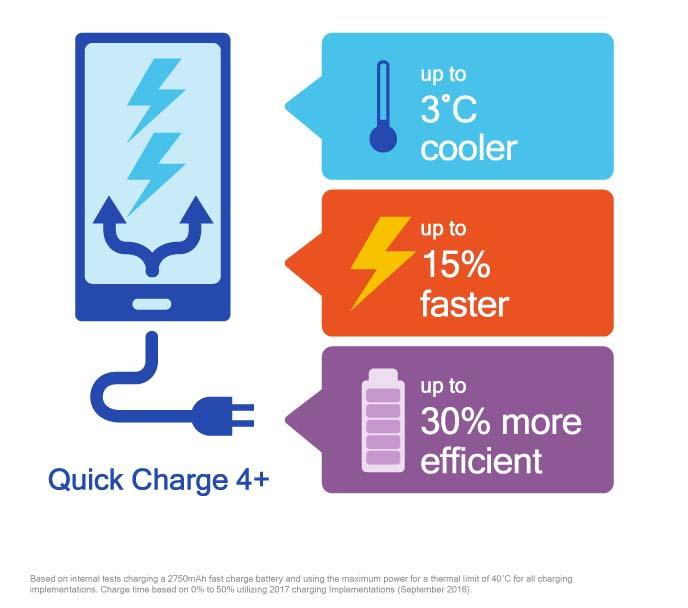 With all these developments, Quick Charge 4+ offers 15 percent faster charging speed with 30 percent more efficiency than Quick Charge 4.0. The newly launched Nubia Z17 is the first device to feature Qualcomm Quick Charge 4+. Wrapping it up, the latest fast charging tech is backward compatible with Quick Charge 4.0, Quick Charge 3.0 and Quick Charge 2.0. This means every Quick Charge 4+ certified accessory will support your older gadgets.