Anil Ambani-led Reliance Communications (RCom) has introduced a new data plan. The 'Internet Club' plan offers 1GB 2G data daily for 1 year for Rs. 365. While the plan offers 1Gb data per day at Rs. 1 for a day. The plan is valid for 28 days a month.
RCom is now trying hard to retain and expand its user base. The company earlier introduced 4 Postpaid plans and has now introduced this plan for prepaid users. Although Reliance Communications is offering 2G data, the one-year validity makes it a decent deal for those who can live with low data speed.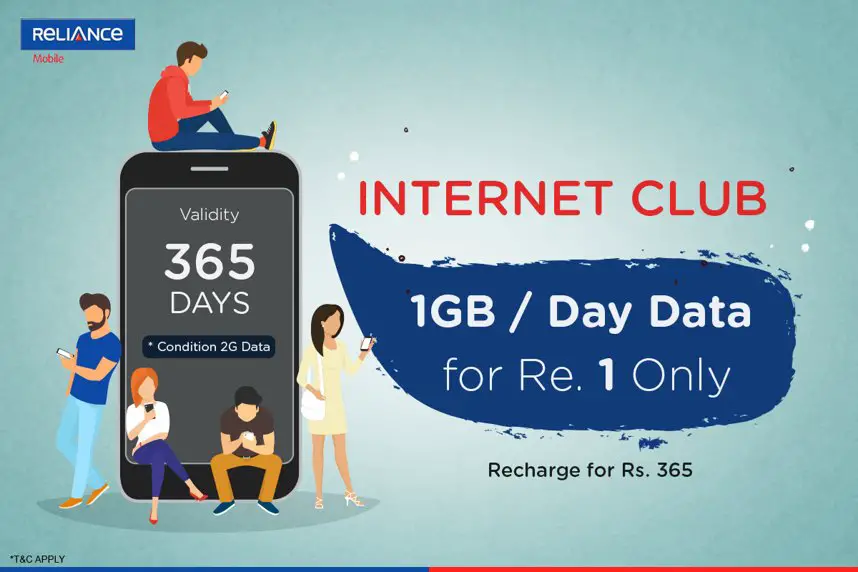 This step by the company has come very late when other telecom operators are offering 4G data at highly competitive prices. Reliance Communications offers attractive Postpaid plans starting from Rs. 239 to Rs. 499
Recent Postpaid Plans by RComm
The Rs. 239 plan offers unlimited voice calls to any network and free incoming roaming calls. Outgoing Roaming calls are charged at 50 paise/minute. This plan also gives 100 local SMS for 30 days but national SMS are chargeable at 25 paise/SMS.
The Rs. 399 plan is a better option and offers 15GB data, unlimited voice calls to any network and free roaming along with 3,000 SMS for 30 days. Although this is a good plan, but Reliance Communications has more to offer.
The best deal from RCom is the Rs. 499 plan which gives 30GB data with unlimited voice calls and roaming along with 3,000 SMS for 30 days.
It is noticeable that where some major operators offer 28-days validity, RCom plans come with 30 days validity. Although 2G data is not the best offer to make, but the validity and amount of data makes it a fair deal.
Conclusion
A few days ago, Anil Ambani blamed the 'Freebies' offered by Reliance Jio to be the reason for losses in the telecom industry. We can say that the Anil Ambani-led RCom has extended this offer to attract users. It will be hard to attract users with 2G data when other companies are offering 4G data for similar prices.