Reliance Jio today launched a couple of new plans for its customers. The company launched a new Rs. 399 plan which gives 1GB data per day for 84 days along with unlimited voice and SMS. This new offer comes at a time when Dhan Dhana Dhan and Summer Surprise offer validities are going to expire soon for most customers.
Jio Dhan Dhana Dhan Plan Details

The new Jio Dhan Dhana Dhan offer comes with a Rs. 399 plan. This plan gives you 1GB high speed 4G data per day for a period of 84 days. After the exhaustion of 1GB data limit, speeds will be reduced to 128 Kbps. The offer gives you unlimited voice and SMS as usual.
Below is the full list of offers that Jio Dhan Dhana Dhan comes with. (click on the image for the full size image)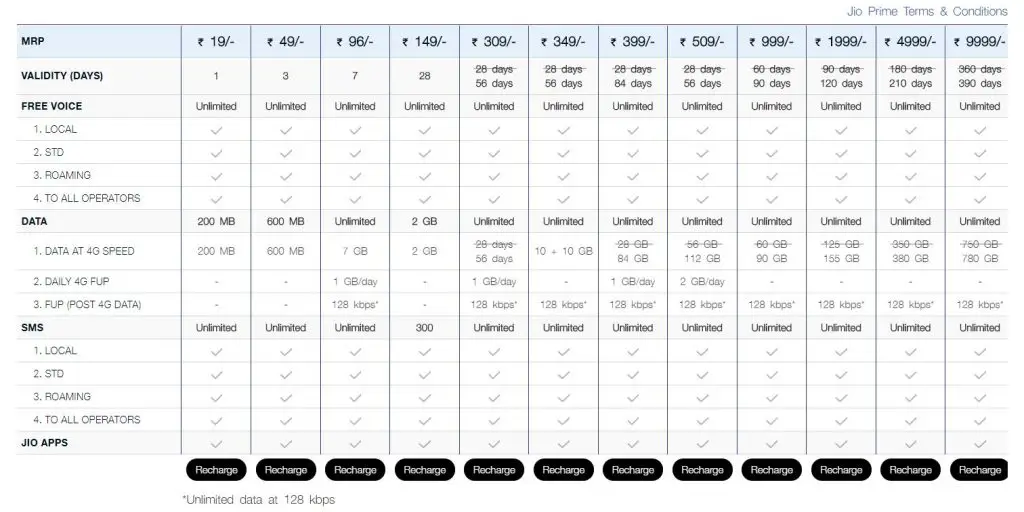 With this offering, Jio continues to counter other operators like Airtel, Vodafone, Idea and BSNL who are offering their own unlimited plans just like Jio. Additionally, Jio has also extended the validity of its old plans – Rs. 309 and Rs. 509.
Under the Dhan Dhana Dhan offer launched a few months ago, the Rs. 309 and Rs. 509 plans offered 84 days validity. This has been revised to 56 days now.
Effectively speaking, there is a hike in the prices here – the new Rs. 399 plan offers the same benefits as the Rs. 303 plan (under Summer Surprise offer) or Rs. 309 plan (under the first Dhan Dhana Dhan offer) did.
The Rs. 509 plan offered a total of 168GB data over a period of 84 days. But now, you get 112GB data over a period of 56 days.
New JioFi Plan
Jio also launched a revised plan for JioFi. Under the new plan, you can buy the JioFi device for Rs. 1,999 and register for Jio Prime at Rs. 99. After that, you can claim up to Rs. 1,999 from a range of plans listed below:
Option 1: unlimited voice + 2GB data + 300 SMS every 28 days for 12 recharge cycles.
Option 2: unlimited voice + 1GB data/day +100 SMS/day every 28 days for 6 recharge cycles.
Option 3: unlimited voice + 2GB data/day +100 SMS/day every 28 days for 4 recharge cycles.
Option 4: unlimited voice + 60 GB data +100 SMS/day every 60 days for 2 recharge cycles