Fresh renders of Google Pixel XL 2 have surfaced this morning, showing AMOLED display, glass back window and no antenna bands. The Google Pixel 2 and Pixel XL 2 are the 2017 flagship devices from Google which may be announced later in October this year.
A few days back, Google Pixel 2 and Pixel XL 2 were reported to be codenamed 'Walleye' and 'Taimen' and featured on a benchmarking website. Fresh leaks suggest minimal bezels on the Pixel XL 2.
The latest render of the Google Pixel XL 2 is leaked by Android Police. It appears to be sporting an LG manufactured 6 inch AMOLED display with a 2:1 aspect ratio and rounded corners. The device showcases minimal bezels and the antenna bands are also cleverly concealed.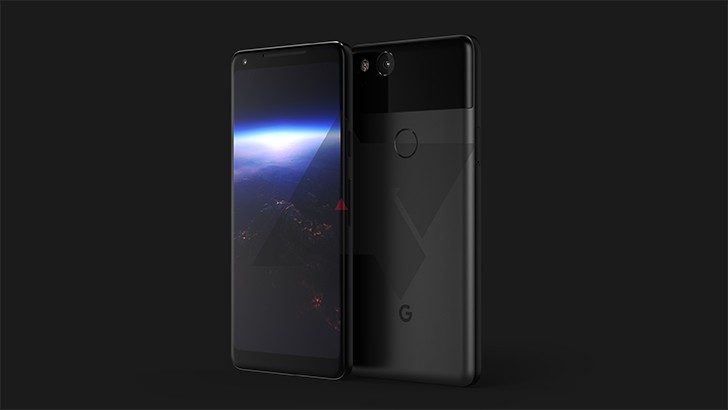 The front of the leaked device renders also showcases a Front Facing Camera and a wider speaker grill. This is a sign of a front facing speaker cum earpiece. On the right side of the phone, we can see the volume rockers and lock button.
The back features the Pixel signature Glass panel for the upper part of the device. The difference this time is that the glass covers only the camera module. The fingerprint sensor is placed on the main back panel.
The camera module looks bigger and decently bumped out with a bigger ring around the lens. A minimal Google logo at the back and absolutely no signs of antenna bands anywhere on the device. The phone is also rumoured to have a squeezable frame like the HTC U11.
Google Pixel 2, Pixel XL 2 Leaked Specifications
Although the launch of the second generation of Pixel smartphones hasn't been announced, the Pixel 2 and Pixel XL 2 are already getting quick leaks. Here is all the leaked info so far.
Google Pixel 2, codenamed 'Walleye' is expected to come with a 4.97 inch Full HD display. The device is expected to pack a Qualcomm Snapdragon 835 SoC, coupled with 4GB RAM and 64GB internal memory. In terms of design, the Pixel 2 is said to have a metal back with glass window, but the fingerprint sensor will not be a part of the glass window now.
The Pixel XL 2, the bigger variant is expected to feature a 6 inch 1440p AMOLED display with minimal bezels and rounded corners. In terms of performance, we can expect a Snapdragon 835 with 4GB RAM and 128GB internal storage.
Both the phones will be launching with Android O later this year. They are also speculated to come with a USB type C-port while the presence of 3.5mm earphone jack is not yet known.