At the Reliance AGM today, an announcement was made for the Jio Phone TV-Cable. This announcement came after the unveiling of the JioPhone. Jio Phone TV-Cable is an accessory to compliment the phones of Jio customers. The Jio Phone TV-Cable is a device that will allow Jio users to mirror their phone screens to TV sets.
What is Jio Phone TV-Cable?
The Jio Phone TV-cable is an accessory. It can connect your Jio Phone to your TV. Reliance has kept the older TV models in mind too, which means this device will work with the old CRT TV sets as well in addition to modern TVs.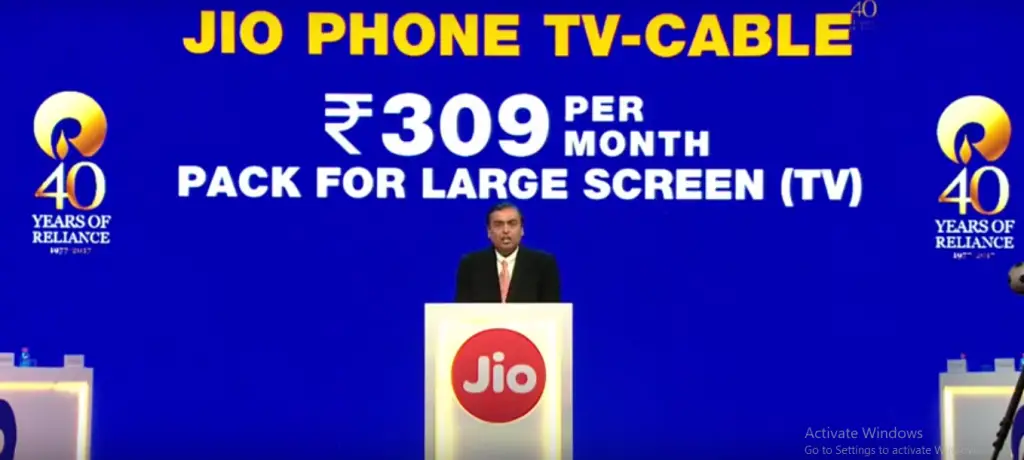 The service is aimed at penetrating the places with no Cable TV. The Jio Phone TV-Cable allows you to mirror the phone's screen on a TV and enjoy all your content on a TV screen.
Reliance has taken special care of affordability with this service. You can recharge with the Rs. 309 pack for large screen plan, on your Jio service and watch videos 3 to 4 hours every day for a month.
How Will It Work?
The Jio Phone TV-Cable is a device that comes with Jio cable service, so it may be separately available with JioPhone. It can also come as an in-box accessory with the JioPhone. Mr. Ambani made no comment about the pricing of the device. Although it was made clear that the service can be used with a Rs. 309 monthly recharge.
Being an independent device, the Jio Phone TV-Cable may later be made available for other smartphones as well. We may get to see this service on Lyf phones too because Lyf is a Reliance sub-brand for affordable smartphones.
About the JioPhone
The Jio phone looks like a feature phone but is way more than that. The device comes with a 2.4-inch QVGA color display. It is a 4G VoLTE enabled smartphone with NFC connectivity. The JioPhone will be available free of cost, but a fully refundable security deposit of Rs. 1500 is to be made when buying the phone. This security deposit will also get refunded to you after 3 years.
The JioPhone will be available for trials starting August 15. Nationwide pre-booking will start from 24 August. Also, in the coming months, JioPhone will be manufactured in India itself. The Jio Phone TV-Cable is likely to come at the same time as the device.