Reliance Jio launched its highly anticipated 4G LTE feature phone yesterday. Aptly named JioPhone, it comes with a basic 2.4 inch display and a T9 keypad. Apart from 4G LTE support, the phone also offers a range of features, including support for HTML5 based apps and screen mirroring to TVs via an accessory.
We have compiled a list of all frequently asked questions so that you have full awareness about the JioPhone before you register for pre-booking.
JioPhone Frequently Asked Questions
Not Free
While the JioPhone is being advertised as effectively free, the finer details are worth going through.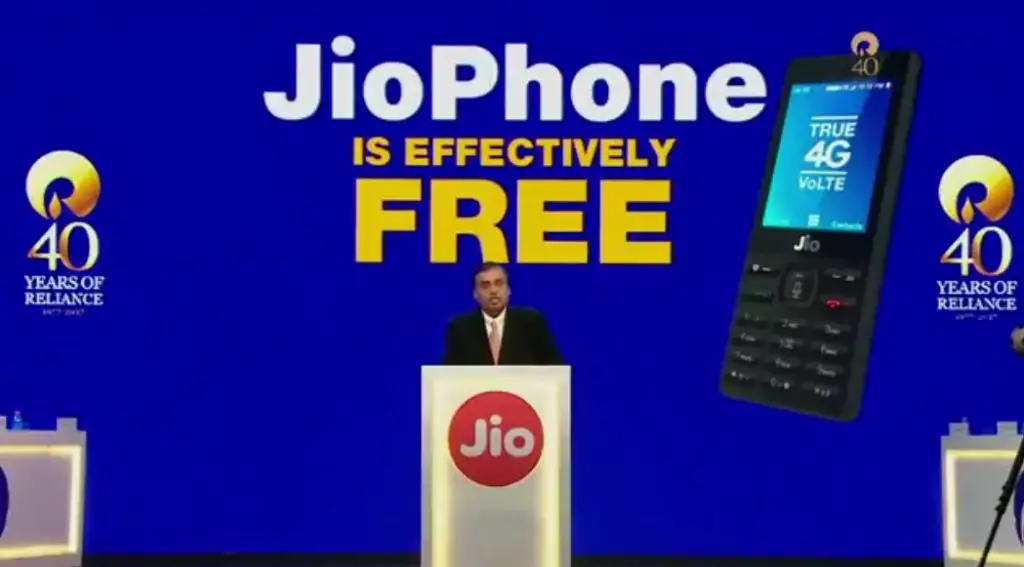 At the time of purchase of JioPhone, customers will have to pay Rs. 1500 as a security deposit. Jio says this is to prevent any misuse of a "free" product. Customers will get back the Rs. 1,500 refundable deposit only after 3 years, making it effectively free. Effective is the key word here.
It's hard to guarantee that the JioPhone will still be in good (or even working) condition as we still don't know the build quality of the device. Some customers may even lose the device before three years. The chances of losing the device or it getting damaged due to usage are fairly high.
All things considered, the JioPhone can be free only if you can be careful with it for 3 years.
Availability
The JioPhone 'friendly trials' start on August 15th, coinciding with the 70th Indian Independance Day. Existing Jio customers can pre-book their unit starting on August 24th using the MyJio app or by visiting a Jio retailer.
Minimum 12 Recharges
As per TRAI guidelines, customers need to recharge and use their subscriptions at least once in every three months (90 days) to continue enjoying services. This means that those who buy the JioPhone will need to recharge at least twelve times over three years, or 4 times every year.
Jio Phone-TV Cable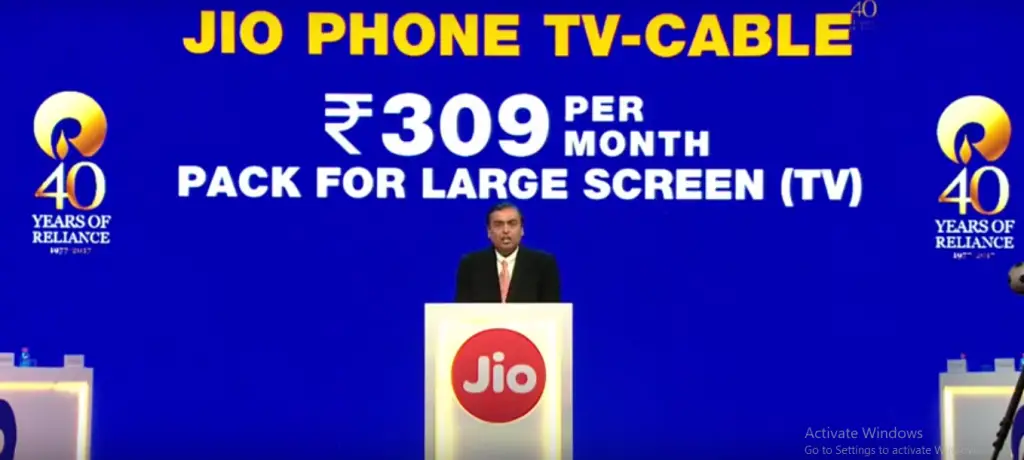 The Jio Phone TV-Cable is an accessory. It can connect your Jio Phone to your TV. First you will have to buy the Jio Phone-TV Cable accessory and then you can recharge with the Rs. 309 pack for mirroring content from your phone to your TV. Jio suggests that you can watch 3 to 4 hours of videos every day for a month.
This accessory will be compatible with all TVs including CRT TVs, so a majority of users will not have to worry about compatibility issues.
500MB FUP
The Rs. 153 plan comes with a daily FUP of 500MB data. This may not be a big issue for a feature phone as the data consumption will be very low. However, it's worth noting it as the minimum daily FUP on Jio plans has been 1GB so far.
Firefox Kai OS with Reliance Custom App Store
The JioPhone will run on Firefox's KaiOS. Our sources say that Reliance Jio is also working on its own App store for the JioPhone. The store could have some apps that run on HTML5. That should help first time users to experience some basic apps at such a low price.
WhatsApp Pre-installed
As per our sources, the JioPhone will come pre-installed with popular messaging app WhatsApp. This will definitely attract a lot of customers, especially those who are happy with a basic feature phone but still want WhatsApp to stay connected.
Earlier this year WhatsApp had revealed that it has 200 million users in India. Having it on the JioPhone will be very good, both for WhatsApp and JioPhone buyers.
Digital Payments Support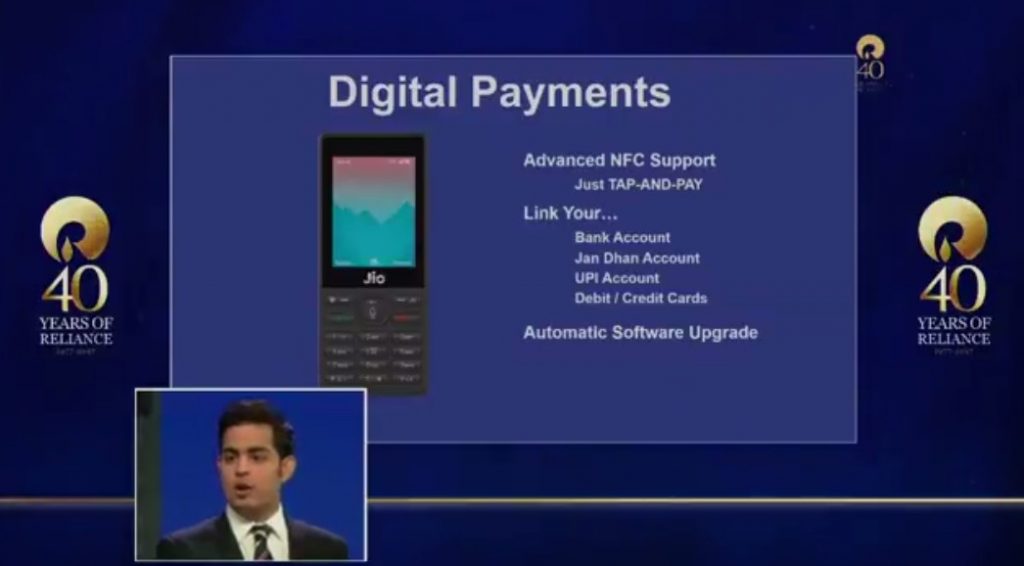 The JioPhone will also support Digital Payments. According to the company, the phone will get more features like Tap and Pay support via NFC, support for linking Bank account, Jan Dhan account, UPI account and Debit/Credit cards etc will be added via an automatic software upgrade in the future.
Rs. 153 Basic Plan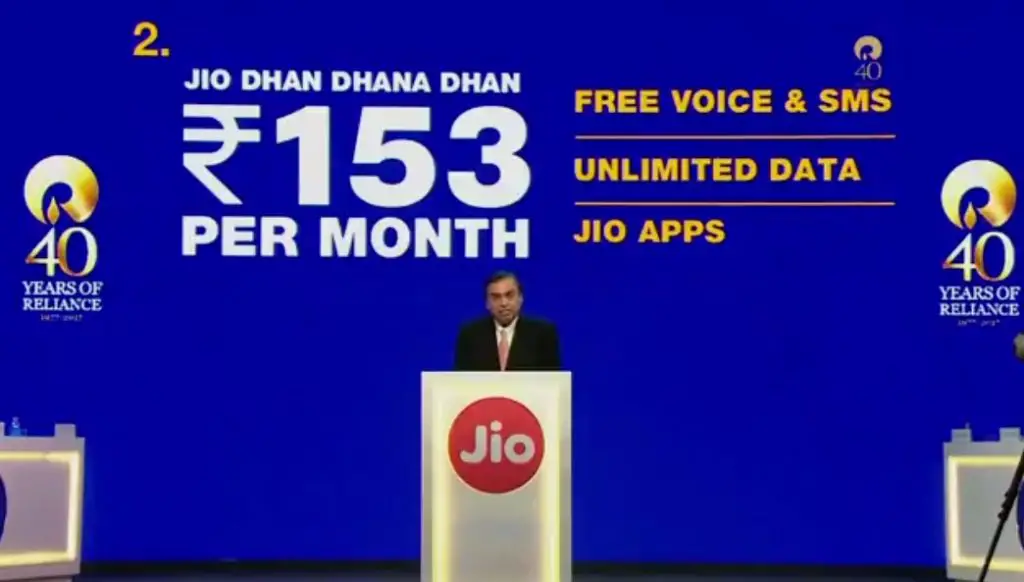 The Rs. 153 plan announced yesterday is the most basic plan offering All Unlimited – data, voice, SMS and Jio apps. However, it is worth noting that the data comes with a daily FUP limit of 500 MB. Also, the SMSs are capped to 100 per day as per TRAI regulations.
No Wi-Fi
It was earlier reported that the JioPhone will come with Wi-Fi support. However, after the launch yesterday, it looks like the JioPhone will not come with Wi-Fi support. You will have to depend completely on 4G LTE for data connectivity.
No Dual SIM Support
It looks like Jio wants you to use the phone exclusively with its own SIM. While it is a GSM phone, the device supports only one SIM. While having dual SIM support would have been nice, it still looks like a very good deal considering the rest of the features that come with the Jio connection.
Airtel Phone Coming Soon
We have received some information that Airtel is preparing to launch a 4G LTE feature to phone to compete with the JioPhone. While we await more information in this regard, it'll be interesting to see how Airtel prices the device and its plans.