Airtel has announced its consolidated results for the quarter ended June 30th this year. The results have shown an 11% decline in revenue compared to the same period last year. Airtel's revenues have gone down from Rs. 25,546 crore (Jun 2016) to Rs. 21,958 crore (June 2017).
The Indian revenue of Airtel is also down by 10%. The biggest setback is seen in Airtel's net income. The net income has come down to Rs. 367 crore from last year's Rs. 1,462 crore in the same quarter.
Airtel's India scenario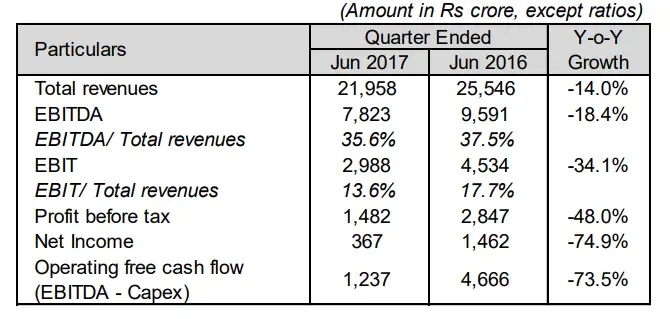 Airtel's Indian income has gone down by 10% YoY, which puts Airtel's India income at Rs. 17,244 crore for Quarter 1 this year. According to Airtel, this drop is caused by disruptive pricing by a new operator. In this statement, we can safely say Airtel is pointing at Reliance Jio.
On the up-side, Airtel has witnessed a threefold growth in the mobile data traffic. Consumption has gone up from 158 Billion MBs in last year same quarter to 472 Billion MBs this year. Airtel's mobile broadband consumers have also expanded by 33.7%. This puts Airtel's mobile broadband consumers at 48.9 million.
Talking about the international front, Airtel has registered 1.5% underlying revenues growth in Africa. Also, Airtel has reported 11.3% data revenue growth, 19.4% Data customer base growth, and 75% traffic growth. This is a good sign of Airtel's Africa Operations.
Jio Effect
This string of losses to major telcos is being directly linked to Reliance Jio. Although Airtel did not name it, it is safe to say that they've indicated towards Jio. Recently, Vodafone & Idea have also entered into a merger. This can be an effect of losses caused by Reliance Jio.
The telecom industry has witnessed several price slashes and tariff cuts after Reliance Jio's entry. The Mukesh Ambani led Telco is also held responsible for small operators losing more than 5 million users.