In light of a video about an exploding Redmi Note 4 going viral, Xiaomi has issued a statement. In the statement, Xiaomi has clarified that it is a fake video and has no relevance to the said case.
Recently, a video showing an exploding smartphone went viral. This video was being linked to a Xiaomi Redmi Note 4 explosion incident. Following the viral spread of this video, Xiaomi did an internal investigation, concluding that the video is not related to the case.
About The Case
On 17th of July, a Redmi Note 4 allegedly exploded inside a retail partner's outlet. The said device was brought to the outlet by a Bangalore-based customer, Arjun. A video then surfaced, with a phone catching fire in the service center personnel's hand.
The video soon went viral, stating that the device was the same Redmi Note 4. While it was a sad incident, but it is later reported that the device was not the same phone. The actual build of the exploding phone hasn't been identified.
Although the news of a Redmi Note 4 catching fire is true, it has a different angle. The customer is said to have used a 'faulty third-party charger', which caused the misfire. Despite this, Xiaomi has replaced the device with a new Redmi Note 4.
Xiaomi's Statement
The Chinese smartphone maker has identified the video to be 'obtained from a random WhatsApp group'. In an internal investigation, the company has made clear that the video had 'nothing to do with this recent Redmi Note 4 case.'
It is also found out that the video is not from Poorvika store, from where the aforementioned Redmi Note 4 was bought. Neither is the video from the phone's purchase date (June 1) nor it is from the date of damage (17 July). The video is from a retail store in Kerela.
Xiaomi is currently evaluating legal action against the people who spread it and further reported the video without verifying its authenticity.
In a statement, Xiaomi said,
"All of our devices go through stringent quality tests to ensure that you get the best quality. We will once again encourage everyone to only use Xiaomi authorised chargers and accessories."
The full statement is attached below.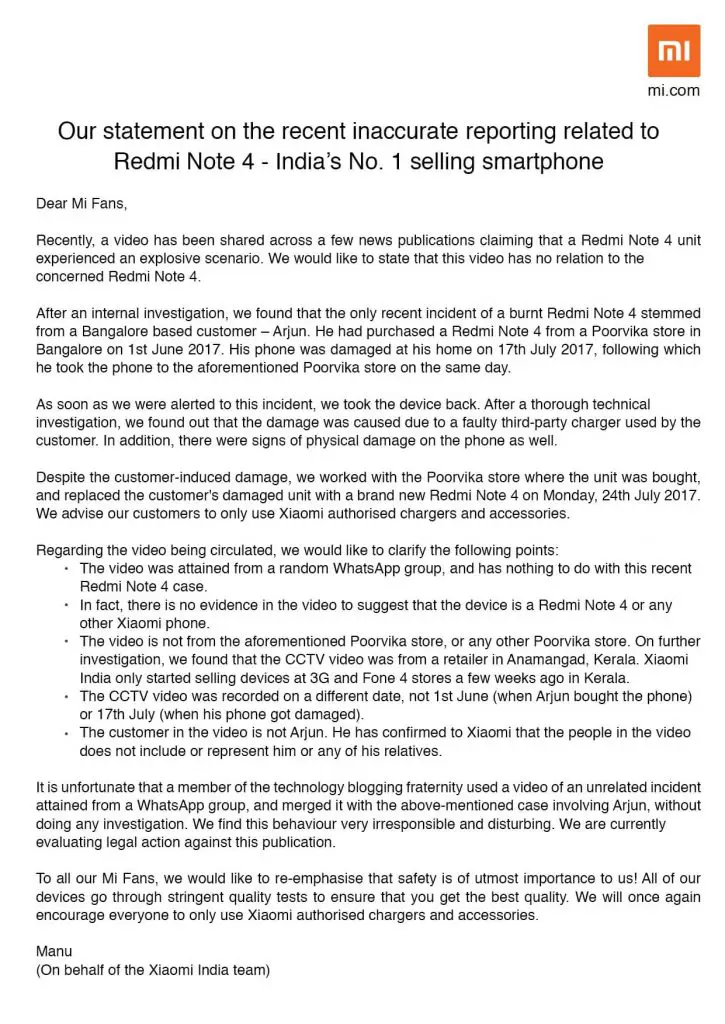 Conclusion
Use of a third party charger is dangerous for any of your devices. The recent generations of phones and tablets feature smart/fast charging which depends on communication between your phone and charger. Using an uncertified third-party charger can cause serious damage to your smartphone.