Lenovo owned Motorola has opened 5 Moto Hub-Exclusive Motorola Stores across Delhi, NCR, and Mumbai. These stores will feature all Moto products, including the online exclusive ones. Three of these Moto Hubs are in Noida and Indirapuram, and the other two Hubs are in Mumbai.
The Moto Hubs have been opened at Great India Place, Noida; Logix mall, Noida; Shipra Mall, Indirapuram; Korum Mall and Viviana Mall in Thane, Mumbai. Motorola plans to open 50 such Moto hubs in tier 1 cities by the end of this Financial year, the company said.
Moto Hub Store
With a tweet showing the excitement about Moto hubs, the company showed the 'Moto Chicken' mascot at a Moto Hub. The hubs are designed for ease of access and feature all the Moto products and accessories.
Do the moto chicken dance if you're as excited as we are about the #motohub launch! 🐥 pic.twitter.com/xlm0XmMrCZ

— Motorola India (@motorolaindia) August 3, 2017
About Moto Hub Stores
Motorola Moto Hub Stores are Motorola exclusive stalls, set up inside various malls. The Moto Hubs will offer you a chance to look, feel and use the entire range of Moto products. you can also buy all Moto phones and accessories from Moto Hub Stores.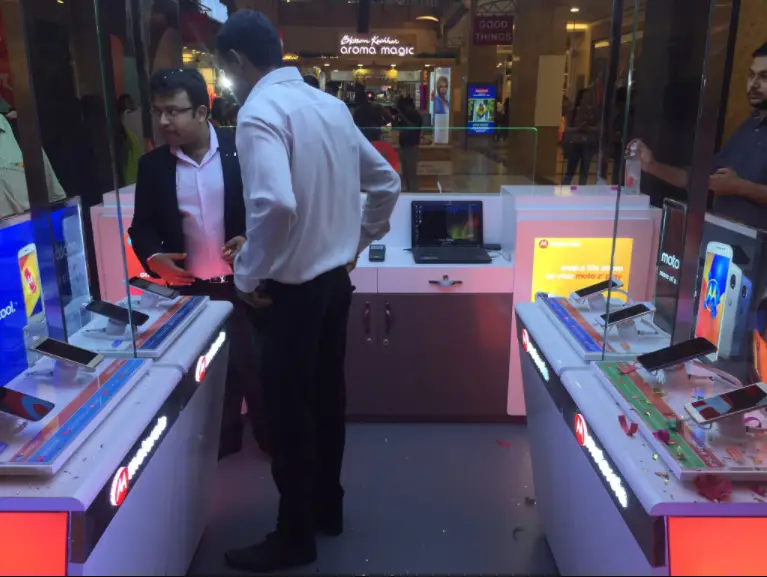 Apart from the smartphones, Moto Hubs offer a whole range of products like Moto in-ear and on-ear headphones, Moto Shells, covers, Moto Mods and much more. You can have a hands-on for the entire product range in these hubs.
Sudhin Mathur, Managing Director, Motorola Mobility India said, "At Motorola, we understand our consumers' needs and focus on providing them meaningful mobile experiences. We believe with the launch of this new retail channel 'Moto Hub', we are giving the customers an opportunity to get access to the complete Motorola portfolio, our technology and devices, in an environment that is more open, fun and very uniquely Motorola."
Going Offline
Companies that were recently selling devices online and even as 'Online Exclusives' are now shifting to a more traditional offline retail method. This shift may be there because many people like to feel their handset and take a demo before buying.
First, we saw Xiaomi coming up with Mi Home Stores and other partner stores across the country. Now, Motorola, in a similar fashion, is shifting focus to the offline retail market. With placements in various malls, Moto may enjoy the benefits of being directly in touch with their potential customers.