MTNL has revised their 3G prepaid plans for Delhi-based consumers. Delhi users of MTNL 3G can now avail more data at the same old price. The offer is valid for 90 days only.
The new prices are in effect from 7th August and include packs starting from as low as Rs. 4 to as high as Rs. 1,949. The good thing about this price revision and the offer is that only the data volume has gone up and the prices and validity have remained the same.
Revised MTNL Plans
The price revision from MTNL has resulted in increased data volume at the same price and with the same validity. Now MTNL 3G Prepaid consumers can get more data for the same price. The revised pricing is applicable only for Delhi-based users.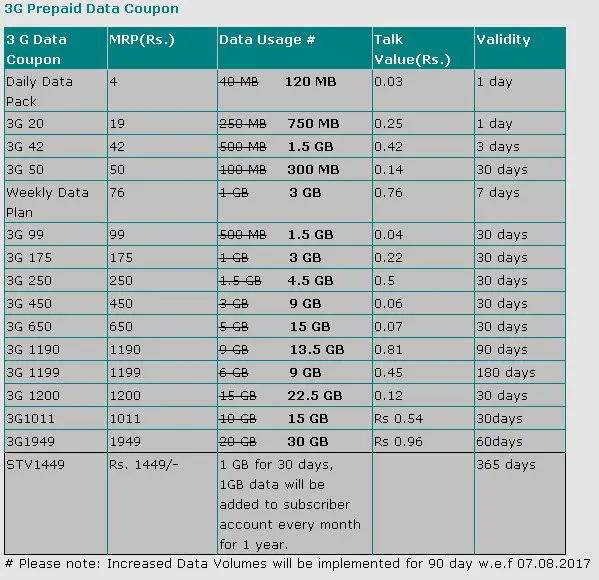 The lowest plan of Rs. 4, which earlier offered 40MB for 1 day now offers 120MB. Similarly, weekly data plans of Rs. 76 now offers 3GB data instead of 1GB data with 7 days validity. The plans have received such tremendous increase that the plan of Rs. 1,949 now offers 30GB data, compared to the earlier offered 20GB data with 60 days validity.
Also, this increased data volume can be used by Delhi-based users while roaming anywhere in India, without any extra charges. You can avail the benefits of increased data by Online recharge or E-Top up. After your pack is exhausted, you'll be charged 2paise per 10Kb.
Similar offers by other Operators
Keeping Reliance Jio aside for a while, the first one we can talk about is Airtel. Airtel has just announced a new plan, providing 84GB data for 84 days along with unlimited calls. Coming to Jio, we have a similar offer and the best thing is that both these offers are 4G offers.
While MTNL is offering a boost in data volume, Idea Cellular and Aircel have also unveiled new 3G plans.