Now YouTube lets you share videos and further talk about them from within the YouTube app. It has added integrated messaging to the YouTube application that will allow you to share interesting videos with friends and family easily.
The YouTube Sharing feature allows you to make groups with your contacts, share videos on those groups, add members, and reply with videos – all this from within the app. The new sharing feature does not disable or affect the present sharing through other apps.
About YouTube In-app Sharing
https://www.youtube.com/watch?time_continue=46&v=feBF_IY-HI8
YouTube has posted on its blog that it took them about a year to develop this in-app sharing mechanism. This mechanism will not only allow you to share videos easily and neatly, it will also make YouTube a dedicated platform for video content sharing.
So far, we had to copy links or make several clicks to share a video. Thanks to the latest smart sharing in Android that this task was reduced. Now because of the YouTube in-app video sharing, we can just share a video while watching it.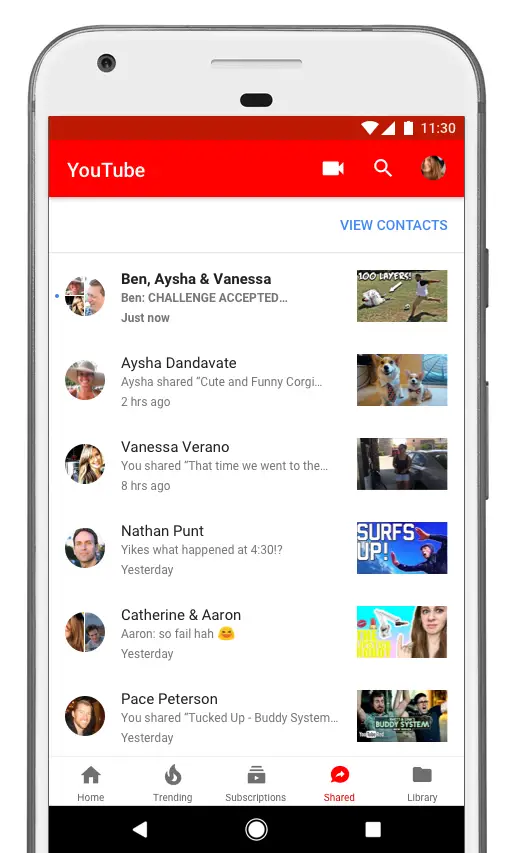 Another cool feature is that you can chat while the video keeps playing. This lets you post your experience, as you enjoy the video simultaneously. The shared videos are chronologically saved as chats in a new 'Shared' tab at the bottom of your screen.
You can invite people to join the in-app messaging on YouTube through a link or directly from your contacts list.
YouTube posted on its official blog,
"Starting today, you can share videos with your friends and family directly on YouTube. Not only can you share and receive videos in the app, you can also chat about them right on YouTube, reply with another video, invite others to the conversation, and more. We think it'll make sharing easier, faster and more fun on your phone. And if you want to continue sharing videos through other apps, you can still do that too."