Have you ever thought of an app which can become a travel guide in your tour? When you are traveling to a new place and you have all the explore options at one place. Ever thought about how easy your travel can be if you can book your Hotel, tours, window shop or book a cab from one app?
Here is the answer – Matrix Travel Companion app is the first of its kind app to offer Shopping deals, discounts and VAT refund. Primarily aiming for foreign tourists to ease up their travel the app also has travel related features like ticket booking for attractions (150,000 partners), hotel/apartment bookings (500,000), and many more.
App availability: Matrix Travel Companion App is available for all the Android and iOS devices.
First time Sign up of the App:
Once you download the app either from Playstore or the App Store, it asks you to either "Sign Up" or "Log in". First time user has to sign up which can be done using google account or facebook account. We did it with the Google Account and there it asks to enter your name, email address, phone number and password. After that an OTP is sent both on phone and email id. You can con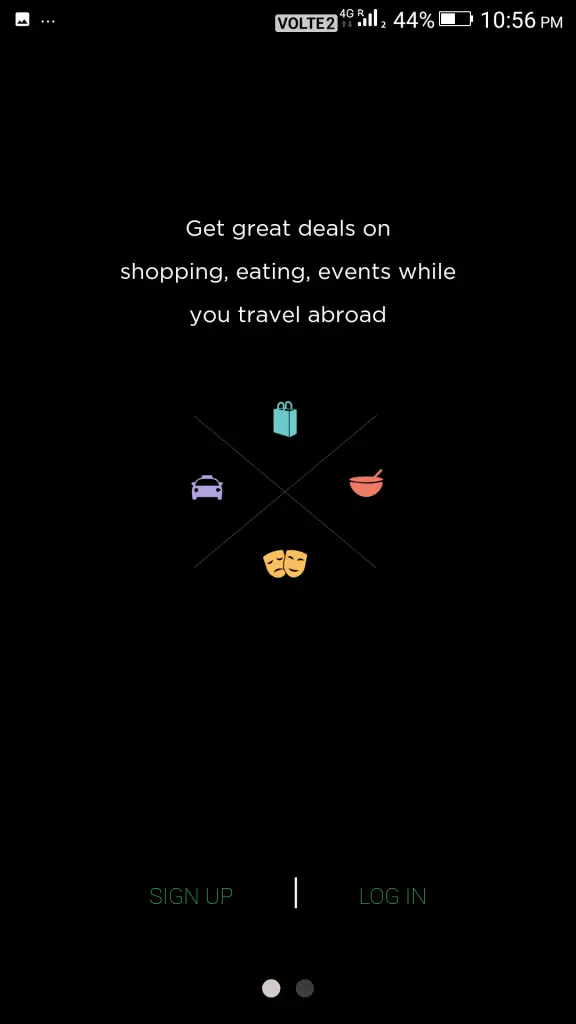 Now the Home screen looks as mentioned below.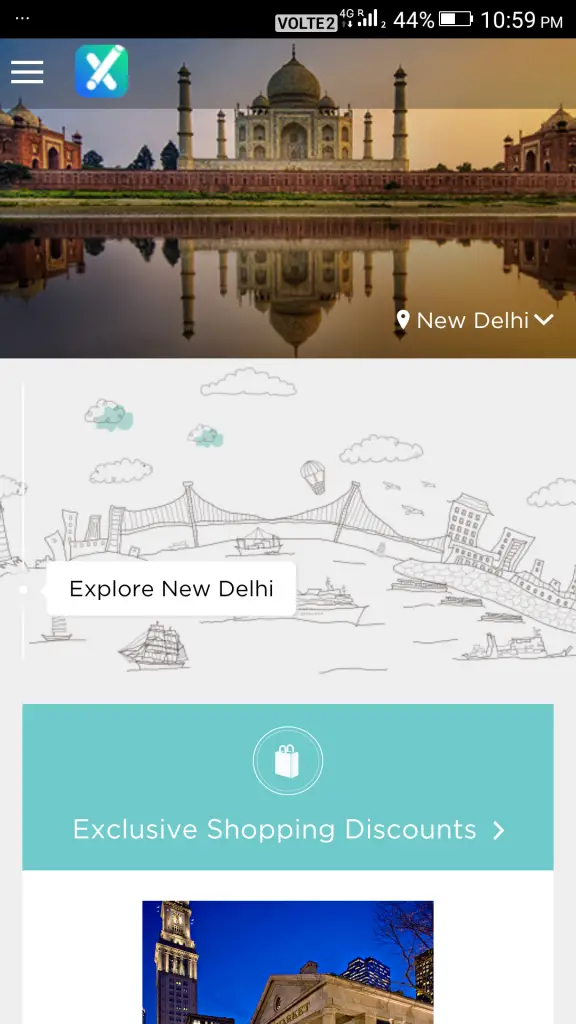 On the Home Screen you have following options:
Shopping Carousel.
Things to do/Attractions.
Eating Options.
Cabs.
Matrix Services.
VAT.
Hotel, Apartment Booking.
Mobile Recharge.
Top Right also has the slider menu option which features Travel Companion, Profile, My Services, My Bookings and Offers options. At the bottom of the slider menu you have Settings and Help.
The 4 Major Uses of the App are:

We tried to understand the app by basically using it as the traveler who is on a visit to India and currently is in New Delhi.
Use Case 1: I am a traveler in New Delhi and I want to "Book Attractions" to explore things nearby.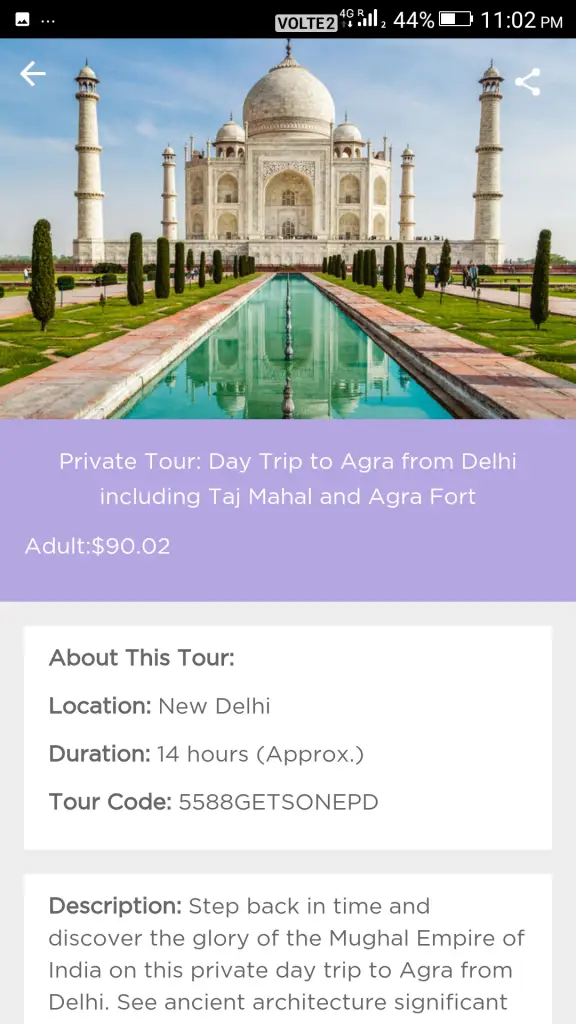 On clicking "Book Attractions", it takes me to the screen having options for attractions for a trip to Agra.
Let's book a trip to one of the seven wonders, that is the Taj Mahal, Agra.
On selecting a tour package it takes me to "About Tour" page where at the bottom I have got the option of "Book Now".
After clicking "Book Now" it navigates to "Select Travelers" page where I can select max. upto 9 travelers.
Then it shows the pricing in USD and after that it asks for details like name, flight details, passport details, pickup, drop off and other personal details.
After that final checkout screen shows the pricing in INR.
Use Case 2: Being new to Delhi, I want to explore out some good places to have local food.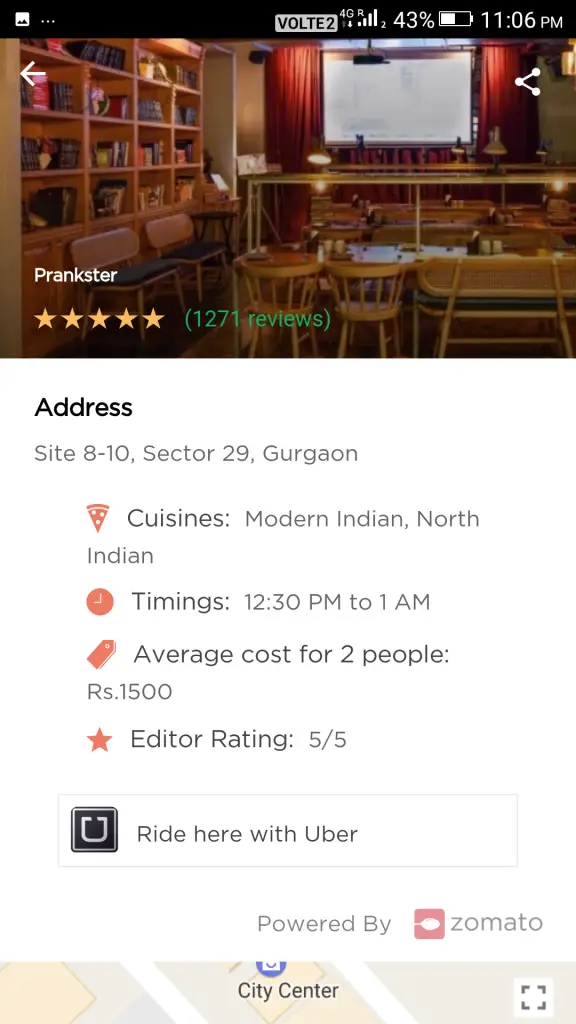 Right now the app has got 30 options across NCR to have food which covers all the premium as well as budget places across NCR.
When we select any of the restaurant it shows ratings, no. of reviews, address, cuisines, timings, avg. cost and editor's rating.
Also it has got the option of "Ride here with Uber". By tapping that option you will be taken to the Uber app to get a ride for that place.
Below that, there is the map available of the venue.
The entire thing is powered by Zomato.
Use Case 3: I want to book the Hotel for my stay in NCR so I tap on "Book Now" option for Hotels.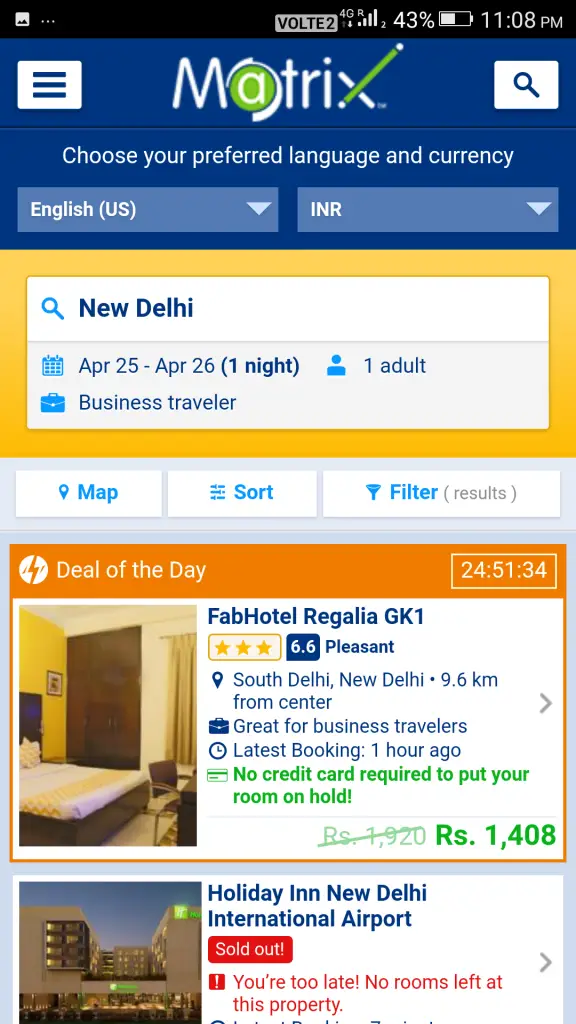 I am navigated to new screen which asks me for Location, Checkin date, Checkout date, No. of person and purpose of travel.
On tapping Search it shows a wide range of options across all budgets in entire NCR.
Navigation of the entire booking option was really good.
Use Case 4: I need to recharge my mobile as I have exhausted all of my talktime and internet.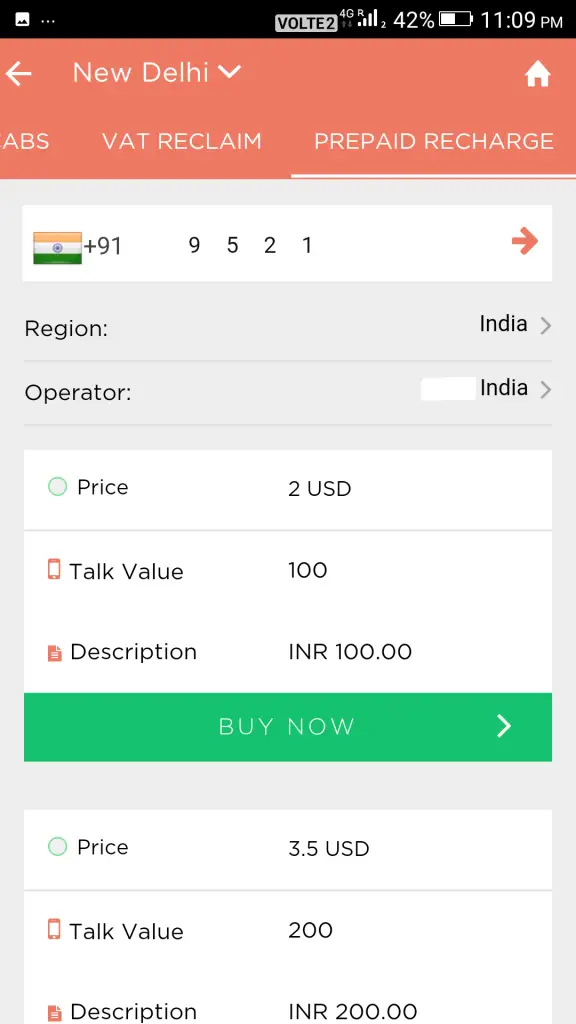 On tapping "Recharge Now" it takes me to the screen which asks to enter the mobile number.
After entering the number it shows the region and operator. Also various recharge bundle offers are shown over there. The amount shown here is in USD.
After selecting any recharge bundle it asks for some personal details and final payment checkout. Here the Grand Total is in INR.
In this way we checked out with the four major use cases any traveler will come across while travelling either domestic or abroad and found that the app is useful but requires some improvements in terms of the database of options. Also the currency part has to be improved.
Pros and Cons:
Pros
Good and simple design of the app. Convenient for travelers of all ages.
One can easily book cabs using Uber.
One can share restaurants, tour attractions with others in contact list.
Good Hotel/Apartment booking feature with a good database.
Nice Recharge and Shopping Feature.
Cons
OTP validation shall be done. Though one receives OTP but signup is done without that.
There are limited options for tourist attractions. It should have more options of the tourist attractions.
Prices are in Dollars only.
While taking the details for booking any tour attraction there is no validation format. For example in date one can enter the text also.
Shopping options available for countries like USA, UAE, Indonesia, Germany etc. Again it should have more information as no option is available for India.
For domestic travelers also, it takes details of passport and flight details whereas for booking a Desert Safari in Dubai there are no such options.
Conclusion
Being the beta version, the app looks stable and good but with a small database for tourist attractions and restaurants even when powered by Zomato. Also the app needs improvement in validation while taking the personal information of the user. OTP validation is also a must feature to have, though it's partially there where one receives OTP but there is no option to enter. But the recharge, hotel booking and shopping discounts are the major USP. The entire concept is unique and is aimed at easing up a traveler's' experience when he visits a whole new place. The app needs to have improvements with a good database of options to become a great travel companion.