Leaks of the upcoming Samsung Galaxy Note 8 recently escalated to a whole new level. The Note 8 was seen briefly listed on the Samsung Store. In the meantime, hands-on images of the Galaxy Note 8 were put up by a Weibo user, and promotional brochures of the Note flagship also went viral in Australia.
Seeing the extent of leaks, pretty much everything about the Samsung Galaxy Note 8 is out now. Among these features, we have a 6.3-inch QHD display, Dual Camera with 2x Optical zoom, Iris scanner and much more. The leaks have even revealed the colors of the upcoming Note 8.
Samsung Galaxy Note 8 Leaked Specifications
So in this article, we will tell you the major leaks about the Samsung Galaxy Note 8 along with the features shown in various leaks. The Note 8 is confirmed to be launched on August 23, and right before the launch, here is all we know so far.
Leaked Brochure reveals Display and more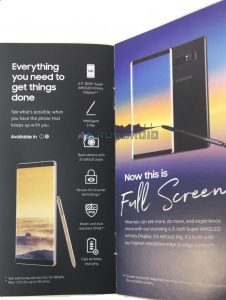 Ausdroid posted images of promotional material of the Samsung Galaxy Note 8, confirming multiple features of the phablet. The brochure confirms a 6.3-inch Super AMOLED panel with QHD resolution on the Samsung Galaxy Note 8.
The leak also confirms Dual Camera with 2x Zoom, even mentioning a f/1.7 aperture. Iris Scanner, IP68 Water & Dust resistance, S-Pen (with display off support) have also been confirmed on the Galaxy Note 8 from the leaked brochure.
It goes further to disclose Fast Wireless Charging capabilities and the phone's availability in Black and Gold colors.
Official Listing on Samsung website
In their excitement, Samsung briefly (although mistakenly) listed the Note 8 on their official website. The listing was later removed but revealed and Infinity Screen, S-Pen, and Bixby support on the Samsung Galaxy Note 8.
Hands-On by Weibo User
The clearest images of the Samsung Galaxy Note 8 were uploaded by a Weibo user. In multiple images showing off the phablet's build, the Note 8 is confirmed to come with a Glass body and a dual camera setup along with a rear-mounted Fingerprint sensor.
Other Leaked features
Tips and leaks in the past suggest at the Samsung Galaxy Note 8 coming with an Exynos 8895 or Snapdragon 835 processor. The phablet is expected to pack 6GB RAM with 64GB internal storage and expansion option via microSD card. A 3,300 mAh battery was also confirmed in some leaks.
Conclusion
The Samsung Galaxy Note 8 is going to be launched on August 23 in New York. The leaks do seem true to some extent but let us wait to see what Samsung has in-store for the Note fans.