Reliance Jio is getting a grip over the premium smartphone segment by making lucrative buyback offers on the iPhone X, Pixel 2 and 2 XL. The telecom upstart is offering a 70% buyback on the Apple iPhone X and offers worth Rs. 35,000 on the Pixel 2 and Pixel 2 XL.
Along with the buyback and additional offers, Reliance Jio is offering bundled plans as well. With the iPhone X, you get a plan of Rs. 799 per month and with the Google Pixel 2, you get 1 year of unlimited voice calling and 750GB data worth Rs. 9,999 for free.
Reliance Jio offers on Apple iPhone X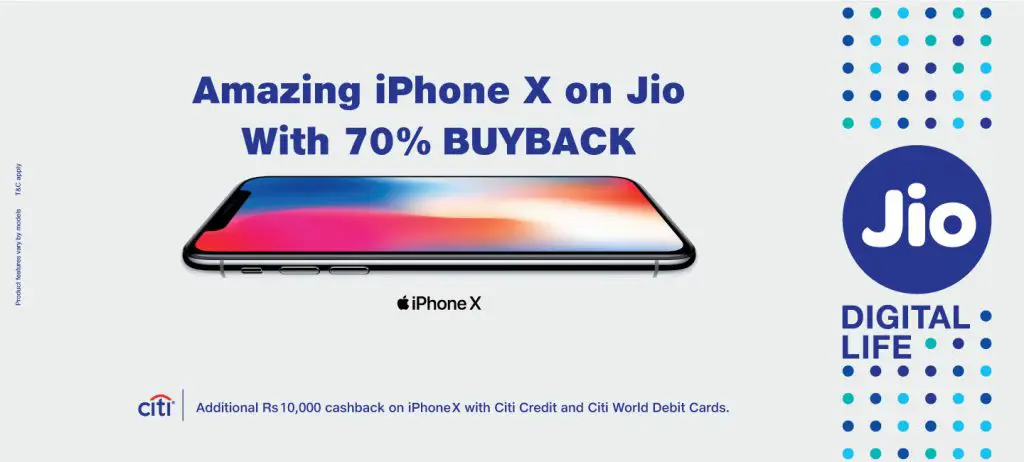 To start with, you can book an iPhone X with the Jio offer at just Rs. 1,999. You'll get a 70% buyback guarantee under the Jio iPhone X offer once you claim it. This means you will get 70% of your phone's value upon returning your iPhone X. The condition here is that you will have to buy the phone with Jio iPhone X monthly pack.
The Jio iPhone monthly pack offers you 3GB per day 4G data with unlimited SMS, Jio apps subscription, and unlimited Voice calling at Rs. 799 per month. The plan comes with a 12-month contract with the prepaid plan being valid for 28 days and postpaid being valid for one billing cycle.
Jio Pixel 2, Pixel 2 XL offers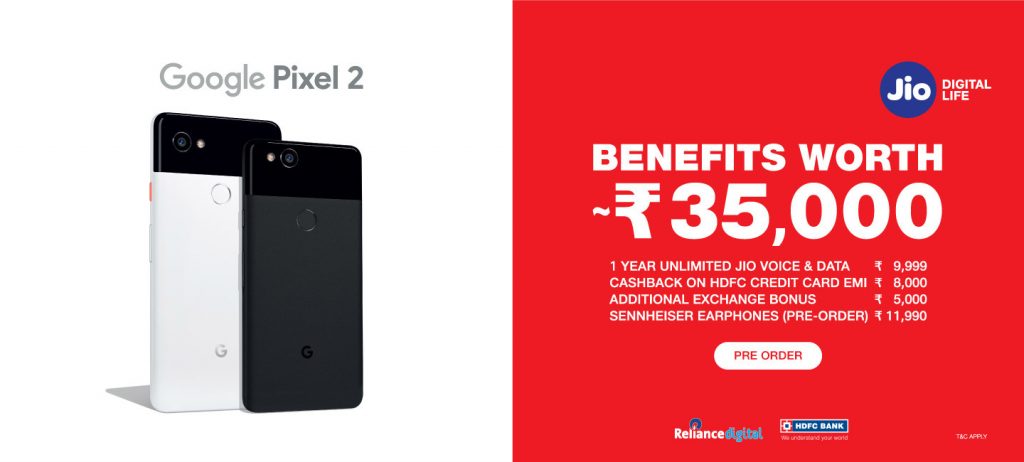 This year's Google flagships are also getting big discounts from Reliance Jio. You will get benefits of up to Rs. 35,000 on pre-order of the Google Pixel 2 or the Pixel 2 XL. The benefits apply equally to both the Pixel phones and also attract a free one-year plan from Reliance Jio upon pre-order.
The benefits start with the unlimited voice and data (750 GB) worth Rs. 9,999 from Reliance Jio. This pack is valid for 360 days and comes for free only if you pre-order the Pixel 2 or Pixel 2 XL from Jio. You will also get Rs. 8,000 cashback on HDFC credit card EMI.
Upon purchase with the exchange offer, you will also get Rs. 5,000 additional exchange bonus. Also, there is another pre-order exclusive benefit that you'll get a pair of Sennheiser Bluetooth earphones worth Rs. 11,990 with the Pixel 2 or Pixel 2 XL.