Xiaomi Redmi Note 5 is probably less than two months away from the Indian launch, and the leaks are getting interesting with every passing day. In a fresh leak today, the Xiaomi Redmi Note 5 is posing for the cameras revealing some of its core specifications.
According to a post on Chinese social networking website Weibo, the upcoming Redmi Note 5 is going to feature a big bezel-less display with an aspect ratio of 18:9, in line with several other leaks before. The Weibo post reveals some crucial details like the processor of the phone, camera, battery and the display resolution in the upcoming Xiaomi smartphone.
Xiaomi Redmi Note 5 Specifications
The Xiaomi Redmi Note 5 has been leaked a few times already, with different leaks hinting at some of the core specifications of the phone like the display and the aspect ratio. Today's leak confirms that the phone will feature a 6-inch display with a resolution of 2160 x 1080 pixels, resulting in the now popular 18:9 aspect ratio.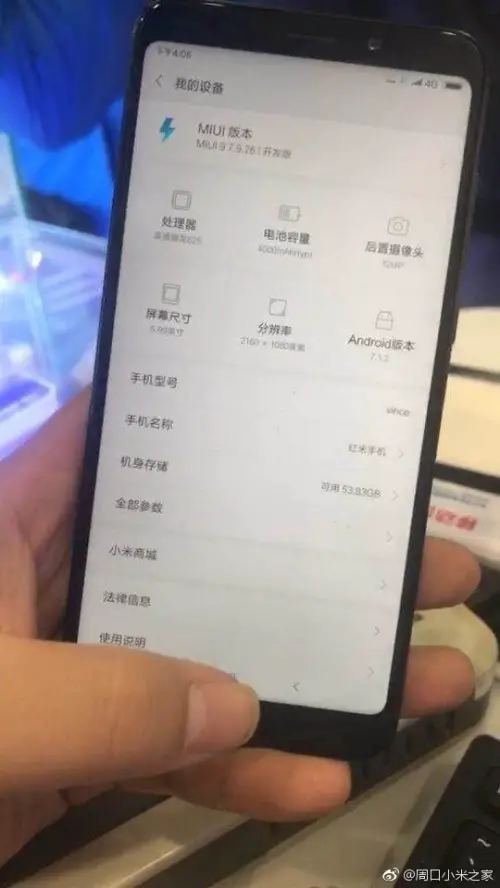 An important aspect that a lot of users were waiting for is the processor, and we finally know the answer. An octa-core Qualcomm Snapdragon 625 chipset will be powering the Redmi Note 5 – Xiaomi has used this processor in many of its phones already. It is also the same chipset that powers popular phones like the Redmi Note 4 and the Mi A1, and it doesn't look like Xiaomi is giving up on this efficient chipset yet.
In addition to the display and the processor, we also now know that the next Redmi Note series device will come with a 12MP rear camera. The phone was revealed to be running on MIUI 9 and backed by a 4,000mAh battery. The phone also comes with 64GB storage, and going by the current trend in Xiaomi devices, you can expect it to come with 4GB RAM, although this is not revealed in the leaked image.
One interesting change thanks to the 18:9 display is that the Redmi Note 5 will ditch the capacitive navigation buttons and instead use soft buttons like we've seen on the Mi Mix 2.