The MIUI 9 update on Xiaomi smartphones has brought many new features. One of the simplest and most useful features is the Xiaomi Mi Drop app. While the app is available for all Android smartphones, it comes baked in on Xiaomi smartphones.
Xiaomi's Mi Drop app is a simple application that allows you to share all types of files with nearby friends. The app does not rely on an internet connection and is claimed to be 200 times faster than Bluetooth transfer. Apart from being a simple application, it allows you to transfer files irrespective of the size.
Given that apps like Shareit and Xender have become bloated, Mi Drop comes as a breath of fresh air thanks to its very simple UI.
How to use Mi Drop to send and receive files faster

The Mi Drop app is available in the Google Play Store for download for free. It is an advertisement free app which makes it even better as you won't get any annoying pop-ups during transfers. The app is just 3.5MB in size so it doesn't take much space on your device either.
Once you've downloaded the Mi Drop app, you can open it and follow the on-screen instructions for an easy setup. The app requires your location and files access for smooth functioning. Once done, you can directly start using the app without any additional actions.
How to transfer files using Mi Drop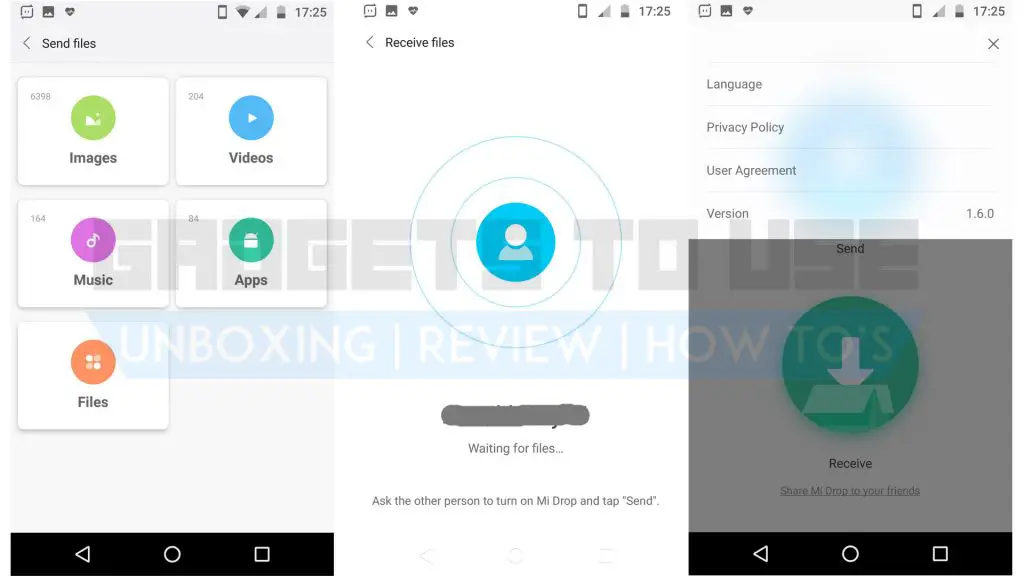 Send Files
To send a file, click on the 'Send' button and select the type of content you want to share. Here, you can click on the checkbox on the sides of images to select them, or click on the thumbnail to open it. After selection, you will get a list of devices near you.
Receive Files
To receive the files, click on the 'Receive' button on the other device to initiate the receiving process. You can do other tasks after you toggle the receiver on. When you are in receiving mode, the sender will see the name displayed on your screen and can share the content with you.
Conclusion
This application is a light and simple one to use. The interface comprises of a Send button and a Receive button. On the top-left side of the screen, you can access the received files neatly divided into folders. There is a settings cog on the top-right side where you can change the app language, check version, and read various policies.
Talking about functionality, the app does a good job and performs speedy transfers. When sending a file, you just have to select the files you want to send and share them with a click. In order to receive files, you have to tap the receive button and get into receiving mode.