The Telecom Regulatory Authority of India (TRAI) has released its speed test data for the month of October 2017. Like past few months, Reliance Jio again leads the 4G average download speed segment in India. Moreover, Jio also records a highest-ever 4G download speed of 21.9 Mbps in October.
TRAI has released the October month's data a month late this time. The authority had earlier announced that it will take help from the private test sources like Ookla to strengthen its MySpeed app, which was in question by some operators.
Reliance Jio tops in 4G download speed
As mentioned, Jio has achieved the highest average 4G download speed in October. Jio's average speed was recorded 19.3 Mbps, followed by Vodafone India with an average download speed of 9.1 Mbps. Idea Cellular gets 8.8 Mbps speed secures the third spot and Bharti Airtel came last with 8.6 Mbps average download speed.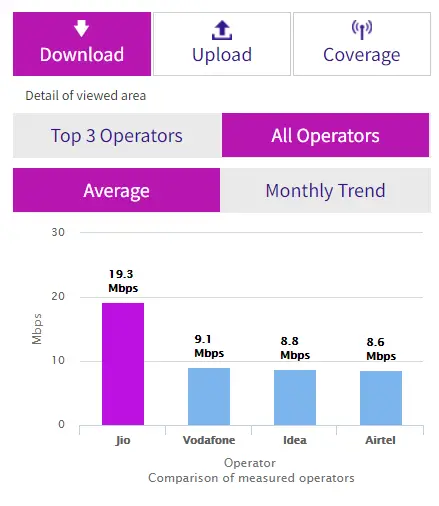 Further, Reliance Jio even recorded an all-time high 4G download speed of 21.9Mbps in October. The Jio 4G download speed went up from 18.4Mbps in September to 21.9Mbps. Apart from that, all other operators saw dips in their 4G download speeds compared to the previous month.
Idea tops 4G Upload speed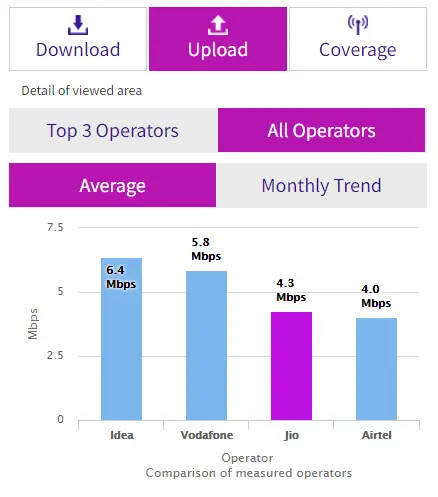 When it comes to average upload speed on 4G network, Idea Cellular leads with 6.4 Mbps average upload speed. Idea is followed by Vodafone India with 5.8 Mbps upload speed, while Reliance Jio recorded 4.3 Mbps upload speed. Airtel, here too came last with an average upload speed of 4 Mbps in October.
Vodafone tops 3G speed charts
Coming to the 3G segment, Vodafone tops the charts with the highest average download and upload speeds. Vodafone India has recorded a download speed of 3.5 Mbps, followed by Airtel which recorded 2.9 Mbps average download speed on 3G network. Idea Cellular, Aircel, and BSNL get third, fourth, and fifth spots with an average 3G download speed of 2.5 Mbps, 1.8 Mbps, and 1.7 Mbps respectively.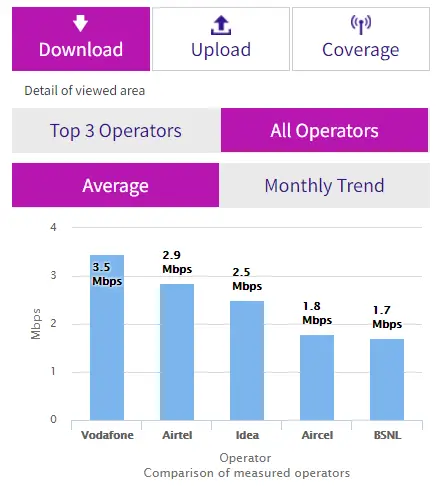 Lastly, if we talk about the average 3G upload speed, Vodafone registered an average upload speed of 1.7 Mbps, which is closely followed by Idea with 1.4 Mbps speed. Airtel came third with an average upload speed of 1.2 Mbps. Aircel records upload speed of 1.2 Mbps and BSNL stood last on the list with 0.95 Mbps upload speed on 3G network.