Indian Railways has partnered with Google to enrich the wait time experience for the daily commuters on Mumbai's CSMT Station. Google is installing video screens at this iconic station which will show the rich cultural heritage of India. The screens will be installed for the next two months.
Google is initiating this program to promote its Arts and Culture platform. The videos that Google will show from its online platform will spark traveler's curiosity and make their wait time better. The Chhatrapati Shivaji Maharaj Terminus Railway stations is a UNESCO World Heritage Site and has witnessed the developments in the city since 1887.
What will Google offer via Arts & Culture videos?
The videos are from the Google Arts & Culture platform which is an online platform for the world's culture. The video screens will allow daily commuters and travelers to explore India's cultural heritage and wonders at the station itself.
The travelers can also learn about artworks from the National Museum's world-renowned Miniature Paintings and Bronze Sculpture collections. They can see Rabindranath Tagore's paintings at Kolkata's Victoria Memorial Hall. Not only this, they can also browse thousands of rare digital exhibits from museums across India and the world as well.
Apart from viewing these cultural legacies in high resolution, they can also experience the galleries of these iconic things through 360-degree panoramas. This immersive technology enables travelers to get a glimpse of India's greatest monuments in 360 degrees, like the Red Fort and the Ajanta Caves. There is this highlight feature which was never before seen, a vista from atop the Taj Mahal's Minar.
Free Wi-Fi
Additionally, Google has also partnered with another Government entity, Railtel in order to facilitate free Wi-Fi at railway stations. Commuters can use the free Wi-Fi at the CST station provided by Railtel. Users can download the Google Arts & Culture mobile app available for free on iOS and Android and explore the wonders from across India while on-the-go as well.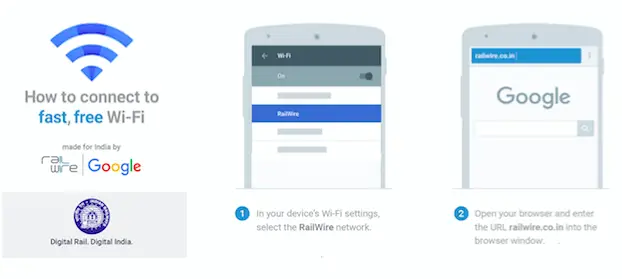 The Arts & Culture app provides cultural gems from India's leading cultural institutions, including the Archaeological Survey of India, the National Gallery of Modern Art, and the Chhatrapati Shivaji Maharaj Vastu Sangrahalaya. These institutions have partnered with Google Arts & Culture to bring India's cultural heritage online and to explore for all.
The Video screen initiative at CST Mumbai was unveiled by Shri D.K. Sharma, General Manager, Central Railway, Shri R.K. Verma, Secretary, Railway Board, and Mr. Ben Gomes, Vice President (Search), Google and Patron of Google Arts and Culture, and other officials.
Ben Gomes, Vice President at Google said,
"We hope everyone traveling through the station will find something new and interesting from India's rich, diverse, and fascinating cultural heritage. In addition to provoking a sense of visual delight through access to immensely rich heritage and bringing forth those "Oh! I didn't know" moments, the showcase will also bring a moment of lightness and calm to those who get caught up in the rush of our days. We are proud to partner with Indian Railways and use the power of technology to bring to India's most active and historic station the arts and artefacts of this beautiful country."
Shri D.K. Sharma, General Manager, Central Railway said,
"Now courtesy Google Arts & Culture's technology, we've been able to bring people closer to Indian Railways' historic masterpieces than ever before, and open up our heritage to millions and millions of daily commuters and long-distance travelers, to explore India's cultural heritage, its beauty, and treasures."