Ixigo, a train ticket booking app has been updated with lots of new AR based features for iOS devices. The app will now allow iPhone users locate their coach position by scanning the train standing on the platform. AR features of the app will allow iPhone users locate coach positions at more than 7,000 stations across India.
This AR feature is available to the users of iPhone 6 Plus and above. These users can use their iPhone to scan the train at the station, and the app will categorize the coaches and label them accurately. This feature is possible because of the Apple's ARKit and users have to grant camera permission to the Ixigo app to use this feature.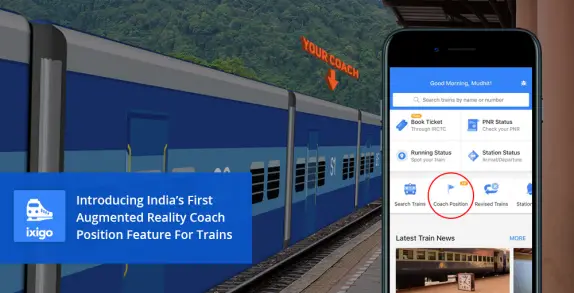 You have to tap on the "Coach Position" option and grant the camera permissions to the app. After that, you need to scan the train at the station and the app will show you a 3D model of the train and label all the train coaches for you. You will also see your coach labeled as "Your Coach."
Rajnish Kumar, CTO and Co-founder, Ixigo commenting about the AR update said, "Due to overcrowding at railway stations, passengers often worry about not having the right information with them when needed, leading to anxious moments before they board their train. To curb this, we worked on developing our AR Coach Position feature."
Another feature of the app will tell you about your train's status if it is canceled, diverted or rescheduled. The company also added a wide range of stickers for iMessage. These new features will help iPhone users to easily find their train and coach at the railway stations. You can download the Ixigo app from the App Store.