Xiaomi Mi TV 4 has been released in India, and it is the most affordable 55 inches 4K smart TV available right now. Xiaomi has also claimed that Mi TV 4 is the world's thinnest LED TV possible – the thickness of the LED panel is only 4.9mm which makes it even thinner than most smartphones.
The price of the Mi TV 4 is set to be Rs 39,999 which makes it one of the most affordable 4K UHD LED TVs available in the Indian TV market. There are several reasons to buy Xiaomi's first TV in India, but here are our top 5 reasons to buy the Xiaomi Mi TV 4.
5 reasons to buy the Xiaomi Mi TV 4
Design
The Xiaomi Mi TV 4 comes with a minimal and an overall beautiful design. Xiaomi claims that it is the world's thinnest LED TV with thickness at a very low 4.9mm. The best part of the display which Xiaomi used in the Mi TV 4 has super thin bezels which make the whole TV viewing experience a delight.
Display and Sound
The Xiaomi Mi TV 4 comes with an LED panel which is capable of playing 4K UHD videos and it comes with a 60Hz refresh rate. The Mi TV 4 display even supports HDR enabled movies and videos for an even better and immersive TV viewing experience.
Xiaomi hasn't compromised when it comes to the sound experience – the Mi TV 4 comes with two 8 Watt speakers which are powerful enough to rock a house party. The Mi TV 4 comes with top firing speakers which are placed so the sound will travel upward and bounce back to create an immersive surround sound experience. Xiaomi has also announced a soundbar for the Mi TV 4 for an even better audio experience – however, this will have to be purchased separately.
Software – PatchWall UI
Xiaomi Mi TV 4 comes with Android TV OS which is layered with Xiaomi's own Patchwall UI. The Patchwall UI comes with deep learning technology which learns about the user's interests and then recommends relevant content on the TV's home screen from material provided anywhere on the web.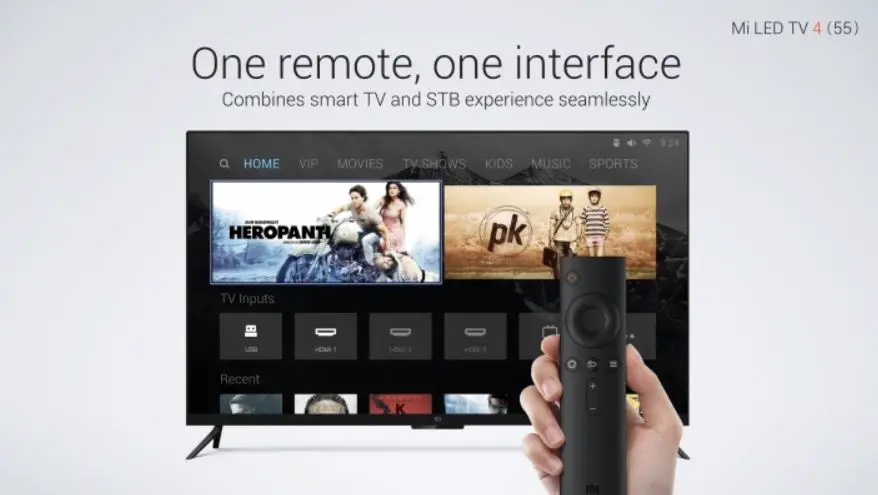 Patchwall UI comes with all the apps you needed in a smart TV like the Play Store which is Android's default market for apps and other video content. The video content can also be accessed from the Google Play movies which need a subscription.
Performance
Xiaomi Mi TV 4 is also a better performer because it is powered by a quad-core processor and 2GB RAM. Most smart TV at this price range comes with 1GB RAM which can run the proprietary OS, but with Android TV-based PatchWall UI powering this smart TV, pairing the quad-core processor with 2GB RAM seems to be a good choice.
You can even play games by downloading them from the Google Play Store. For audio experience, it comes with two 8 Watts speakers which are facing upward. It features Xiaomi's own tech to create an immersive surround sound experience; it even supports the Dolby Atmos Audio technology for a better sound experience.
Price
Xiaomi always keeps the price in the primary reason section to buy its products whether it is a smartphone or the Xiaomi Mi TV 4. The cost of a smart TV with 55 inches 4K UHD panel is somewhat around Rs 80,000, but Xiaomi kept the pricing of the Xiaomi Mi TV 4 at just Rs 39,999.