Popular semiconductor company, MediaTek has unveiled a new biosensor module for smartphones dubbed as Mediatek Sensio. The biosensor module brings advanced health monitoring solutions to smartphones. MediaTek Sensio is a 6-in-one biosensor module which can easily track various health parameters like heart rate information, blood pressure levels, peripheral oxygen saturation levels and much more.
MediaTek Sensio will be available as an embedded module in smartphone chips. It will make it possible for consumers to quickly check and monitor various health parameters on their smartphone via an app. So, you need not visit any doctor to check health-related data like blood pressure, and heart rate information. The sensor will measure your health data in just 60 seconds using light sensitive sensors.
How does Mediatek Sensio work?
MediaTek Sensio is a health monitoring chip and it has 6 different sensors.  The biosensor module uses light emitting diodes (LEDs) combined with a light-sensitive sensor to measure the absorption of red and infrared light by the user's fingertips.
So, just by touching the device's sensors and electrodes with your fingertips, the Mediatek Sensio biosensor module available inside the device creates a closed loop between user's heart and the biosensor to measure ECG and PPG waveforms. After measuring these aspects, it will show different results about your health including heart rate and blood pressure levels.
How to use Mediatek Sensio
Here's a stepwise guide for the Sensio-device –
Step 1: First of all, download and run the APK file. This app might come pre-installed on the phone in future. Once the APK is installed, use the login credentials to register on the app.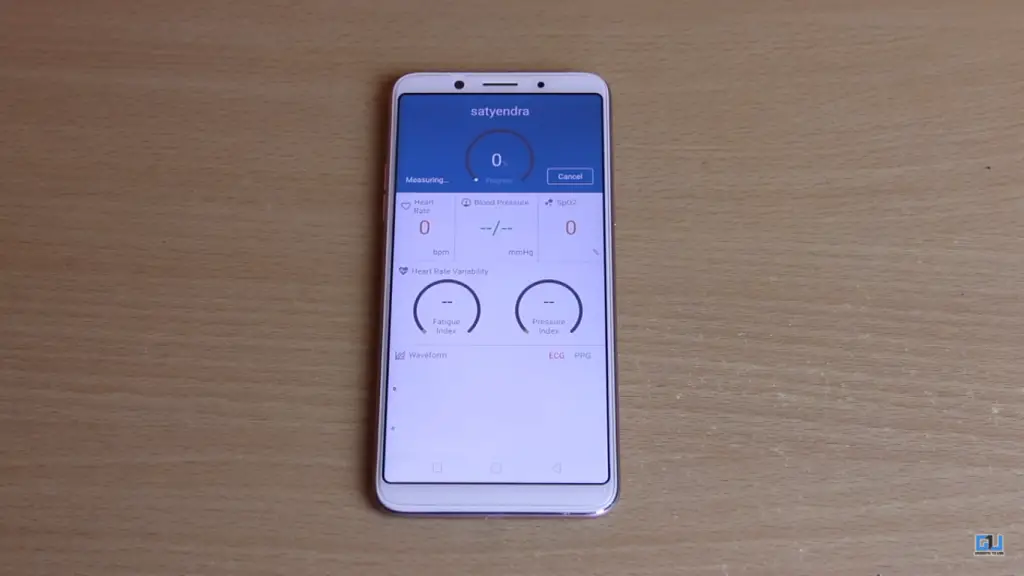 Step 2: Currently, since it is an external device, you have to connect it manually to the phone. The right-hand side of the device has an on/off switch. Once turned on, the Bluetooth of the phone will discover the device. Select the device and press connect.
Step 3: After connecting to the device, the home page for the app will open. On top there is a profile tab, click it open and add the personal details required including – Age, Weight, Height, Gender and Date of Birth.
Step 4: After creating the profile, select the "measure" option on the screen.
Step 5:  It will then show how to place fingers on the device in order to measure the health data. Since we have an external device, we'll have to place our fingers (Right thumb and left middle finger) on it.
Step 6: In about 60 seconds, the sensor can measure the health data and app will show different results.
MediaTek Sensio health data
MediaTek Sensio delivers these key health data points in about 60 seconds:
Heart-rate: Mediatek Sensio measures heart beats per minute. It also measures variation in the time between heartbeats.
Blood Pressure Trends: The device measures blood pressure trends so users can see a range of data over a period of time. After measuring, it shows if the users have hypotension i.e. low blood pressure or hypertension which means high blood pressure.
Peripheral Oxygen Saturation (SpO2): The Sensio also measures the amount of oxygen available in the blood. The data is shown in percentage and also mentions if it is good or bad as per your health.
Electrocardiography (ECG): One of the important health data the Mediatek Sensio measures is the electrical activity of the heart over a period of time. It displays the ECG data in graph form.
Photoplethysmography (PPG): Mediatek Sensio also measures the change in volume of blood.
Conclusion
So, you can see that a single chip available inside a phone can measure some crucial health points that currently aren't possible without visiting a doctor. So, with this type of technology, in future, you don't need a doctor to measure these important health parameters and you will be able to do it by yourself using an app on your smartphone.
MediaTek Sensio is supposed to be available soon in smartphones having Mediatek chipsets.