You can now get the Google Home Mini, which was recently launched in India at a price of Rs. 4,499 for free. The smart speaker which is the mini version of Google Home is already available for purchase via Google store and Flipkart. Interestingly, you can actually get it without paying any price for it.
Google launched its smart speakers Google Home and Home Mini earlier this week. Now, the Home Mini is available for free bundled with new ACT Fibernet connections. Internet service provider ACT Fibernet has announced that subscribers who pay in advance for 12 months will get a free Google Home Mini.
How to get Google Home Mini for free
If you are an ACT Fibernet customer, you can get a free Google Home Mini if you subscribe to some select broadband plans in select cities and pay for the plan in advance.
If you are in Hyderabad, you can get the Home Mini for free if you subscribe to ACT GIGA plan which is a 1gbps connection or incredible plan. To get the device, you will need to pay advance rental for 10 months, which will give you the plan for 12 months. Also, the Max Rs. 1299 plan in Hyderabad with advance rental for 11 months will also give you the same benefits.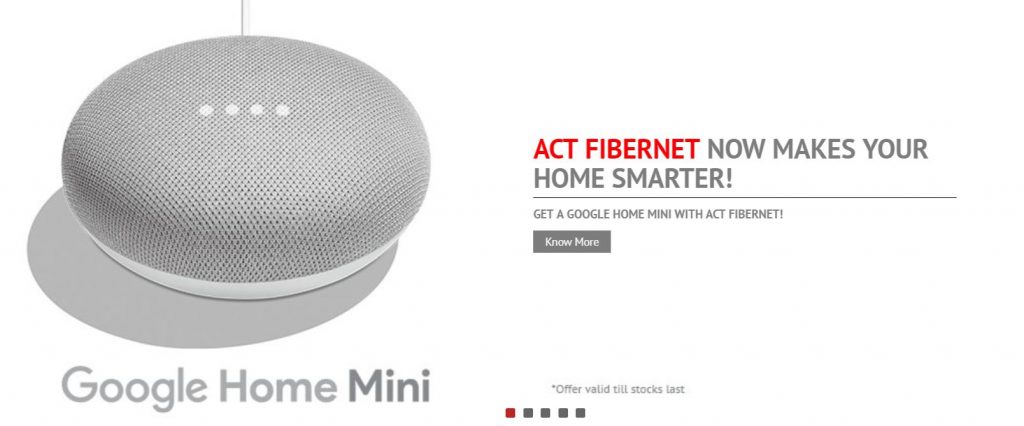 ACT subscribers in Bengaluru will get a free Home Mini if they opt for ACT GIGA connection, Incredible plan or Lightning plan and pay 12 months in advance. While in Delhi, if you opt for Platinum Promo Plan of Rs. 999 and pay for 12 months in advance, you will get the Home Mini for free. The promo plan comes with a speed of 150Mbps.
Lastly, in Chennai, subscribers will get the Home Mini for free if they opt for any of the Incredible plan, Thunder plan and Lightning plans. Again, subscribers will have to pay advance rental for 12 months.
Overall, this looks like a good offer from the ISP. So, if you choose any of these plans, you will be paying between Rs. 12,000 to Rs. 15,000 and in return you will get a high-speed internet along with a Rs. 4,499 priced Google Home Mini.
Speaking on the partnership with Google, Ravi Karthik of ACT, said, "Google is a brand known to all and we are thrilled to partner with them as fiber broadband partner for their Google Home series of products. We will work with Google to take this next-gen technology to the homes of our customers providing them with rewarding offers for easy adoption."