Reliance Jio has launched the world's first AI-based brand engagement platform called JioInteract. This platform starts a live video call with India's favorite celebrities. Amitabh Bachchan is promoting his upcoming movie "102 Not Out" and will come alive for the very first time in the most innovative way.
Reliance Jio is expecting to make JioInteract the biggest platform to promote movies and brand engagement. In the coming weeks, Reliance Jio is going to introduce services like video call centers, video catalogs, and virtual showrooms. Jio said, "Such use of artificial intelligence is a first across the world and will re-position the way brands and customers think of engagement."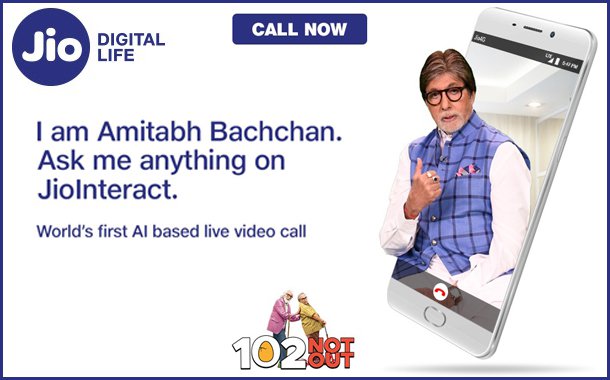 Users will be able to ask different questions about the movie and can even book tickets in real time through the ticketing partner, BookmyShow. Here is a little guide on how you can use JioInterace when it will go live. You need to download the MyJio app from the Google Play Store and click on JioInteract icon. From there, you can start your video call with Amitabh Bachchan.
You will also be able to share your video call experience with your friends and family using the share button. Reliance Jio said about the JioInteract service, "This unique and innovative service uses a powerful artificial intelligence based platform to listen to user questions and respond to them in the most appropriate way."
In addition, the platform has a unique auto-learning feature that helps improve the answering accuracy. Leveraging the strength of Jio's strong mobile video network and its 186Mn+ strong subscriber base along with new technologies like artificial intelligence & machine learning, JioInteract has created a compelling brand engagement solution for businesses.
Positioned as VCBaaS (Video Call Bot as a Service), JioInteract with its full scale multimedia capabilities attempts to democratise Artificial Intelligence & Video Call technologies in a simplified way for effective brand engagement. This technology has wide scale applications across B2C space. Using it, Reliance Jio is also tapping developer ecosystem to create innovative applications like virtual showrooms, product demonstrations, ordering cart for e-commerce, etc."