WhatsApp is the most popular messaging app in India and the company has been introducing more and more features to attract and retain users. WhatsApp currently has more than 200 million active users every month in India and this number will only grow as the smartphone users increase.
The recently added features include voice calling, video calling, Snapchat like stories, WhatsApp business app and more. The company is currently testing group voice calling and group video calling, which is already available on Facebook Messenger.
These days, having WhatsApp has become very important and people without WhatsApp are often forced to install it by others. For some reason, if you do not have a SIM card or do not wish to use your number on WhatsApp, there are two ways you can do this. In this post, we will show you how you can create a WhatsApp account without a SIM card in your phone.
How to use WhatsApp without a SIM card
TextNow
The first way to do this is by installing an app called TextNow, which provides you a number using which you can call and send SMSs.
Install TextNow from the Play Store.
Now, open the app and click on Sign up.
You can either use your email ID or sign up with Facebook.
Then, you will be asked to enter a username and your area code.
You can use an area code such as – 315, 808 or other American codes but you will not be able to use India's +91 code.
Once you do this, you will get a number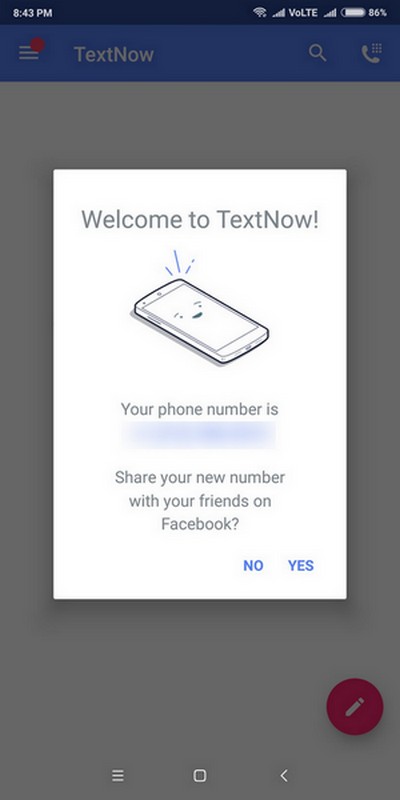 Now, install WhatsApp on your phone.
Open the app and When it asks you to enter your number, enter the number that you have received from TextNow.
Once you click on Next, the app will send an OTP but the process will fail.
Then, click on call me and you will get a call on the TextNow app which will give you the OTP.
Enter this OTP in the app and you are all set.
Landline Method
Another method you can use is by using a landline number. The process is very simple to do –
First, install WhatsApp on your phone.
When the app asks for a number, enter your landline number.
After the OTP verification fails, click on call me and just like earlier, you will get a call which will give you the OTP.
Enter the OTP in the app and you can use WhatsApp with your landline number.