Google takes the blame for coding the UIDAI number in Android devices. After several users complained about Aadhaar helpline number being pre-stored in contacts without consent, Google said it was added "inadvertently" into the setup wizard of Android phones.
UIDAI also confirmed that it did not ask telecom operators or phone makers to include the Aadhaar helpline number in smartphones. Google has clarified that the old UIDAI helpline number and 112 distress helpline number were coded during 2014.
"Our internal review has revealed that in 2014, the then UIDAI helpline number 1800-300-1947 and the 112 distress helpline number were inadvertently coded into the setup wizard of the Android release given to OEMs for use in India and had remained there since," writes Google in a statement posted via Twitter.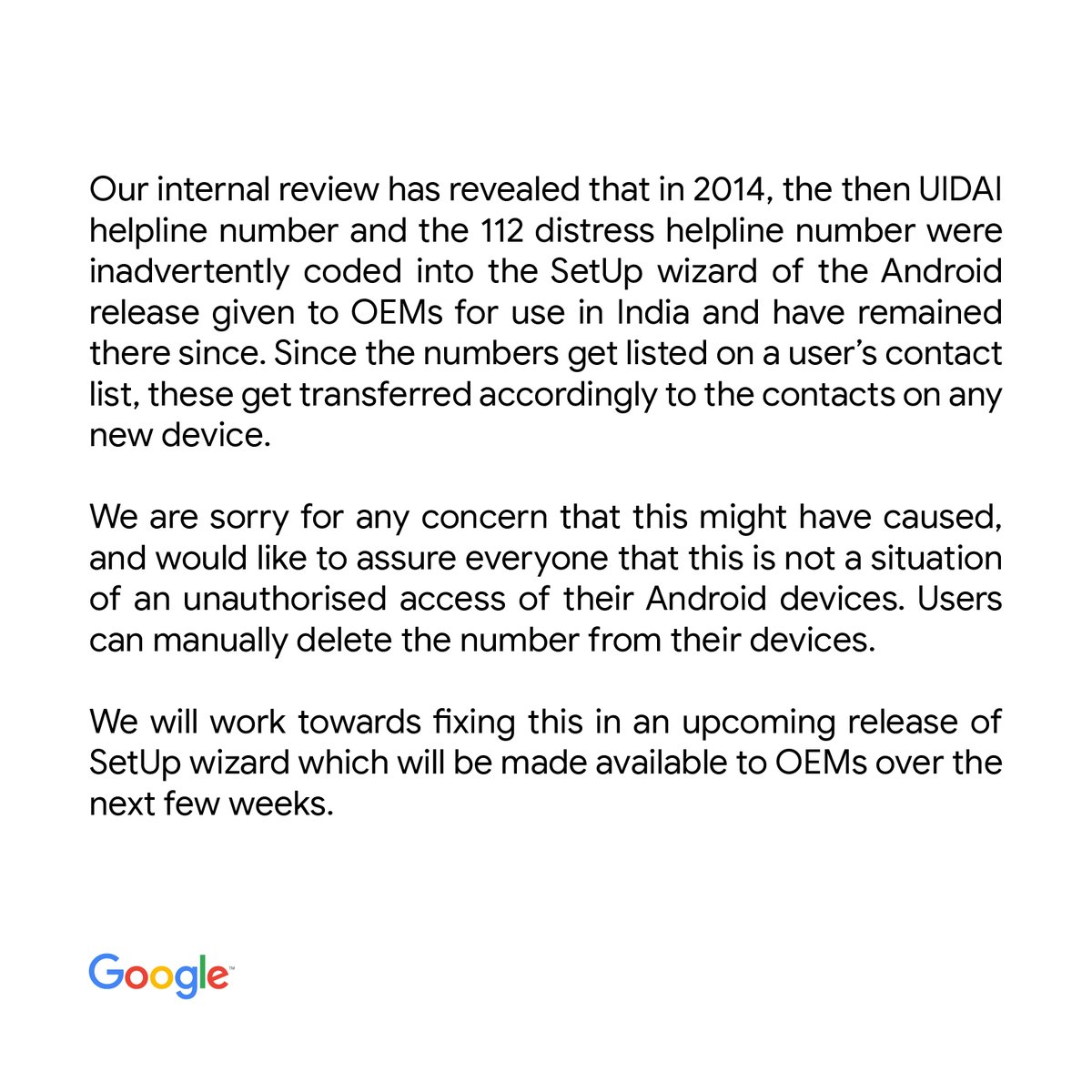 Yesterday, several users noticed the UIDAI toll-free helpline number saved into contacts on their smartphones. Many Android-run mobile phones listed the Aadhaar helpline number 1800-300-1947 by default. The government authority UIDAI said that it had not asked any phone maker or telecom operator to include its toll-free number on mobile phones. And, the UIDAI also clarified that the toll-number is not valid.
"It is emphasized that the said 1800-300-1947 is not a valid UIDAI Toll-free number and some vested interest are trying to create unwarranted confusion in the public. Our valid Toll-free number is 1947 which is functional for more than the last two years," writes UIDAI in a series of tweets.
Google also apologized for the same and said the number can be manually deleted from the phones. The tech giant also promised to fix the issue in its setup wizard in future. "We are sorry for any concern that this might have caused and would like to assure everyone that this is not a situation of an unauthorized access of their Android devices. Users can manually delete the number from their devices," Google's statement added.