MediaTek introduced it's latest top-end SoC in the P-series Helio P90 in China today. It is based on 12nm TSMC FinFET technology just like the P60 and P70. However, it can deliver a new level of AI features that are 4 times more powerful than the P70 and P60. It comes with APU 2.0, a new generation AI architecture for better AI processing.
The new MediaTek P90 can perform complex AI tasks while running multiple AI functions at the same time. With the 1127GMACs performance, the P90 can perform 4.6 times better than Helio P60 & P70 while offering longer battery life.
MediaTek Helio P90 Features
If we talk about features, the Helio P90 has a two ARM Cortex-A75 CPUs clocked at 2.2GHz and six ARM Cortex-A55 CPUs clocked at 2GHz. It sports IMG PowerVR GM 9446 GPU that is said to offer up to 15% improvement compared to the Mali-G72 MP3 used in P60 and P70.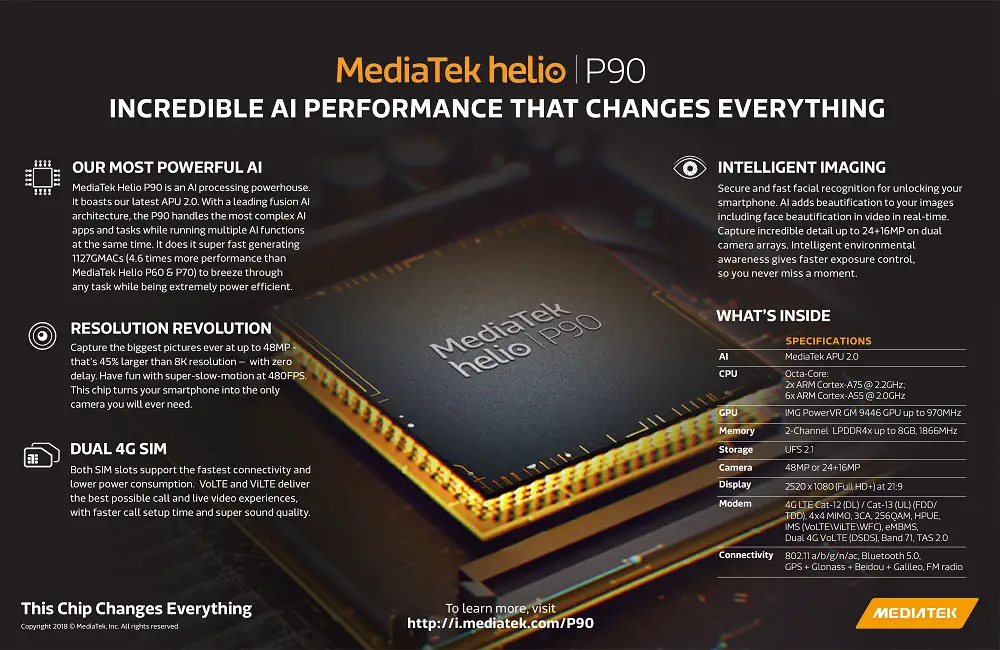 In terms of camera, it supports up to 48MP single camera, 24+16MP dual rear cameras, and 480 fps slow motion video. It also comes with 45% larger than 8K resolution with zero delays. It can also analyze actions and poses of multiple people in real-time. You can even use AR avatars, detect multiple objects in a scene or shoot the low-light and bokeh photography.
It also supports 5-person human pose tracking, 3D pose tracking, Multiple objects & scene identification, Google Lens, and ARCore. It has more secure and accurate facial recognition support. Connectivity options include dual-SIM dual VoLTE 4G LTE with a fast Cat-12 (DL)/ Cat-13 (UL) 4G LTE modem, 4×4 MIMO, 2×2 802.11ac and Bluetooth 5.0.
TL Lee, General Manager, MediaTek Wireless Communication Business Unit, said, "The Helio P90 gives device makers the ability to offer outstanding camera features, battery life, performance and top of the line AI capabilities while making devices accessible to mass-market consumers."
The Helio P90 is currently in production now and it is expected to power the smartphones in the first half of 2019.