This year's Mobile World Congress (MWC) is witnessing a different approach from smartphone makers in terms of design. We have seen Huawei's foldable Mate X, Samsung's Galaxy Fold, Sony's 21:9 aspect ratio phone, etc. Now, another phone in this category is- Nubia Alpha. It is a flexible display phone that you can wear on your hand like a watch.
ZTE's Nubia brand has first showcased this phone at IFA Berlin 2018. However, it was a prototype back then. Now, the company has made the Nubia Alpha or nubia α official at MWC 2019. It's basically a smartwatch with a flexible screen but this can also be used as a phone.
At the MWC 2019, we got our hands-on the Nubia Alpha and here's what we think about it.
Nubia Alpha Design
The most noticeable thing about the nubia alpha is its design. The nubia Alpha is made of stainless steel and the display is coated with polyimide. There is also a gold-coated version of the phone. The watch has a water resistant body.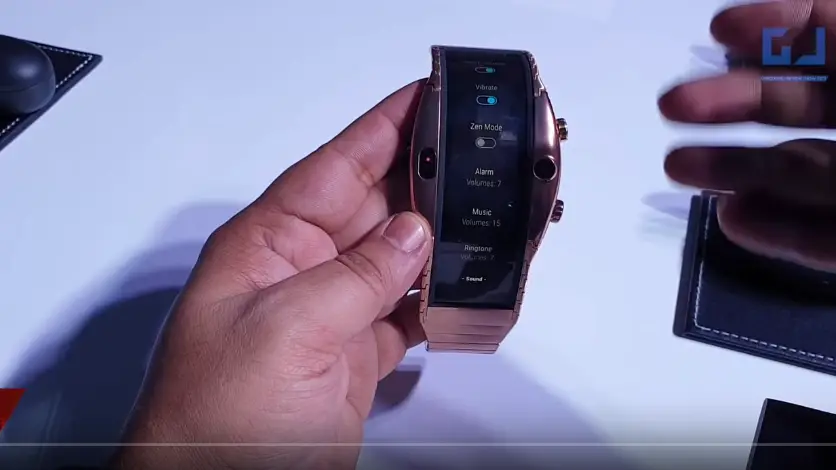 It feels a little bulky and large when you wear it on your wrist. The 4-inch OLED display runs vertically along the wrist area. You can drag the apps and features to the right, left or top as per the angle from which you are using it.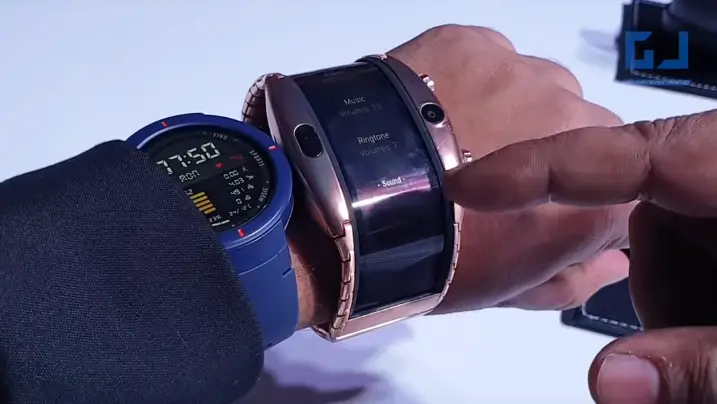 It has two physical buttons on the side- one works as a back button and the other is the power button just like the smartwatches. The other side has a microphone. There is a 5MP front camera on top for taking selfies.
Nubia Alpha Features
The Nubia Alpha comes with a 4.01-inch OLED display from Visionox. It is up to 230% larger than a standard wearable device's display. It is actually a smartwatch which is powered by the Snapdragon Wear 2100 chipset. It is loaded with 1GB of RAM and 8GB storage.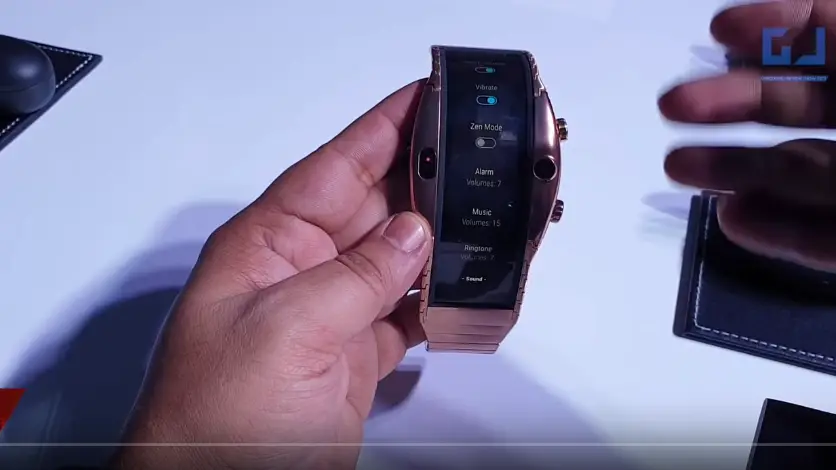 The smartwatch runs a custom OS that also has motion gestures. It packs a 500mAh battery that promises a day of usage. Since it comes in a eSIM version that has voice calling and 4G LTE connectivity, it is also a phone.  
If you want to click pictures or video call someone, you can use the 5MP (f/2.2) camera. When you rotate your wrist to point the camera, there's enough space on the screen to focus the face and click the picture.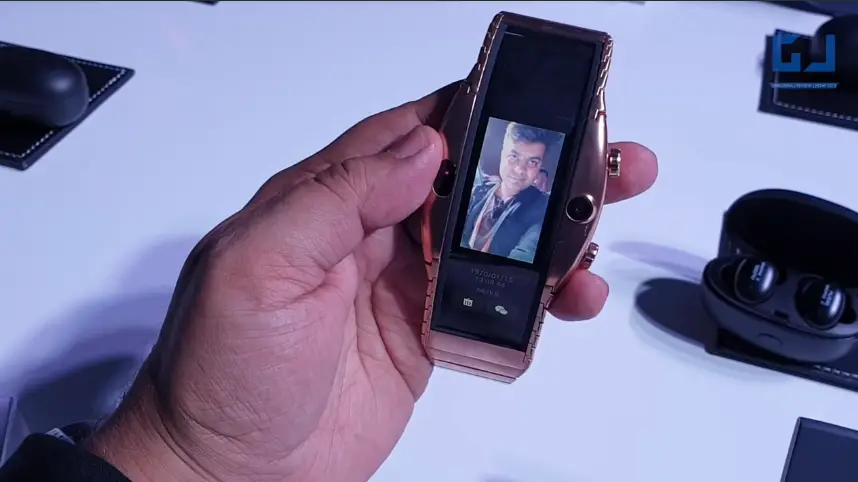 Apart fromt the touch, you can also use the gesture control feature to scroll. However, this feature is still not quite smooth. Being a smartwatch, its other features include exercise and health monitoring, sleep tracking and other activities tracking.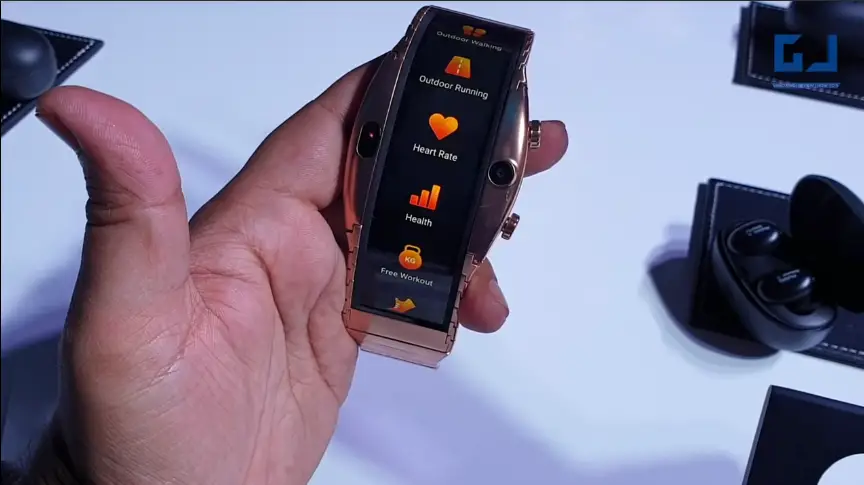 Price, availability
The nubia Alpha Bluetooth version is priced at €450 (roughly Rs. 36,412) and it will be available in April in Black color model. The eSIM model is priced at €550 (Rs. 44,500 approx.) for the normal and it costs €650 (Rs. 52,536 approx.) for the Gold version.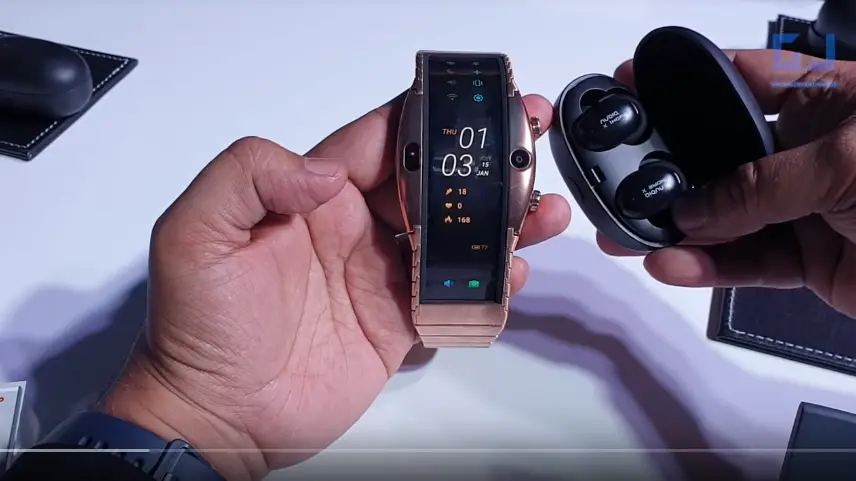 The company also introduced the nubia Pods– the new wireless earbuds that cost €100 and will be available globally starting in April. The Nubia Alpha will first be available in China in April and then in Europe and North America in Q3/Q4.