There's no doubt about the current generation being obsessed with the trend of selfies. While smartphones have capable-enough cameras, using certain selfie camera apps can take your experience to the next level. Therefore, we are here with some of the best selfie camera apps for Android.
Best Selfie Camera Apps for Android
Indeed, people love posting selfies on social media platforms like Facebook and Instagram. That said, switching from stock camera to something made particularly for selfies can make a significant change in your pictures.
A good selfie camera app can further enhance the quality of an already good image. Moreover, you can add different filters, stickers, and AR masks that can apply in real-time while you are posing for the best portrait.
Having said that, let's start with the best selfie camera apps for Android.
1] YouCam Perfect
YouCam Perfect is indeed my first choice when it comes to best selfie camera apps for Android. Right off the bat, it offers options to beautify your face, eyes, and color tones in real-time. The picture editor, on the hand, takes beautification to the next level by catering options to enhance nose, change eye size, remove acne, and more.
The body reshaping feature is one of the USPs of this app, using which you can make yourself appear slimmer & taller. As far as group selfies are concerned, the app automatically scans all the faces to provide personalized beautification for each face in the frame.
Moving further, you can remove unnecessary components from the frame, blur objects, and replace the background from available templates. Overall, YouCam Perfect will suit most of the users who want a feature-rich camera app to amp up their selfie game.
Download YouCam Perfect
2] FaceTune2
Want to look astounding in every selfie you take? Well, Facetune is a highly intuitive photo editor that acts as your own personal glam crew. Loaded with tons of features, the app focusses primarily on making you look the better.
Unlike most other selfie camera apps, FaceTune gives more attention to your facial elements, including nose, eyes, teeth, etc. It also lets you edit eye width, height, tilt, and distance besides size. Sounds interesting, right? Well, the same goes with other facial features including nose, jaws, and eyebrows.
Additionally, there are a bunch of filters optimized to look better on different skin tones. One can also create a perfect portrait by blurring the background using Defocus option. Moreover, the backdrop feature (similar to portrait lighting) works exceptionally well in replacing backgrounds with preloaded scenes. As a whole, if you're someone who wants an easy to use selfie camera app with quick beautification features, FaceTune is the way to go.
Download FaceTune2
3] Retrica
Undoubtedly, Retrica has been ruling has one of the most popular selfie camera apps for a while now. As the name suggests, the selfie app lets you capture perfect vintage style pictures besides tons of mesmerizing filters for every occasion.
Retrica offers over 120 handpicked filters, that too in real-time, allowing you to capture pictures or videos in ways that nobody can even think of. Additionally, you can create beautiful photos, collage, and even videos in a tap and decorate them with over 100 stickers. It also has a GIF mode so that you can turn a video into your very own GIF-able moment.  What I love most about this app is its instant collage option that allows the user to take multiple selfies at the same instance to build a beautiful collage.
Besides being one of the best selfie camera apps, Retrica is an independent community on which you can easily follow someone, see their posts and videos, and make new friends at the same time.
Download Retrica
4] B612 Camera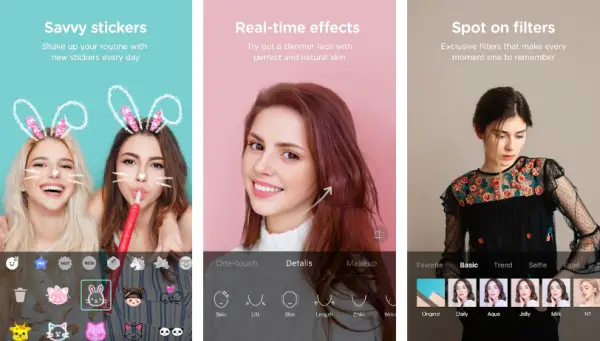 Just like Retrica, B612 is a great selfie camera app that brings a wide range of great filters and other features like skin refining quirks to the table. It requires minimum efforts to churn out amazing results from this selfie app, which is the reason why it has over 300 billion users across the globe.
B612 offers shooting boomerangs or even 3 or 6-second selfie video clips with music to explore your creativity. What's more fun? The app flaunts over 1500 augmented reality stickers to turn your face into a cute animal.
I also loved the fact that it remembers which filters you like using most and automatically selects them for you. Moreover, with features such as images, music video, hands-free mode, and boomerang clubbed out at the bottom, the app's interface seems quite similar to that of Instagram.
Download B612 Camera
5] FrontBack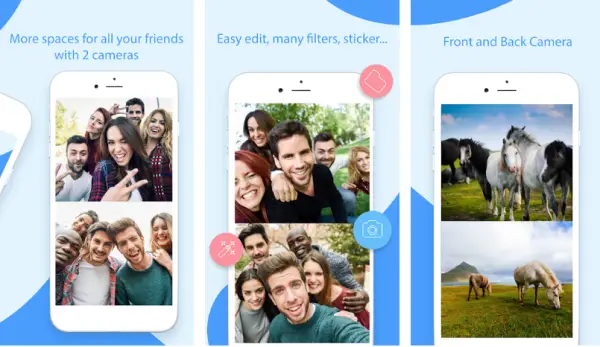 Is your front camera too narrow to fit all your family members? Or do you want to capture your reaction to something that's right in front of you? Well, this is where the FrontBack app comes to rescue.
As the name suggests, it's not a typical selfie camera or beautification app. Instead, what it does is allowing you to capture a photo with the front as well as the back camera simultaneously. Furthermore, you can easily resize, rotate, and adjust your images and decorate them with funny stickers.
Download FrontBack
Wrapping Up
So this was our list of best selfie camera apps for Android. Note that we've personally tried and tested each app mentioned above. Hence, feel free to try them all and let us know what worked best for you. If in case you have any doubts or concerns, do not hesitate to leave a comment in the comment box below.
Also, read How to Add Shot on Watermark to Your Photos on Any Android Phone.